Today's airfare market is a lot of things, but transparent is not one of them. The airlines employ complicated yield-management systems that often leave consumers scratching their heads at seemingly senseless ticket prices. For instance, a non-stop return ticket from New York to Rome costs about $1,700. The same round-trip in the opposite direction with the same airline, from Rome to New York, goes for about $1,100, which is 35% less!
At Hopper, we're using our access to large amounts of airfare searches to demystify the state of airline pricing with tools like our "when to fly and buy reports," which show travelers how to save money on flight tickets just by purchasing them on the right day of the week.
Want to find tips on how to save money on airfare? Visit our flight tools page, choose your airport and go!
But beyond that, there are also some more general "travel hacks" that fliers can use to save big bucks on airfare. There's only one caveat to these travel hacks: when you're trying to beat the airlines at their own game, don't expect great customer service if your plans go awry! With that said, let's take a look at how travelers can save using nested return tickets.
Nested Return Tickets
For travelers planning multiple trips on the same route, it's often much cheaper to buy a nested return: purchasing a return from A to B with a long stay at B and then a separate return ticket from B to A with dates that "nest" inside the first trip. The result is, of course, two round-trip flights from A to B.
In our opening example, a direct round trip ticket from New York to Rome in late June costs about $1700. The same round trip in the opposite direction, from Rome to New York, costs about $1100. Based on these prices (which will vary depending on specific dates), buying a return ticket leaving New York in June and returning from Rome in late August, plus a separate return ticket leaving Rome in early July and returning in early August would give travelers two visits to Rome for $600 less than buying two separate round-trip tickets from New York.
Find cheap tickets to destinations around the world using the innovative flight feed at Hopper Flights, which crowdsources fares from millions of airfare searches!
Business travelers planning a series of short visits (without a Saturday night stay) often benefit from this strategy even if the typical round-trip price is roughly equal in both directions, because the nested tickets all include (several) Saturday nights. The savings are due to the fact that airlines charge leisure travelers (those with a Saturday night stay) less than business travelers.
Even if travelers don't know exactly when their second trip will be, the savings from nested tickets can often justify paying any change fees to reschedule the second trip.
An example of airline pricing idiosyncrasies where travelers could save using nested return tickets:
New York to Rome: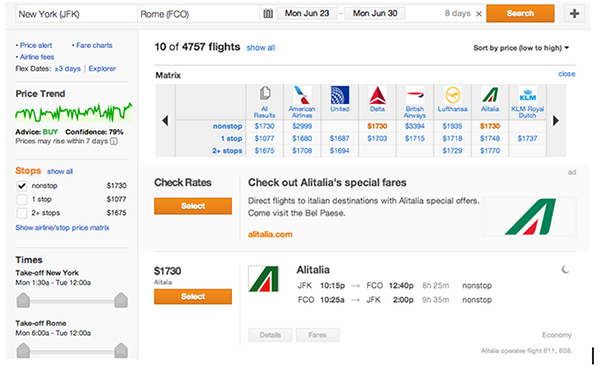 Rome to New York: