Chewing over a vacation somewhere just south of the United States, bathed in the warmth of the Caribbean climate, but struggling to settle on where? Here we place two of the region's most popular travel destinations side by side, and compare their key attributes. Both Jamaica and Mexico offer tourists a stunning Caribbean coastline, a selection of fabulous resorts, a vibrant culinary culture and a clutch of other popular attractions. Read on to discover which of these sun-dazzled countries is best suited to your desires...
Contender #1: Mexico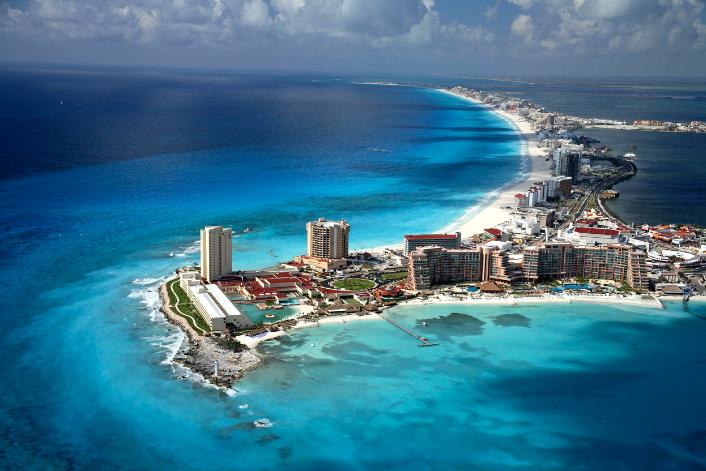 Cancun, Yucatan Peninsula – photo by irvant cakra
Mexico is an immensely diverse country - just take a second to list all the associations you have with it. And as a travel destination, this diversity works in its favor, with something for all types of travellers: luxurious resorts, family entertainment, sublime surfing and scuba, enthralling Mayan ruins, and a riotous natural world. Then there's the food and the tequila, the dancing and the vibrant festivities. With such a range to consider, let's just begin with something reasonably simple: the country's fabulous beaches...
Don't miss this article from Hopper Flights with 7 tips on finding cheap tickets to Cancun and saving hundreds of return flights.
Bronze by the Caribbean or surf on the Pacific with Mexico's magnificent beaches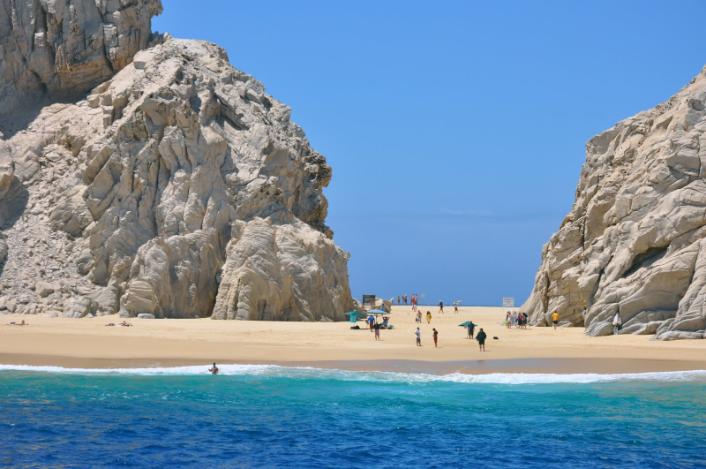 Playa del Amor, Cabo San Lucas – photo by Maria
Speaking broadly, Mexico's beaches divide into two camps, each with their own advantages. Its Caribbean beaches tend to have warmer water, calmer seas and whiter sand, attracting a mix of families and younger groups seeking a luxurious holiday complete with either entertainment for the kids or wild nightlife. The simplest place to head for either of these activities is, of course, Cancun, with its legendary white sand, blue sea, blazing sun beaches, hosting some of the finest shoreline in the world. Alternatively, check out glorious Tulum Beach, framed by some of the best preserved Mayan ruins in the western hemisphere; or Playa del Carmen, offering a sophisticated and cosmopolitan beach scene. If, on the other hand, such ease and comfort is not precisely what you're looking for, then consider heading west to explore the beaches of Mexico's Pacific coast. While the water, with the great bulk of the Pacific stretching away behind it, is a little cooler, this same oceanic vastness breathes huge waves onto the shoreline, making it an excellent surfing spot - check out the beaches around Puerto Escondido, such as Zicaleta and Principal, which host international surfing tournaments.
Mingle history and hedonism with Mexico's varied attractions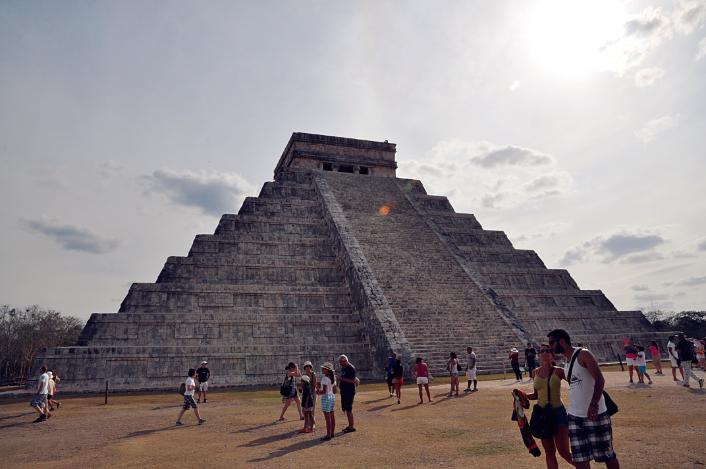 Chichen Itza, Yucatan Peninsula – photo by nbfaye
Mexico's attractions are incredibly diverse, and whatever your interests you'll find something to take your breath away. Anyone with a spark of imagination, or a scintilla of curiosity about how other cultures have seen the world, will be astonished by the country's Mayan heritage and the archaeological legacy it has left behind. The most striking remains of this once mighty civilization can be found at Chichen Itza, the largest of the Mayan cities on the Yucatan peninsula, with its tall and intricate temple designed to reflect with the Mayan's astronomical insights. More visceral thrills can be had by snorkelling or scuba diving in the crystal clear waters surrounding the island of Cozumel. Swim among the kaleidoscopic sea life that gathers around the 175-mile-long Mesoamerican Barrier Reef, possibly the second largest contiguous coral reef in the world. Visitors who wish to be immersed in Mexico's culture attend the intense Dia de Los Muertos festivals, which are especially vibrant in the city of Oaxaca. And then there are heaps of beautiful towns studded with colonial architecture, such as Guanajuato, which also has a fabulous bar and cafe scene, where you can sink a few tequilas and feast on Mexico's fantastically flavorful cuisine. And all this is not to mention what we'll consider next, the seaside resorts...
Chichen Itza features prominently on Hopper's ranking of the five best day trips from Cancun. Check it out
Relax amid the luxurious spoils of Mexico's seaside resorts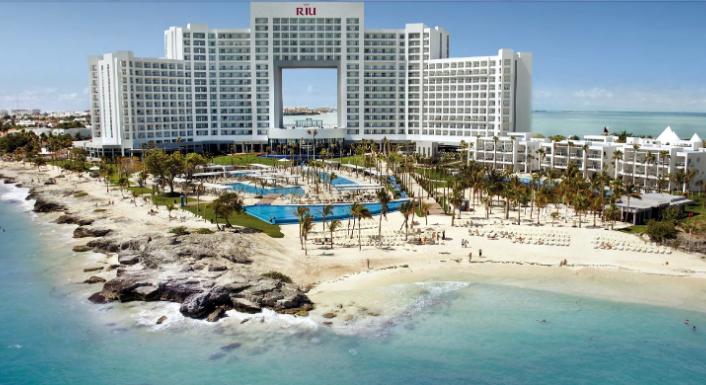 Hotel Riu Palace Peninsula, Cancun – photo by Michelle
Luxury resorts line both Mexico's Caribbean and Pacific coastlines, and the good news is you don't have to be especially affluent to enjoy them - these days, there's something to suit every budget. The heart of the country's resort culture is, of course, Cancun, surrounded by Mayan ruins, colorful coral, lively nightlife and swampy mangroves. Many of the resorts here encompass sublime stretches of white-sand beach, such as the much-loved Hotel Riu Caribe, which spills out onto the Playa de Cancun. As well as such superb sun-bathing, the resort also offers four themed restaurants, two pools, a nightclub, a gym, a spa, table tennis, volleyball, catamaran trips... you get the picture. Over on the Pacific coast, the Melia Cabo Real Beach & Golf Resort near Cabo San Lucas combines brightly decorated guest rooms, fabulous beaches and great ocean views with a couple of world-class golf courses. And also on the Pacific Coast, the sophisticated destination town of Acapulco is justly famous for a handful of attributes: its cliff divers, glittering high rises, and the Acapulco Princess mega-resort, designed to look like a Mayan temple. Less authentically Mayan touches include seven restaurants, five bars, five pools, an 18-hole golf course, a shopping arcade and a fitness center.
Also see Hopper's article on the five best all-inclusive beach resorts in Cancun for ideas on where to stay in Mexico
Contender #2: Jamaica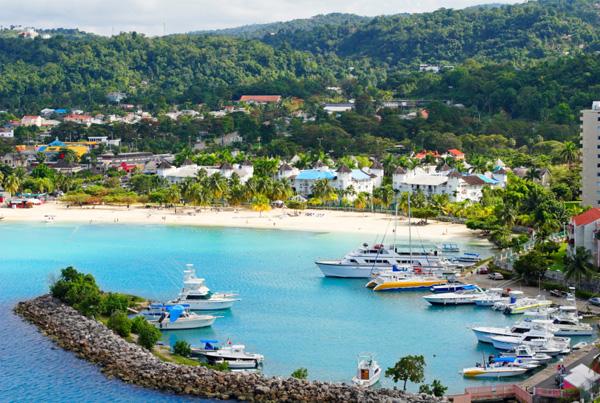 Ocho Rios, Jamaica – photo by sheknows
Jamaica is fringed by some of the most gorgeous beaches in the Caribbean, all lapped by the warm blue waters of the Caribbean Sea. Inland, craggy mountains raise their heads above dense jungle, and vibrant towns cluster on the seafront. Large resorts cling to this seafront alongside them, carving out sections of beautiful beach - most famously, Negril's seven-mile beach - for their customers. There's great nightlife, and plentiful opportunities for outdoor adventure, but Jamaica is primarily about chilling in the velvety warmth of the Caribbean climate.
Bathe on Jamaica's wide range of wonderful beaches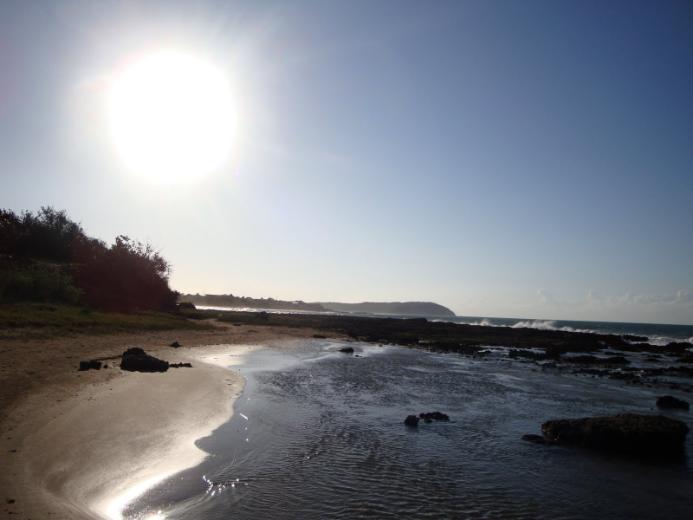 Treasure Beach, Saint Elizabeth – photo by jamaica-completely
Jamaica is a large island with hundreds of miles of coastline lapped by the Caribbean Sea, so it's no surprise that it's renowned for its beaches, which are among the most breathtaking in the Caribbean. The island's iconic stretch of sand, the Seven Mile Beach, is located in Negril in the west, and has a variety of distinct areas across its seven miles: parts open to the public, parts contained within resorts and jealously guarded from outside intrusion, fenced-off nudist areas, beach bar sections dotted with beach bums and enlivened by music. Despite its length, however, it's invariably crammed, so you may prefer to try Treasure Beach on the islands' south coast, thrashed by crashing waves and a much more dramatic beach-scape than in its crowded neighbors. And finally, a beach with all the amenities you could need on its doorstep is Mallard Beach, in the resort-ridden town of Ocho Rios, which is lined with hotels and restaurants, entertainment venues, souvenir shops, and plenty of fellow travelers to meet.
Relax in Jamaica's spas and cafes, or get out into its jungles, rivers and ocean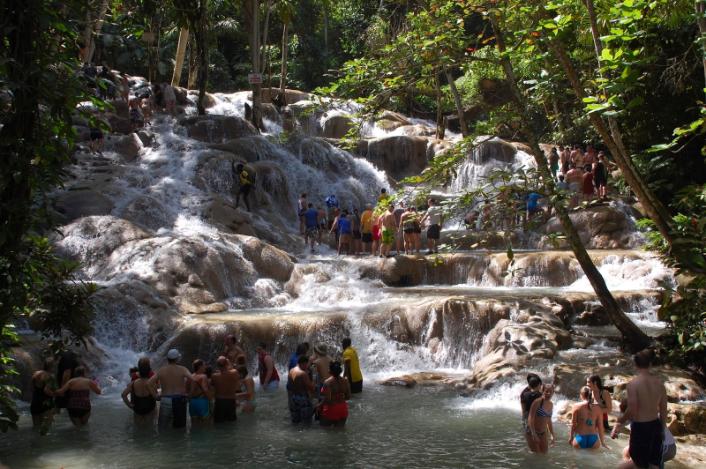 Dunns River Falls, Ocho Rios – photo by Heather
Jamaica is primarily a pretty laid back destination; it's not packed with high-adrenaline activities or world-famous attractions. Many of its most popular spots reflect this reality: visitors shouldn't miss the legendary sunsets from Rick's Cafe, sipping a rum cocktail as the sun sinks into the blazing Caribbean Sea; Scotchie's in Montego Bay cooks up the island's best jerk chicken and patties; forget your worries amid the luxuries of Strawberry Hill Spa, perched 3000 feet up in the Blue Mountains above Kingston; stroll through the Bob Marley Museum, situated in the reggae star's former home and recording studio. Slightly more stretching activities - relatively speaking anyway - including swimming with dolphins, river rafting, or taking a canopy tour through the island's wildlife-filled jungle. And there are a couple of natural wonders it's worth shedding the flip-flops and trekking to see - Dunn's River Falls, a rocky waterfall which you can ascend with a guide, and the gorgeous azure Blue Lagoon.
Choose between Jamaica's array of family and couple-only resorts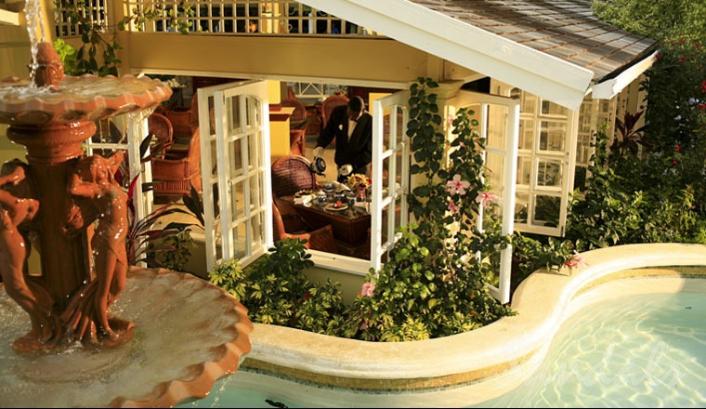 Sandals Royal Caribbean Resort, Jamaica – photo by islandbreeze
Jamaica's chilled-out vibe is rounded off by a broad selection of luxury, all-inclusive resorts, many of which make sublime use of the island's natural beauty - its rocky mountains, lush green forests, and pristine beaches. There are resorts to suit all moods and tastes, from the quiet seclusion of private coves to the lively atmosphere of Negril's seven-mile beach. If you're looking for romance, then Sandals - a long-established operator of couples-only resorts - has several fabulous options on the island: get into the gentle hedonism of the Sandals Negril Beach Resort, with seven specialist restaurants and five elegantly upholstered bars pouring unlimited branded beverages; or if you want more intimacy, hire out one of the 74 suites that make up Sandals Royal Plantation resort. For families, the Franklyn D Resort and Spa is an ideal choice: it has spacious family suites featuring living rooms with couches and television, and balconies overlooking the resort's outdoor pools and various on-site recreation activities like volleyball, tennis and kayaking.
And the winner is: Mexico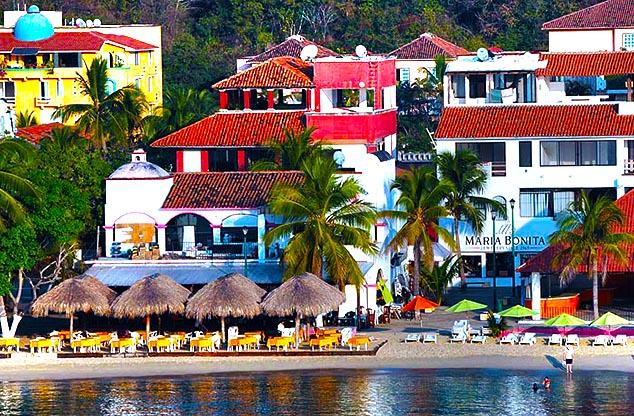 Huatulco, Pacific Coast – photo by Ivan Jay
If you're primarily looking for beaches and resorts, there's little to choose between the Caribbean coastlines of these two sun-drenched countries: both have a variety of beautiful beaches, plenty of entertainment for kids and adults alike, and well-established chains of luxurious hotels. But Mexico, with its Mayan temples, world-class scuba diving, and diverse towns and cities, just offers that little bit more for anyone keen to venture beyond the bounds of their resort and explore a little of the local culture. But then again, Jamaica will be better suited to some - its smaller, more manageable, and still contains many sites of cultural, historic and architectural interest. So now it's over to you - just what do you want from your next vacation?
Why wait to start your holiday? Check out five reasons to drop everything and travel to Cancun, right now!