To watch a show like Mad Men is to carry with it the same mixed feelings of romanticism and reservation that one would harbor for their grandparents stories. Except, being an AMC drama, the reservations are about a million times more intense and so is the admiration. Don Draper is a suave, successful and beautiful man, but only on the surface. It wouldn't be a stretch though, certainly for the purposes of this article, to mention that his signature drink, the Old Fashioned, also bears an elegant and masculine veneer with undulating force of strength and mystery. The things this little glass can do to you are not dissimilar to the feelings evoked by Mr. Draper. And while in New York, why not pretend to be a Mad Men, at least for one night? Let's barhop, shall we, and see what where the Old Fashioned can take us at the end of the night.
Don Draper would never wear seersucker, but he'd probably go to Seersucker
Seersucker has happily embraced both their state allegiances, owing their refined and distinct menu to the owner's roots in Arkansas while their quality produce are homegrown at Carroll Gardens and Grand Army Green Markets. Their cocktails reflect this allegiance to the two Americas, with cocktails that combine locally sourced bitters with classic Kentucky bourbons and ryes. The John Daly is a cocktail combining iced tea, lemonade and Brooklyn Republic Vodka. Their Old Fashioned, in particular, is first billed on their cocktail menu, made with Old Overholt Rye from Kentucky, bitters and sweetened with Sorghum syrup. For a taste of the sweet South in happenin' Brooklyn, Seersucker's the neighborhood place to go.
The Monkey Bar has a history of serving the real Mad Men of New York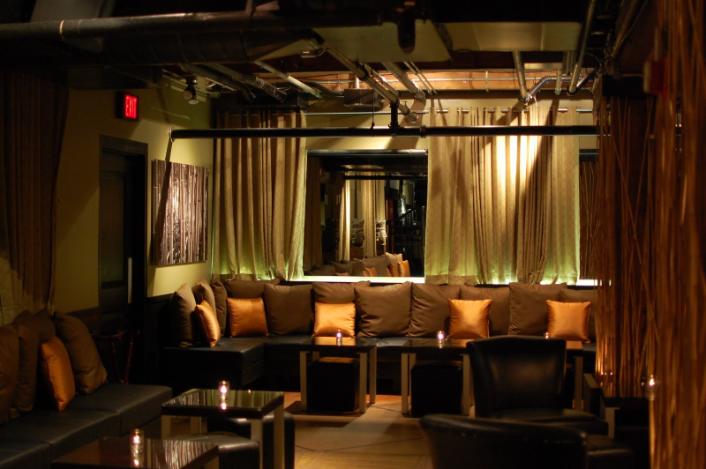 Monkey Bar, New York City – photo by George Aquino
The Monkey Bar is one joint that Don Draper would have realistically gone to. Having entertained everyone from legendary jazz swingers, poets, Hollywood glitterati and, yes, probably many admen and mad men, the 75 year-old Monkey Bar at the back of Hotel Elysée in Midtown was once known as the "easy lay," where expensive men would bring expensive women and take a drink or four before sucking down some oysters and going home to their wives. Or so presumed. What is known, of course, is that of all of the places to find an old Old Fashioned presented in iconic style, Monkey Bar is the destination.
Fly in to Jbird to taste their delicious cocktails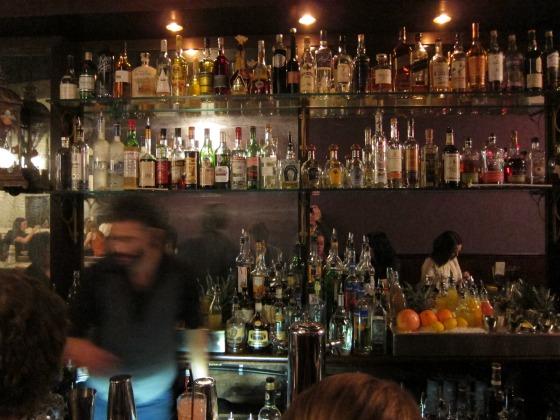 Jbird Cocktails, New York City – photo by glenwoodnyc
Jbird NYC in the Upper East Side is certainly a cocktail bar if there ever was one. Five pages of their bar menu are devoted to cocktails of any kind – tart and refreshing, stirred and boozy, shareable with friends; sours swizzles, juleps, collins, fizzes, aromatized, old fashioned and more. The atmosphere is dark and leathery punched up with a young professional clientele and a fun and festive menu. Their signature reinterpretation of the Old Fashioned is also one of their most popular items, but not among diners with peanut allergies: the Honey-Nut Old-Fashioned is made with roasted peanut bourbon, honey syrup and aromatic bitters.
Return to the Art Deco period at The Rum House in Hotel Edison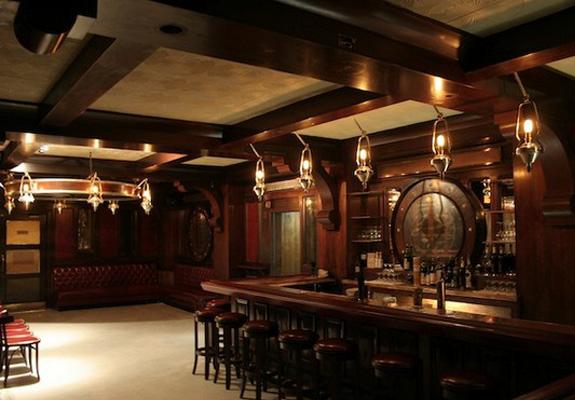 Rum House, New York City – photo by Raina Trider
The Rum House in the Hotel Edison returns to the time when the building that houses it was built – the Art Deco '30s saw the advent of the electric neon signs, old piano bars and stiff drinks. The clientele now might wear a little bit more plaid, but the cues to the old world still exist inside the cozy and always bustling Rum House. Their old fashioned offerings are aplenty from Manhattans and Mojitos, but fans of the real Old Fashioned get a pick between two bourbon options and two ryes. Don Draper wannabes caught in Midtown need only head west of Times Square to the lobby of Hotel Edison.
Employees and famous actors only at Employees Only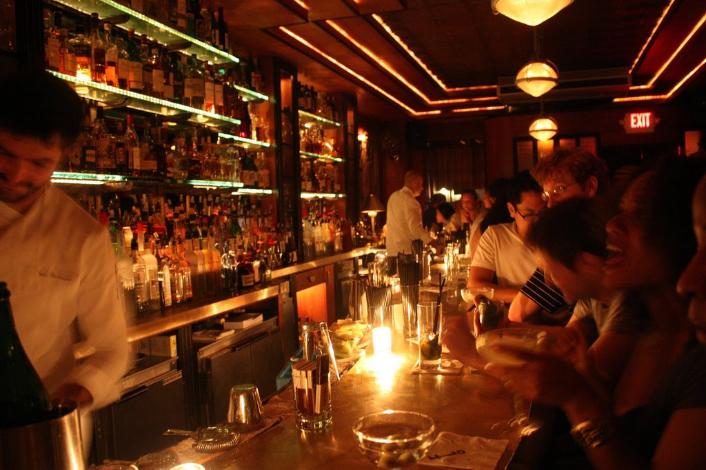 Employees Only, New York City – photo by KW
Thankfully Employees Only isn't literally employees only, otherwise there would be too many talented bartenders in their large oak and leather speakeasy. The real mad men of Mad Men, John Slattery and Jon Hamm, have both been reported to have taken up seats in their West Village home (the expression "douchebag parade" was employed; God bless you, Jon Hamm), and while it's hard to say whether or not Old Fashioneds were ordered on that specific occasion (let's uphold this suspension of disbelief and assume they were), this lounge is certainly awash with enough Baker's Bourbon and friendly bartender knowhow to provide it.