Fare sale details:
-Airlines participating in fare sale: United
-Start of fare sale: July 8
-Fare sale length: TBD, but we don't expect it to last beyond July 10-11
-Conditions: Most available departure dates are in November, but some are also available in December, January and February
-Airfare savings: 55% lower than the average price reported in our flight report on Dallas-Punta Cana
Dallas residents are currently getting great deals on flights to Punta Cana in the Dominican Republic courtesy of a new United fare sale that is selling tickets for as cheap as $286 return. That's a 55% discount off the normal fares, which typically run about $630 each.
Most of the fares that have gone on sale have a November departure date, which is at the tail-end of the hurricane season and just before the start of Punta Cana's high season in December. For budget travelers, November is an excellent time to visit Punta Cana, as most all-inclusive resorts are still offering their low-season prices. And with an airfare savings of $344 per ticket, travelers will be able to enjoy top-of-the-line accommodations without breaking the bank. Do, however, consider purchasing travel insurance that offers protection against hurricane trip cancellation to make sure everything goes to plan.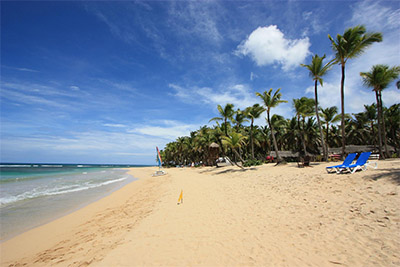 The fare sale began at 5:10 p.m. on July 8 with the United sales team starting the rapid decline in ticket prices. Fares bottomed out only an hour later, and have stayed there through the afternoon of July 9. This fare sale fits the profile of a flash fare sale, so we would not expect the low fares to last beyond July 10-11.
United, the only airline participating in this fare sale, offers its flights to Punta Cana connecting through its Northeastern hubs in airports like Washington Dulles and Newark Liberty. Delta and American also offer connecting flights to Punta Cana, via Atlanta and Miami, but both are selling their tickets for approximately $670 return. Sun Country Airlines is the only airline to offer direct flights from Dallas to Punta Cana, offering the 4.5-hour flight for as low as $765 return.
Examples of itineraries recently found:
-$286 round-trip between Dallas and Punta Cana on United, Nov 15 to Nov 25
-$286 round-trip between Dallas and Punta Cana on United, Dec 7 to Dec 17
-$485 round-trip between Dallas and Punta Cana on United, May 2 to May 9
- See all
Tweet this deal
Tweet
!function(d,s,id)
}(document, 'script', 'twitter-wjs');