Everything is bigger in Dallas. The 52-foot cowboy statue that greets guests every year at the State Fair of Texas is the state's biggest cowboy. The indoor Christmas tree in the Galleria Dallas is the country's tallest. And the Dallas Arts District is the largest urban arts district in the country. That's not to mention the Texas-size cuts of fine beef available at all of the cow-country steakhouses, almost as popular here as Starbucks is in Seattle, as well as the large sense of Texas pride. As such, visitors will become enthralled in the bigger-is-better mindset, which often doesn't come at a petty price. After all, 23 of the country's richest people call Dallas home. So, to roll with the big boys (or girls), you may want to save up some extra cash. Here are five tips on how to find cheap flights to Dallas and save up to $543 on a return ticket to DFW — not surprisingly, one of the five busiest airports in the country.
Want to find tips on how to save money on airfare for other destinations? Visit our flight tools page, choose your airport and go!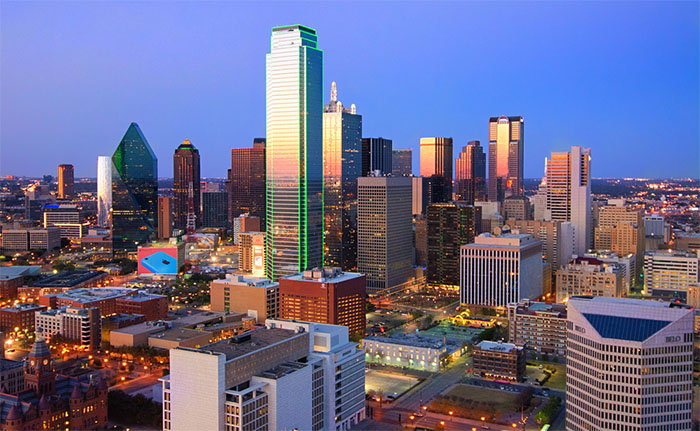 Photo by Robert Hensley via Flickr.
1. The cheapest time to book a flight to Dallas is 15 days in advance, saving up to $200
By booking more than 15 days in advance, you can save up to $200. That's about five filet mignon dinners at area-favorite Chamberlain's Steak and Chop House. Ticket prices increase dramatically if you book less than 10 days out, so plan ahead and save for a meal that's fit for five adults with larger-than-most appetites.
2. The cheapest time to fly to Dallas is on a Friday, saving up to $141
DFW has a lot of business traveler traffic during the week, so the best time to fly here is on the weekends. It's great news for leisure travelers, as they can save up to $141 by departing on a Friday and still touch ground in time to make it to a Friday Night Lights-style high school football game. Texans do love their sports, after all!
3. Save up to $120 by returning on a Sunday
While leaving on a Sunday would make it a quick trip (unless you stay a whole week), travelers can save up to $120 by flying home before the business week starts. Plus, Dallas is especially lively on the weekends, whether you're visiting to shop, eat or watch a football game or two during your weekend getaway.
4. The cheapest time to buy a flight to Chicago is on a Wednesday, saving up to $32
If hump day is really bringing you down, book your ticket to Dallas to lift your work-woe spirits. You can save up to $32 by simply booking your ticket mid-week, and it may just boost your energy up enough to finish out the week. After all, you will soon be tasting some of the country's best steaks and savoring its delicious barbecue.
Check out Hopper's article on the best BBQ restaurants in Dallas for ideas on how to spend that $32 savings the best way possible!
5. The cheapest time to fly to Dallas is in August, saving up to $50
August is certainly one of Dallas' hotter months, but the city's endless amount of pools and lakes make it the perfect end-of-summer, go-to spot. Plus, sports fans will want to be part of the Texas-size pride as college football games start and the MLB season is in full swing. Travelers can save up to $50 by visiting during this time of excitement.
If you're just too excited about the rodeos and spicy Tex-Mex of Dallas to be thinking about saving money on your flights into town, then why not let Hopper do all the hard work for you? Check out our When to Fly and Buy Reports, which collates millions of pieces of data from portals right across the internet to provide would-be fliers with information on the cheapest departure dates, best booking times, most budget-friendly airlines and much much more. Nice.
7. Take a look at Hopper's Airline Fees Calculator to get the real cost of your ticket
If you're eager to grab a bargain airfare for travel to DFW this year but are worried about all the additional charges and costs associated with things like add-on baggage, seat selection and in-flight meals, then be sure to take a look at Hopper's Airline Fees Calculator. It offers a simple and easy-to-understand breakdown of all additional charges right across the board, from American Airlines' luggage fee, to Frontier's $30 leg room supplement.
Get up-to-date information on finding cheap flights to Dallas using Hopper's interactive flight tools.