Miami might seem to have enough life and activity to keep any traveler entertained, but it is also surrounded by Florida's fabulous natural world, which really shouldn't be missed. Much of this consists, of course, of beautiful white-sand beaches and a year-round tropical climate – pleasures which can be enjoyed among the Florida Keys, or on the Palm Beaches. These destinations also offer superb diving, snorkelling, swimming and even sportfishing.
But alongside this coastal luxury, the south of Florida also contains a very different terrain: the Everglades, a dense and humid patchwork of marsh, mangrove, swamp and forest. The Everglades are home to creatures such as the Florida panther, snakes, alligators, bald eagles and much more, forming a wonderful region of wilderness among the luxury resorts of south Florida.
All of these destinations are an easy day trip from Miami, as each is no more than a two-hour drive from the city.
Check out these tips, like when to book your ticket, from the Hopper research team that can save travelers hundreds on their flights to Miami.
Explore the swampy eco-systems of Everglades National Park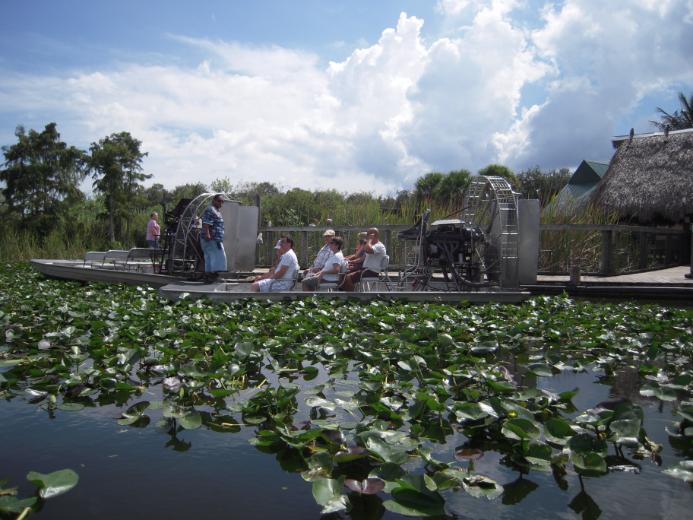 Everglades National Park, Florida – photo by From Miami To Detroit
A world away from the urban grit and glamour of Miami, the Everglades are a dense, damp, lushly vegetated region of wetlands in southern Florida. There are a variety of habitats to explore, encompassing cypress swamps, hardwood forests, marshland, and the mangrove wilderness of Ten Thousand Islands National Park. Wildlife and birdlife flourishes in these verdant eco-systems. Canoe trips can be taken into the swamps, or there are a myriad of hiking routes threading through the trees. The gateway to this natural world is Everglades City, a small settlement about 80 miles west of Miami.
Swim, snorkel and scuba from the fabulous beaches of Key Largo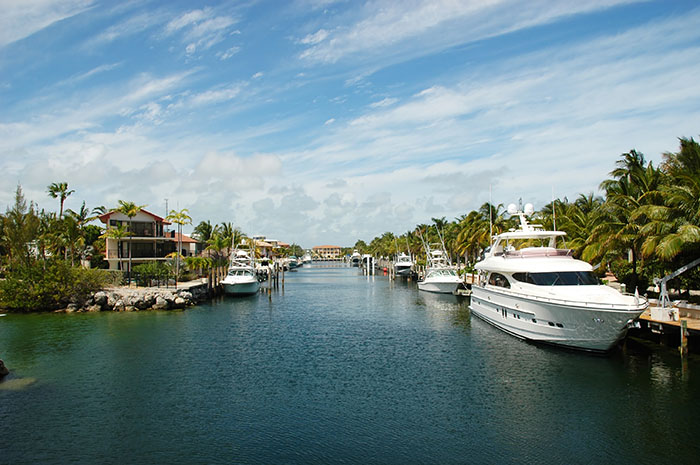 The first of the Florida Keys, Key Largo is by far the largest of the islands that curve around the southeastern edge of Florida. It contains two state parks, a national park, a marine sanctuary and two fabulous beaches with year-round warm waters: Sandspur and Caloosa Beaches. These offer fantastic swimming, snorkelling and kayaking, and Key Largo is also a popular diving destination, home to the world's largest artificial reef and some dramatic wrecks. Key Largo is around 60 miles and an hour's drive south of Miami.
Enjoy tropical bars, seafood restaurants and world-class sportfishing at Islamorada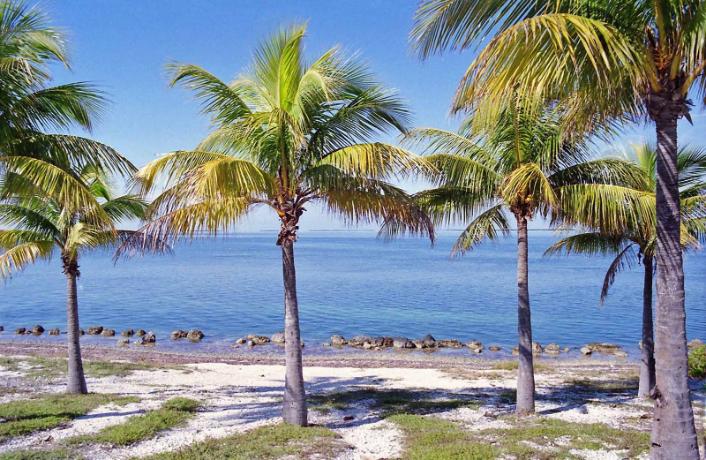 Islamorada, Florida – photo by Joe
Islamorada, made up of six islands in the Florida Keys, is another chilled-out tropical paradise, and a perfect break from the madness of Miami. It has several excellent restaurants serving sublime, freshly caught seafood, and pitch-perfect tropical-themed bars where umbrella-topped cocktails bring fuzzy contentment. But Islamorada is most famous for one, slightly more fast-paced activity: sportfishing. It has a reputation as the sportfishing capital of the world, its waters teeming with snailfish, bonefish, snook and redfish. This colorful and plentiful marine life has also facilitated an excellent diving and snorkelling culture.
Relax in the year-round warmth of West Palm Beach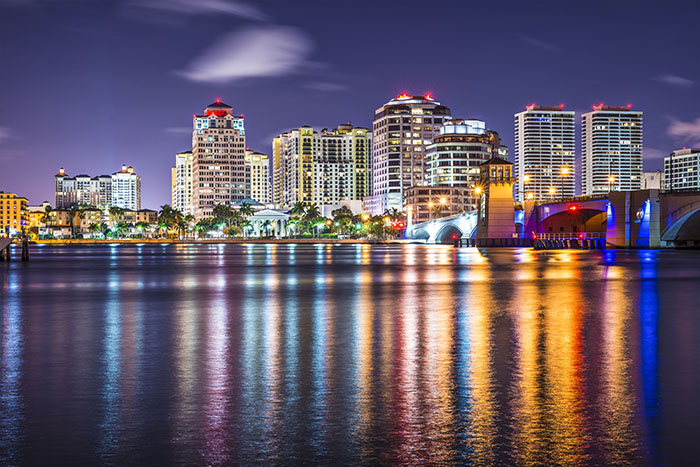 West Palm Beach is the most lively and activity-crammed of the Palm Beaches. A town of palm-lined streets and sparkling waterfront vistas, it offers plenty of cultural activities, such as the world art on display in the Norton Museum. The town is also famed for its chic boutiques and brand-name department stores. On nearby Peanut Island you can visit a bunker built for John F. Kennedy during the Cold War. And there are some great golf courses, lively nightlife, and, of course, fantastic beaches, with water warmed by the Gulf Stream.
Visit the pristine coastal town of Naples, Florida
Naples is an idyllic Florida coastal town set beside the Gulf of Mexico, and among the wealthiest cities in the entire United States. It stands between two worlds: the city itself contains a plethora of deluxe shopping outlets, pricey golf courses, grand architecture and top-end hotels, while a little to the south stretches the dense wetland wilderness of the Everglades. There are also many secluded beaches and islands within easy reach of the city, and it is a popular base for watersport enthusiasts. Naples is 125 miles and around two hours west of Miami on Interstate 75, also known as "Alligator Alley."
See the five best day trip destinations from Miami on the map: