Planning a trip at the last-minute is easier than ever thanks to a host of new travel apps catering to spontaneous travelers, like GTFO and Hotel Tonight. Other apps - Uber and OpenTable - have generally just improved the way travelers do every-day things, like making a restaurant reservation or hailing a taxi, while apps from OTAs continue to make improvements that can lead to big savings on impulsive weekend getaways. Here are our picks for five essential apps for last-minute travelers. Don't leave home without them.
Available on iTunes for iOS 7 or later devices.
GTFO (get the flight out!) is the first app of its kind to cater to travelers booking flights at the last minute. Just open up the app and select your airport to see a list of round-trip flights departing tonight sorted by price. Want to fly from New York to Bermuda for $329 round trip at the last-minute? How about a flight from Denver to Las Vegas that leaves in five hours for $194? With GTFO that's no problem. You could literally book your flight on your way to the airport.
This author recently used GTFO to fly to Cancun at the last-minute, while blogging about the trip here on Hopper. Check it out.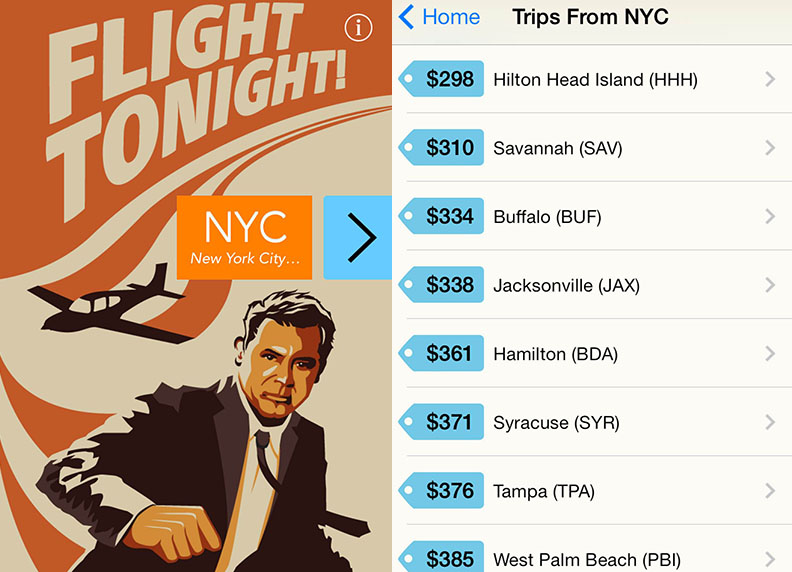 ---
Hotel Tonight
Available on iOS, Android and Windows.
Hotel Tonight is a must-have app for spontaneous travelers. It presents a curated selection of hotels in dozens of cities around the world that are available tonight, at heavily discounted prices. It's great for last-minute business trips or when your flight is canceled at a connecting airport, but it's also good for weekend getaways or impulsive romantic surprises. Protip: Book your same-night hotel as early as possible after the hotels go on sale in the morning to get the best-possible rates.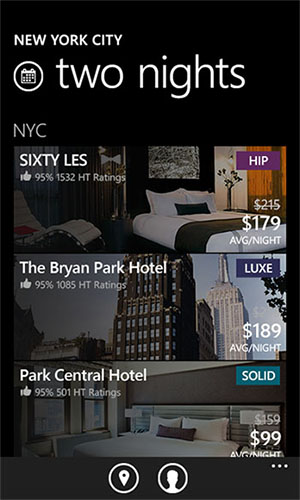 ---
Priceline
Available on Windows, iOS, Android and Amazon.
Priceline is the world's largest travel booking site, and it does literally everything imaginable in the travel space. But perhaps its most useful application for spontaneous travelers is its express deals option for hotel bookings. Unlike Hotel Tonight, the express deals option on Pricelline doesn't reveal the names the hotels beforehand to travelers. What it does reveal is a star-rating and location - which should make it easy to identify the possibilities in most cities. In exchange for not knowing which hotel they'll be staying at, travelers are rewarded with HUGE discounts that regularly outperform competitors like Hotel Tonight.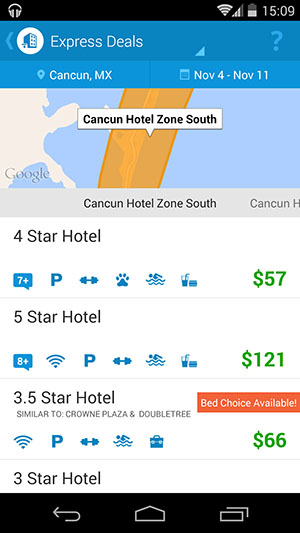 ---
Uber
Available on iOS, Android and Windows.
No rental cars available? No problem. Just use Uber, the on-demand private car service to get around your destination. Its uberX offerings are typically much cheaper than taxi services, the app takes care of payment so there's no need for cash and it works in dozens of cities around the world.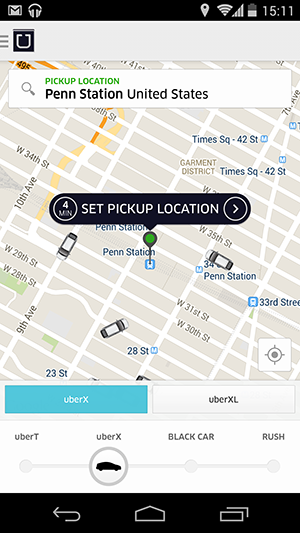 ---
OpenTable
Available on iOS, Android, Blackberry, Windows and Amazon.
What good is a spontaneous weekend getaway if you get stuck eating at terrible restaurants? Keep OpenTable handy on your phone and that's much less likely to happen, as it offers a huge selection of restaurants that take reservations through its app. Check it regularly, as sometimes highly sought-after restaurants will have openings at the last-minute.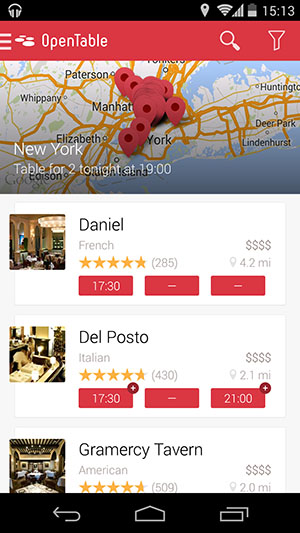 ---
GateGuru
Available on Windows, iOS and Android.
There's no escaping the fact that a large part of any trip will take place at the airport. GateGuru seeks to make that as painless as possible with its innovative offerings, like its JourneyCard which tracks your itinerary and automatically populates information on your flights, like security wait times, departure gates and delays. And, for while you're waiting, the app's AirportCards have all sorts of information on airport amenities and dining options.