Yes, Las Vegas is known for its abundant nightlife, gaming rooms and scandalous clubs, but it's no longer the hotbed of hedonism that it used to be. With hotels opening up more family friendly attractions and tour companies tapping into the natural beauty of the Nevada terrain beyond Las Vegas Strip, the former City of Sin is now a fun, adventurous and even educational vacation getaway for the whole family – bored, iPhone-addicted teenagers included. Roller coasters, thrill rides, unique museums, breathtaking shows and delicious restaurants. And, anyway, you can always leave the real delinquents inside the room with the HBO on.
See 5 tips, like when to book your ticket, from the Hopper research team that can save travelers hundreds on their flights to Las Vegas.
From a French Revolutionary to a pop culture icon, uncover the legend behind Madame Tussauds and strike a pose with Brad Pitt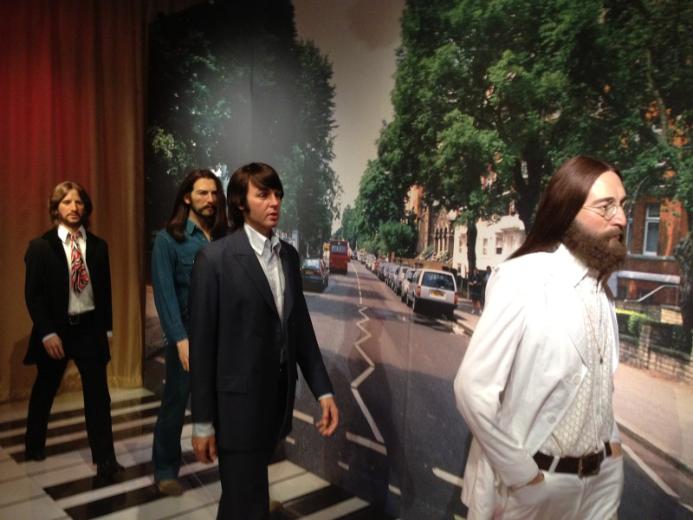 Madame Tussauds, Las Vegas – photo by Stampindamour
Marie Tussaud was born in Strasbourg and worked as a housekeeper to a physician and wax sculptor. Having acquired some of his skills, she began to work for him as an artist. She became involved with the French Revolution and was employed to make death masks of the victims of the guillotine. In the early 1800s, she moved to London and peddled her wax figures to museums until she finally established her own. Now she's in London, Amsterdam, Bangkok, Hong Kong, New York, and a list of more international branches, not the least of which is Las Vegas. Her legacy has been carried out to create the waxy likenesses of everyone from current Hollywood celebrities and historical figures, including Madame Tussaud herself.
Lions and tigers and dolphins, oh my! Siegfried & Roy's Secret Garden & Dolphin Habitat at The Mirage has all of the exotic animals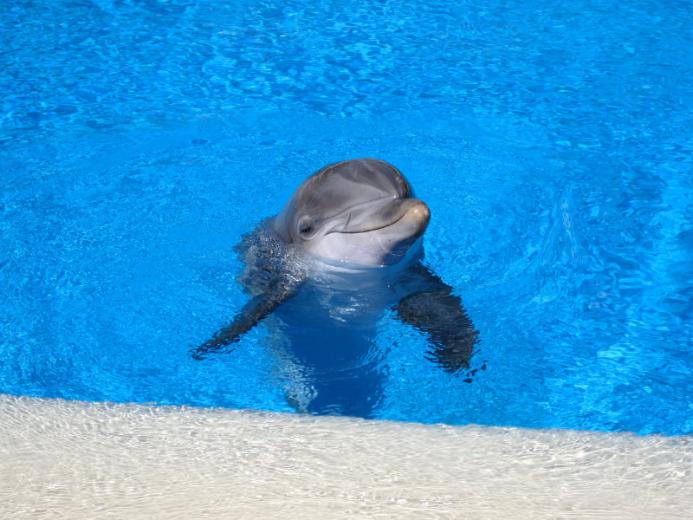 Siegfried & Roy's Secret Garden & Dolphin Habitat, Las Vegas – photo by Chelsie Sargent
Dolphins are beautiful, multifaceted creatures. They can make art, did you know that? Place a piece of canvas in front of them and a dolphin-fitted paintbrush in their mouth and watch the colors fill the board. That's one of the activities offered at Siegfried and Roy's Secret Garden and Dolphin Habitat in the Mirage. Not quite Rothko, but these bottlenoses are probably more pleasant to collaborate with than the jaded painter. Cuter, too. Other activities: yoga with dolphins, training the dolphins for the day. Even just walking around their not-so-secret garden visiting their collection of white lions, white tigers, panthers, leopards and llamas in elaborate and meticulously manicured displays is worth the admission fee.
There's a ride for everyone at The Adventuredome in Circus Circus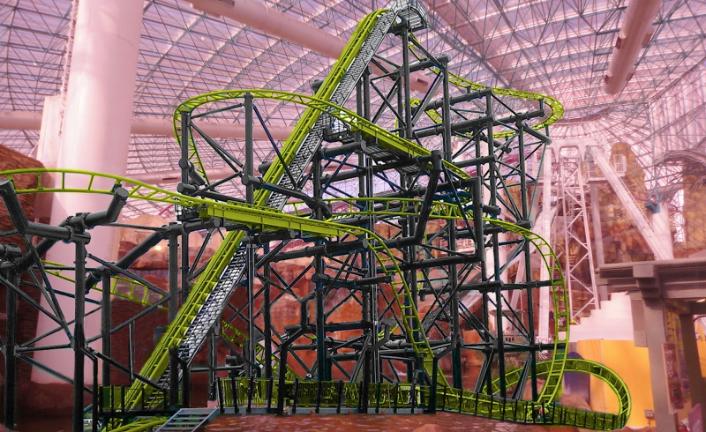 The Adventuredome, Las Vegas – photo by Mike
Ready for adventure? There's a dome for that. Located in the Circus Circus Hotel and Casino, under a sprawling pink glass ceiling, the Adventuredome houses five acres of indoor rides and roller coasters for every age, including a mini-golf field, laser tag arcade and special FX theatre with Spongebob and Dora 4D ride films. The little tykes will love the classic Circus Carousel, while teens and adults will get a thrill out of Canyon Blaster, a huge double-loop, double-corkscrew speeding through the complex at 55 mph. With safe, old favorites and constantly building new gravity-defying thrill rides, the Adventuredome is sure to please the whole family. And afterward, walk over to the Stratosphere Tower just down the street to see its thrilling rides.
Satisfy your candy cravings in style at the Sugar Factory in Paris Las Vegas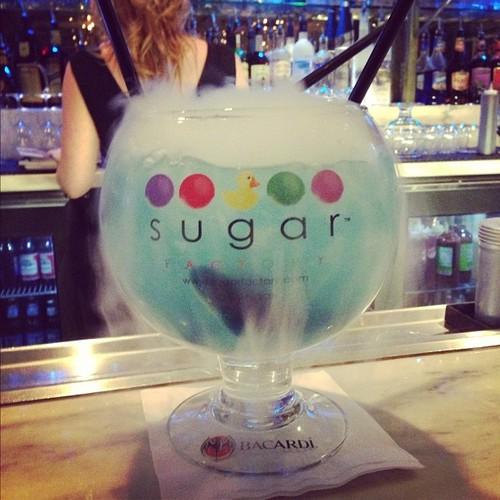 Sugar Factory, Las Vegas – photo by Karen Ng
A huge 24-hour retail candy store, restaurant, beer garden and nightclub – the only thing The Sugar Factory isn't is literally a Sugar Factory. For the sweet tooth with a taste for glitz and glam, the Sugar Factory in Paris Hotel & Resort is the place to be. The restaurant offers a variety of classic American fare including burgers, pastas, steaks and seafoods, but the reason to be there is the sweets – check out the King Kong Sundae, a whopper of a sundae with 24 scoops of ice cream, two cupcakes and pretty much every single topping in the sundae play book (it feeds 12). Don't miss the cocktails at this place – 36 ounce goblets with themed concoctions, including the Ocean Blue goblet, a murky blue cocktail made with Hypnotic, Blueberry Schnapps, Stoli Blueberry Vodka and Bacardi Razz, garnished with gummy candies shaped like sharks! On your way out, don't forget to grab a Couture Pop at the retail store; word is the Kardashians can't get enough of the blinged out sweets.
Scale some rocks on nature's own canvas, Red Rock Canyon National Conservation Area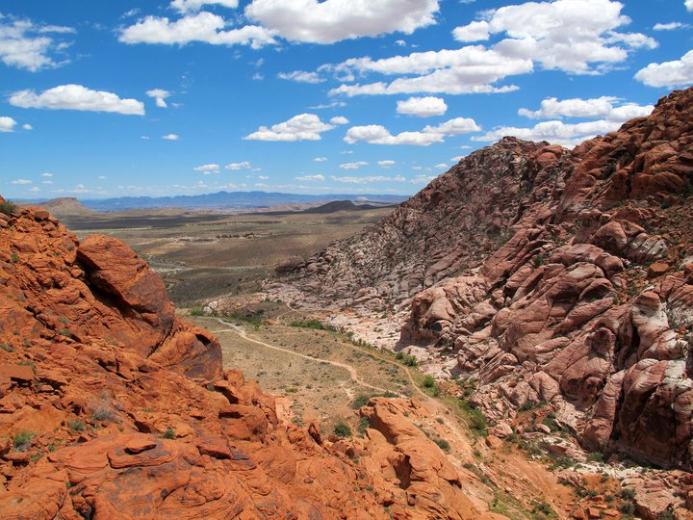 Red Rock Canyon National Conservation Area, Nevada – photo by Archimedes
An hour's drive west from the bustling Boulevard, Red Rock Canyon provides an alternative view of Nevada. Replace the glittering lights with the glow of the sun-splashed rocks, and the sweltering concrete scuffed with the soles of a million pedestrians with prehistoric rock formations. With 19 hikes and trails ranging from beginner to advanced to discover the rainbow of natural colors splashed and layered across the vibrant 195,819 acres of Red Rock Canyon, this is not an attraction to be missed.