Jetting off to Paris may be a far-fetched romantic dream for most of us, but the city of love doesn't need to stay in the realm of unreality forever. Sure, shopping on the Right Bank and staying at a hotel under the lights of the Eiffel tower will be pricey, but if you're a savvy traveler who knows when to search for flights and the best time to book then you might find the travel expenses for that amorous Parisian break pretty reasonable. Lucky Europeans can get seriously good deals to Paris at almost any time of the year with budget airlines, both North American travelers will need to shop a little more carefully to land a good price. Have a look at some of our pro tips for finding cheap flights to Paris.
Get up-to-date information on finding cheap flights to Paris using Hopper's interactive flight tools, like our when to fly and buy reports.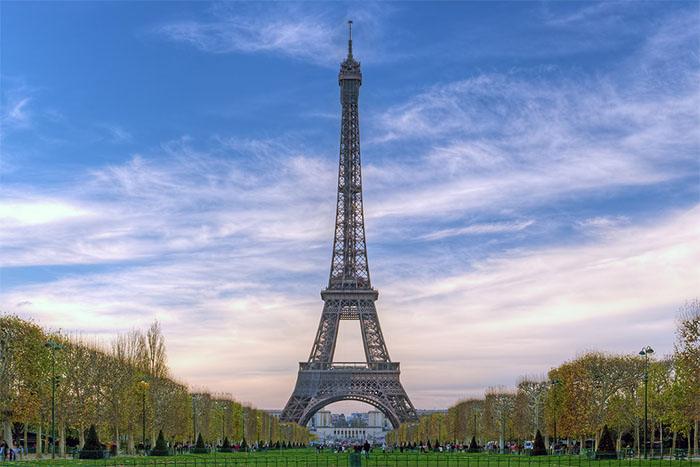 Photo by James Whitesmith/Flickr.
1. The cheapest time to book a flight to Paris is 20 days in advance, saving up to $600
If you're really ahead of the game, booking your flights to Charles de Gaulle about two months ahead of time will see you save an average of $800. For the more spontaneous traveler, though, don't fret if you've left it until the month of the trip to finally nab those seats. Booking around 20 days in advance still sees pretty hefty savings of about $600 compared to on-the-day costs. Around 8 days before departure the flight costs incline steeply so book at least a week before your trip to avoid paying out hefty last-minute fees.
2. The cheapest day to buy a flight to Paris is on a Monday, saving up to $91
What better day of the week to laze around and dream of your French escape? Beat the Monday blues by winding down with a verre de vin and get online to search for your extra cheap flights to Paris. It'll give you something to feel great about for the rest of the week, and it'll prove fantastic boasting fodder around the office. By booking on Monday, you could save $91 compared to those who book their flights on the most expensive search day, Saturday.
3. The cheapest day to fly to Paris is on a Wednesday, saving up to $32
Wednesday is the cheapest day of the week to head off on your Parisian trip. Going for business? You'll get a good two days' worth in before enjoying the weekend. Traveling for pleasure? You'll have a chance to take in plenty of sites before the other European weekend mini-breakers take over the city's tourist spots. Perhaps predictably, Friday and Saturday prove the most expensive days to fly to Paris CDG while Tuesday and Thursday are both among the cheaper options.
4. Return on a Tuesday to save $59
Again, Saturday is the most expensive option for flying out of Paris by quite a hefty amount. If you choose to fly out of Paris on a Tuesday rather than a Saturday, you're set to save around $59 – but, in any case, who'd want to leave the City of Love in the middle of the weekend? Monday and Wednesday are two more of the cheapest options, but avoid flying out of Paris on Friday or Saturday if you want the very best deal.
Go to Hopper.com, and enter the names of the airport or the city you're flying from and where you plan to fly to. Simply click "get report" for a full breakdown from Hopper's data scientists detailing when best to buy your flights, when to fly and even the cheapest airport choice close to your destination. So while the aforementioned tips apply to Paris, generally, you may find more accurate money-saving advice when you enter your departure airport.