Fireworks, flags, food — and pricey flights. The Fourth of July is simultaneously one of the most popular and one of the most expensive weekends to travel. While driving is a bit cheaper this year due to lower fuel costs, flying is as expensive as ever. (To be precise, Hopper found that it's only about 4% cheaper this year than last.) So to save a few bucks, here are some smart tips for saving the most on your Independence Day flights.

Book Way in Advance
First, the easy stuff. Hopper's research showed that the biggest savings on Fourth flights will be found at least three weeks in advance. The average domestic ticket for Fourth of July weekend is about $384, but you can expect to pay much more if you wait until the last minute. Prices will continue to rise as the holiday draws near, spiking three weeks before. Like many other holiday weekends, cheap last-minute flights are rare (or just plain nonexistent), so book on the sooner side to save.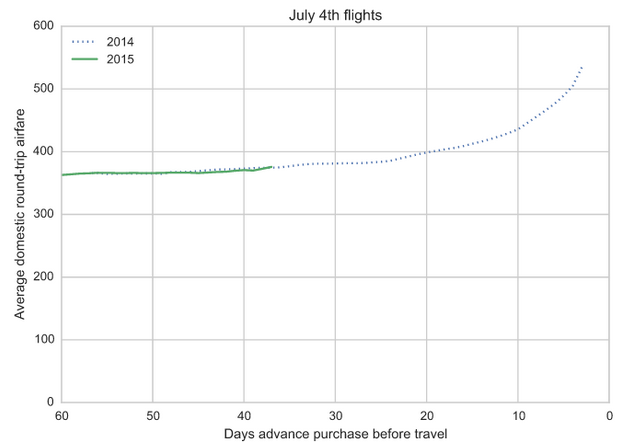 Fly Midweek
The good news: Your holiday is about to get longer! The bad news: You may have to burn a few more vacation days, with the Fourth falling on a Saturday this year. Flyers can save almost $40 by flying Tuesday or Wednesday — and depending on their route, it could be much more. Plus the airport is likely to be a lot less crowded in the middle of the week.
Surprisingly, the weekend before the Fourth of July is more expensive than the holiday weekend itself. You'll spend $40 more simply to fly a week earlier. So wait until Tuesday or Wednesday before the Fourth.
Or Wait a Week
No family plans? Nowhere in particular to be? Then push off your vacation for one week! The weekend after the Fourth of July isn't a terribly popular time to travel, which means that travel prices dip. Your flight will be, on average, $35 cheaper if you delay your vacation. You can also expect less-crowded airports and attractions during this relative lull.
Pick a Cheap City
Not all cities are created equal— at least, not when it comes to the availability of cheap airfare. So if you know you want to get away but haven't yet decided where to go, check out these U.S. destinations where airfare prices are actually cheaper than last year.
Anchorage offers the biggest price drop since last year, with average airfare a full $139 cheaper. But if it's summer sun you're after, New Orleans, Dallas, and the popular paradise of West Palm Beach all offer savings of $90 or more on flights. Summer is also shoulder or low season for many of these destinations, so hotel, resort, and attractions discounts are easier to find.
A surprise on this list comes via Philadelphia. The city is an Independence Day hot spot, known for its patriotic fireworks display, museums, and monuments. Flights are cheaper in 2015 by about $90, so perhaps this is the time to see the City of Brotherly love?