Hopper is analyzing huge amounts of data to find insights that can save travelers money on airfare and, with that in mind, we've decided to look at how travelers can save money on their flights to Europe this summer. Airfares are in part tied to fixed costs such as fuel, but market demand also has a large impact on prices. This means it's actually possible to save up to $500 on flights to Europe just by searching for flights in a new way.
Want to find tips on how to save money on airfare? Visit our flight tools page, choose your airport and go!
Hopper's five tips on how to save money on flights to Europe:
1. Travel at the start or end of summer
The cheapest times to fly to Europe this summer are in the beginning of May and the end of August when travelers can save as much as $500 per round-trip ticket as opposed to during the peak dates from mid-June through July.
2. Find a bargain destination
Picking a less popular arrival destination can save more than $500 compared to flying to marquee cities like London, Paris or Rome. Places like Dublin, Milan and Lisbon can all have much cheaper flights from America and each has easy connections to the rest of Europe. Imagine it, a lovely vacation in Dublin and London all for less than the flights to London alone!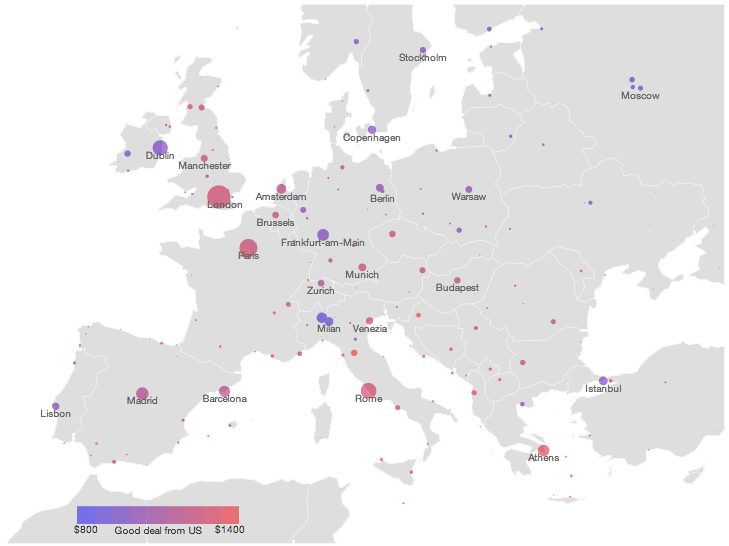 A heat map showing airfare prices to select European destinations from the United States.
3. Buy separate internal flights
Travelers can take advantage of cheap travel within Europe to get to their dream destinations for less with many flights between European cities available for under $200. Budget airlines are plentiful in Europe and extend beyond just the heavyweights like Ryanair and easyJet to include regional airlines like airberlin and airBaltic.
Check out these samples of fares from Boston to Europe for an example of savings:

4. Choose optimal travel days
It's possible to save over $150 by picking the best days to buy, fly and return to Europe. Fridays are the best days to buy tickets, Wednesdays the best to depart and Tuesdays the best to return. Weekends are consistently the most pricey, so avoid them to save.

5. Buy early
Travelers can save more than $250 by purchasing tickets at least 60 days in advance. So book now to enjoy those end-of-August savings!