Most people don't think about booking on the fly, because most of the time, flight fares slowly increase as the departure date grows nearer before surging sky-high a day or two before. But what if getting to, say, Cancún was just as easy as hopping in your car and starting your engine? If you're feeling the urge for soft sand and new cultures, then drive to O'Hare, because on certain destinations, there's no extreme flight increase for last-minute travelers. Want to take a spontaneous trip somewhere to nurse your anxieties, or surprise your partner with an exotic and relaxing weekend, or go on that late-notice job interview? At these ten destinations, you can.
The best way to find and book last-minute deals on flights is by using the Flight Tonight app, a newly released app from Hopper that lets travelers search for cheap flights leaving from their home airports within the next 2-24 hours. Download it, it's free, and live a little. Also, check out the destinations below.
Download Hopper's new Flight Tonight app from the iTunes App Store now to find great last-minute deals departing from your airport!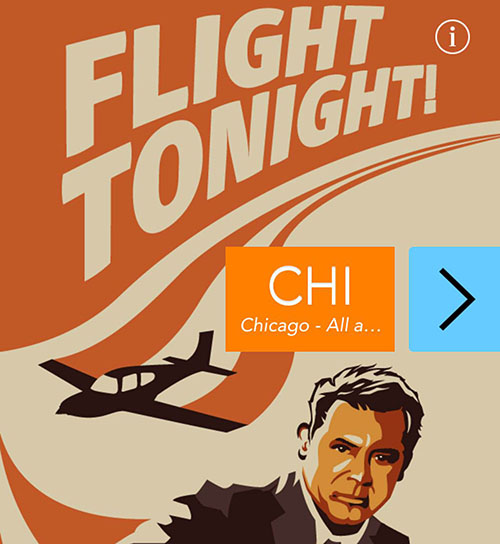 Five Last-Minute Deals on Domestic Flights from Chicago:

Photo by Photomatt28/Flickr.
The flight from Chicago to Minneapolis typically isn't too expensive, with good deals on average hovering around $99, but thankfully even last-minute trip planners don't have to worry about missing out on low prices. With average fares only going for $228 when booked the day before travel, Chicagoans can quickly find themselves chilling lakeside with a beer in the Twin Cities without breaking the bank.

Photo by nixter/Flickr.
Are you flailing around the Windy City, wishing you were on a beach? Forget the crowded, over-hip strips of California or Miami sand and instead head to a casual, small-town surrounded by charming Southern seafood restaurants, outlet shops, and of course, excellent beaches. Check Myrtle Beach and marvel at how the return flight only costs $233 when booked the day before flying.

Photo by Marcin Wichary/Flickr.
Whether you're flying to San Jose for business or pleasure; to the crystal towers of the Silicon Valley tech companies, or just to hit the trails of Alum Rock Park, you can always find a cheap flight from Chicago. Good deals for early planners can be found for as low as $278; while those flying, well, on the fly, can find last minute deals for around $322. Do you know the way to San Jose? Well, now you do.

Photo by timsackton/Flickr.
One of the oldest, historically rich, diverse and influential cities in the country, Boston gets an average of 16.3 million visitors a year. There are certainly the baseball hungry pilgrims on route to Fenway Park; the history buffs happy to wander the city's wide variety of top-shelf museums; and not to mention those travelling foodies after some fresh seafood and local brews. If you fall under any of those categories and feel like taking off right around now, it's actually not an expensive trip. For just a bit over $332, last minute deals can come pretty easily for those departing from O'Hare.

Photo by Larry Johnson/Flickr.
So it turns out that those dreams of running away into the mountains can be attained for really not that much money. Need a break? Just go west. Take flight and find yourself in the Mile High City, a rapidly development metropolis with that spectacular skyline shadowed by the ridges of the Rockies. And the pricetag for a spontaneous jaunt through the mountains of Colorado, at least transport-wise (getting the tent and hunting wild boars, that's all you, man) hovers somewhere about $338.
Five Last-Minute Deals on International Flights from Chicago:

Photo by dameetch/Flickr.
How about a spontaneous weekend in the tropics with your significant other? Is an anniversary or birthday coming up that you were originally going to spend on take-out sushi and a bottle of Veuve? Has she been having a rough time lately? Are you in the doghouse for something you did or didn't do? Whatever the reason, have no fear, since a last-minute return fare to beautiful San Juan comes in at around $427 when booked the day before travel.

Photo by smilla4/Flickr.
For a real getaway, get away from Chi-town and hit sunny, eccentric San Jose. No, not the one with the Lego-padded lawns and bespectacled brogrammers swapping fond memories of Myst. The historic European Renaissance-inspired streets of San Juan, Costa Rica, is alive and buzzing with street performers, friendly locals, colorful markets and sublime eateries. Get there for as low as $440 on a whim.

Photo by janhamlet/Flickr.
For a deep-dive into Mexican culture without fear of the hordes of resort-tourists, Morelia is a great option. A registered UNESCO World Heritage, the city has maintained its colonial-style roads and avenues over the years and makes for a bewildering and colorful wander. Since it isn't a popular touristy area, the accommodations and restaurants remain also relatively affordable. Want to go this weekend? Check our reports and find a last-minute return flight for not much more than $477.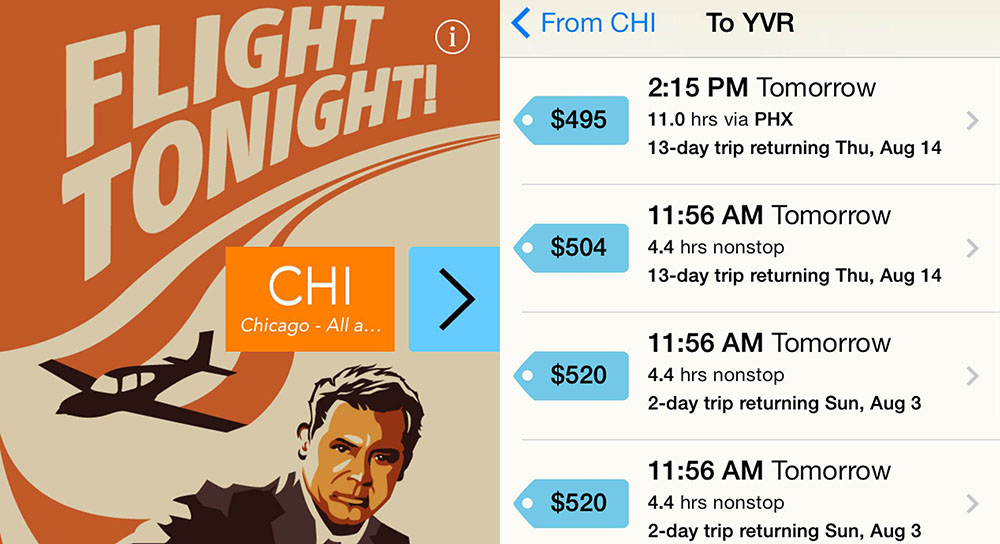 Where can you go where all four seasons seem to coexist harmoniously with one another, where the silky snow-capped mountains shadow warm coastal beaches, where salmon and tuna float happily in the Pacific Ocean until they swiftly appear on a plate as melt-in-the-mouth sushi? Vancouver: you could be there this weekend, for, like, $495, so why wouldn't you?

Photo via their official FB page.
You're gonna want to keep this one in your pocket for a rainy day, because Cancún has so few of them. Do you know how easy it is to be lying on a tropical beach, surrounded by clear azure waters and silky white sand in Mexico's most beautiful slice of shoreline? Not only are last-minute resort packages super affordable on the off-season, the return flight there is going to be an easy $511 with almost no advance notice. Because you know what? Partners who surprise each other with spontaneous trips to Cancún can get it.
These 10 tips from the Hopper Research team can save you up to $417 on your flights from Chicago to Cancun!