Flying coach is the lot of most air passengers today, and for many represents the grind of a holiday — a chore before the pleasures of the Caribbean's beaches, the wonders of Asia or the big city delights of London, Dubai and Los Angeles. However, economy classes have come a long way since the times airlines would just pack in fliers like sardines to a tin, and today there's actually oodles of comforts to be had on board. That means extended legroom, bigger seat pitches than ever before, cozy cabin orientations, excellent entertainment and even gourmet dining!
If you're determined to get the most enjoyment possible out of your flights this year, then be sure to check out this selection of the top ten economy classes currently in the air, all chosen and ordered according to the acclaimed Skytrax Awards.
Download Hopper's mobile app to save up to 40% on your next flight! Now available on iOS and Android.
10. Thai Airways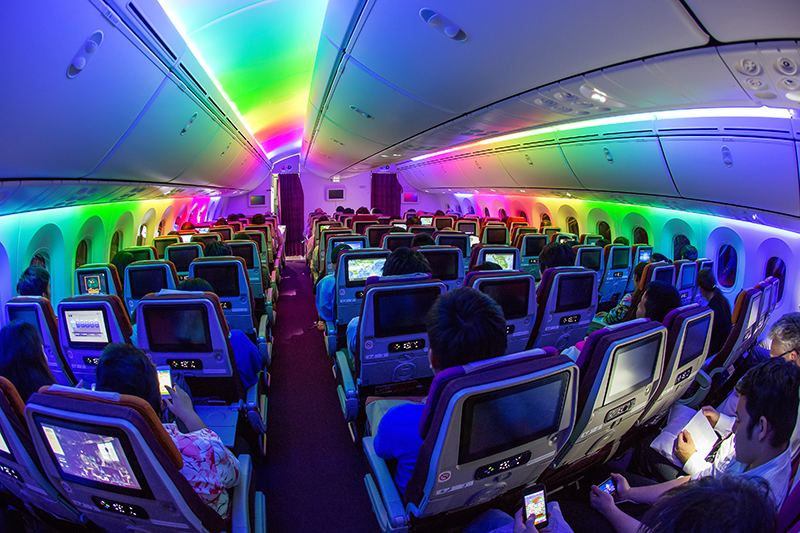 Perhaps you're pining for the sands of Koh Samui or a diving jaunt in the turquoise waters of Koh Tao? Maybe it's Bangkok that's a-calling, with its aromatic Pad Thai eateries and thumping backpacker bars, or Pai up north, lost somewhere between the mysterious Burmese hills? Whatever it is you're seeking out in Thailand, the national flag carrier is certainly one of the best options for getting into town, coming in at tenth place on Skytrax's line-up of economy fliers with its colorful upholstery, national food offerings and on-board Wi-Fi connectivity.
9. Emirates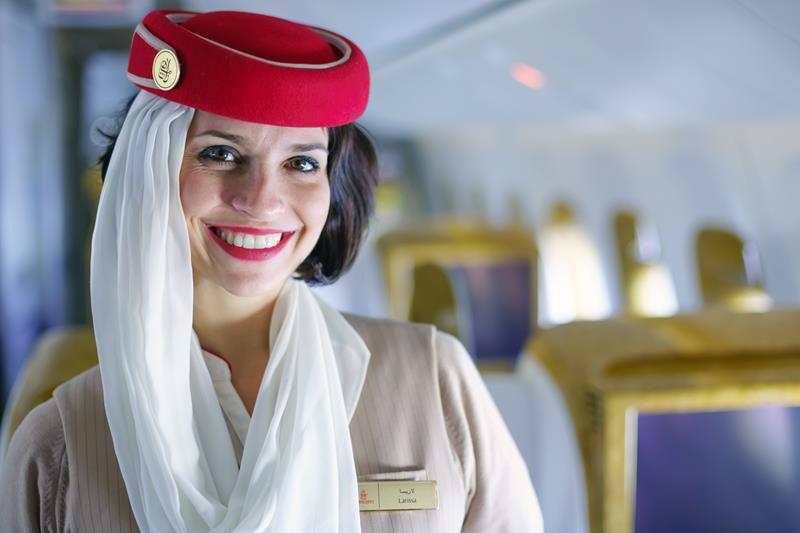 Boasting in-flight connectivity for both mobile networks and the Web, an award-winning ICE entertainment system with more than 2,000 on-demand channels, countless games and the latest blockbuster movies, and a special young fliers program to keep children entertained from departure to arrival, Emirates really are one to watch when it comes to economy class. What's more, the food is top-notch, with gourmet dishes like smoked tuna salads and marinated Arabic lamb doing well to transport travelers to the front of the plane!
8. Oman Air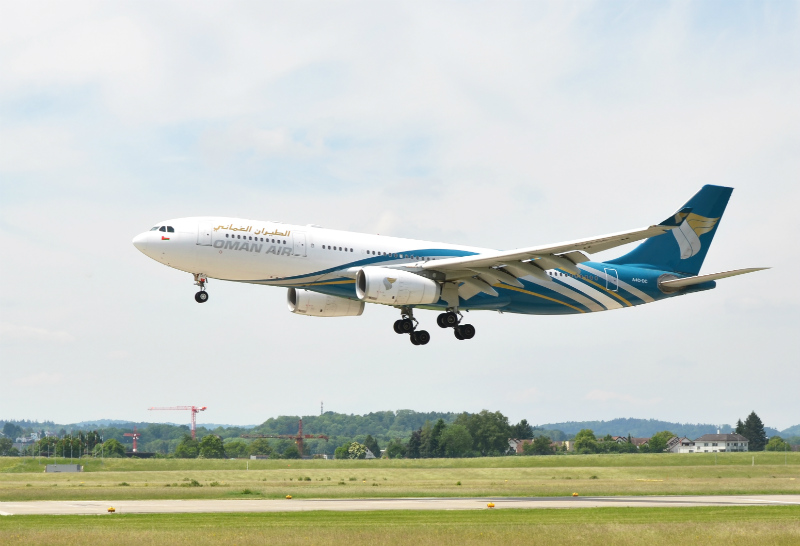 With a great big whopping seat pitch of 34 inches, shock-resistant foot rests, 10.6-inch private television screens, multi-plugs and PC power ports as standard and individual suit hooks for every passenger, Oman Air has covered all the bases for both leisure and business travelers riding its various routes in and out of Muscat and the Middle East. What's more, the in-flight dining is truly great, touting fresh tea and coffee and a range of interesting dishes laden with a twist of Arabic spice.
7. EVA Air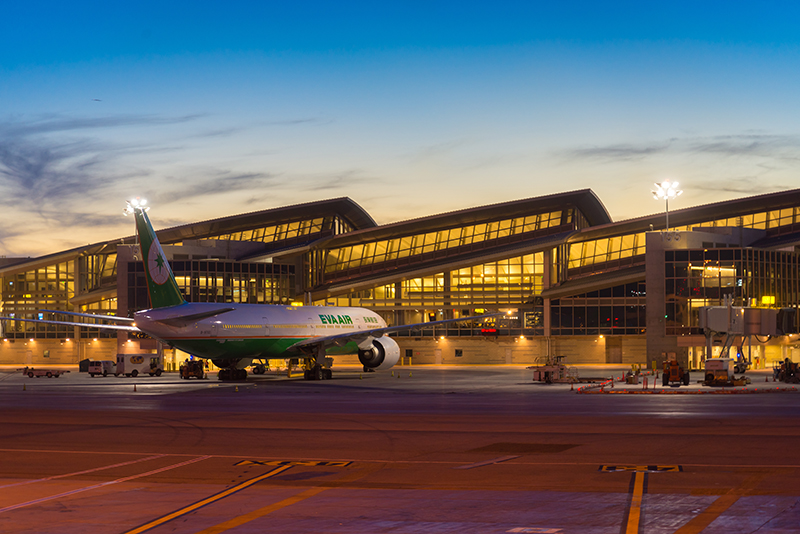 Hailed for its unique memory-foam seat technology and snug upholstery, EVA Air's economy offering remains a top choice for travelers on routes out of the Taiwan Taoyuan International Airport. There's also an adventurous twist on the food menu, with dishes like Chinese rice porridge rubbing shoulders with international classics. And then there's the entertainment, an extensive line-up of on-demand games and movies that's now all in HD on the carrier's Boeing 777-300ERs, 747-400s and Airbus A330-200s — a taste of hi-tech Taiwan before arrival!
6. Singapore Airlines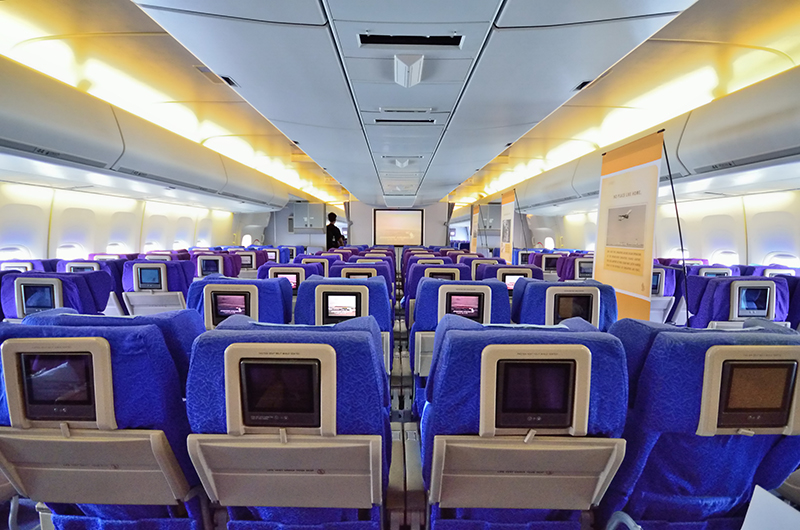 Just like the harborsides, the swish downtown streets and the shimmering skyscrapers of Singapore city itself, the interiors of the nation's flag carrier are pristine, spotlessly clean, and designed to perfection. Upholstered seating and all-new head cushions now adorn the cabins of the airline's Boeing 777-300ERs, while passengers on other planes enjoy ergonomically crafted spaces with extended leg room, oodles of entertainment from the carrier's KrisWorld on-demand service, and even branded Givenchy fleece blankets as standard!
Looking for flights on Singapore Airlines? Hopper's new mobile app can you save hundreds!
5. Cathay Pacific Airways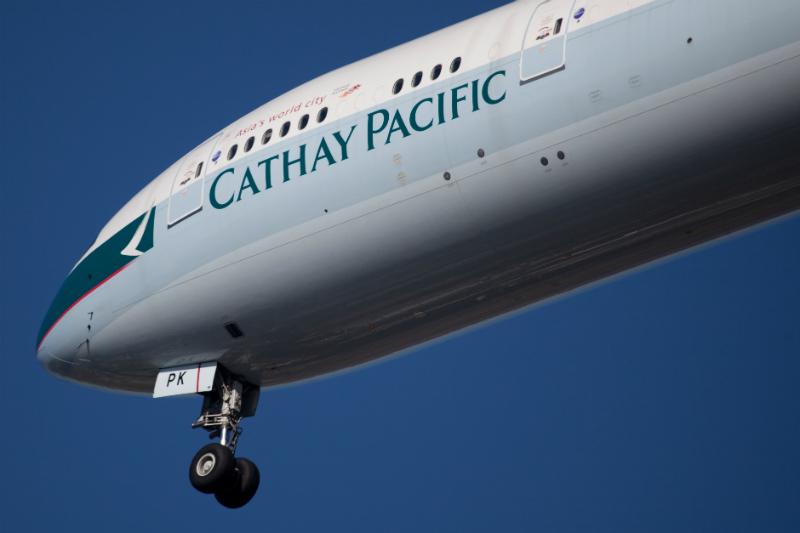 Not an annual award ceremony nor a line-up of top airlines goes by without at least a mention of Cathay Pacific, who have now garnered the coveted World's Best Airline Award more times than any other on the planet. And it looks as though Hong Kong's flag carrier can do no wrong in the economy department either, with Skytrax placing them at a very respectable fifth place overall — they were no doubt wooed by that 6-inch recline, those adjustable headrests, the StudioCX entertainment systems and the extended legroom throughout!
4. Qatar Airways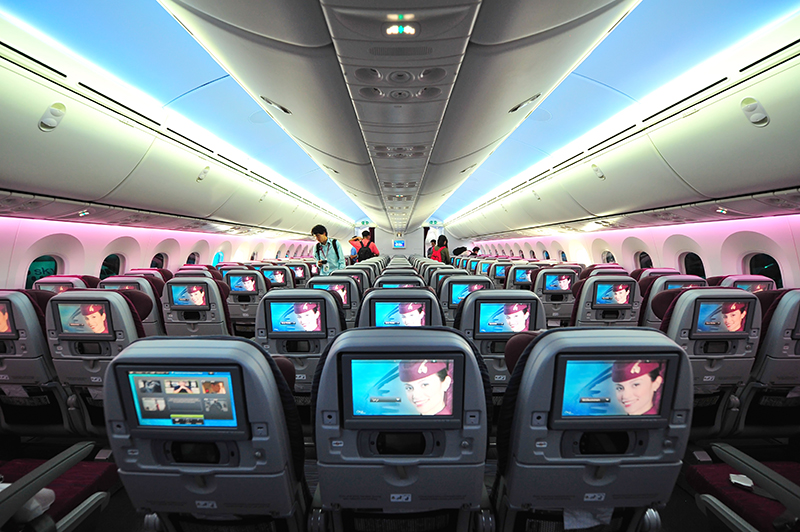 Touting one of the most decorated cabin crews in the entire Middle East region, it's really the service and the smiles that put Qatar Airways upfront here. The aesthetics aren't bad either, though, with wide seat girths, hot towels and pillows at hand, a mix of Persian, international and Mediterranean foods, and Wi-Fi connectivity on the carrier's Boeing B787s. All in all, this one's not a bad choice if you've already started getting your travel plans ready for the 2022 World Cup!
3. Turkish Airlines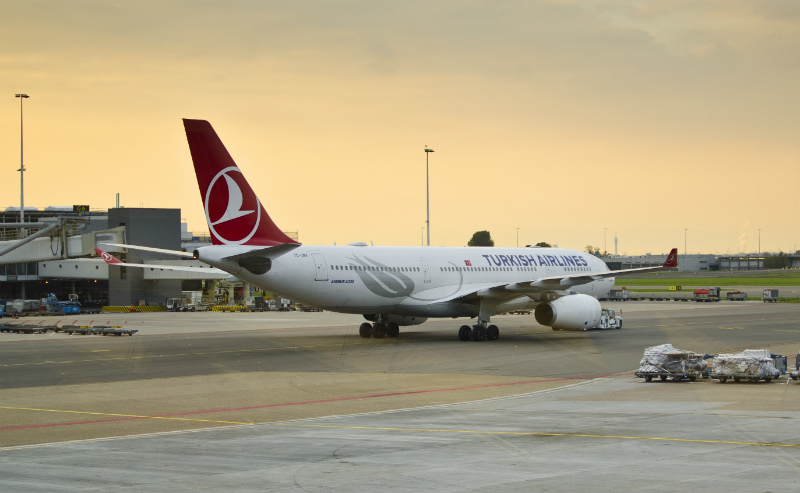 Holding the fort for Europe here with one of the top three economy classes on the planet are Turkish Airlines, who have also garnered a superlative spot on the overall Skytrax ranking for the continent, and separate accolades for their premium cabins! For those flying coach with the flag carrier this year, a 31-inch pitch on seats with a maximum of 6 inches recline, private foot rests and an eclectic array of Turkish mezze and Mediterranean foods all do well to make the experience a comfy one!
2. Garuda Indonesia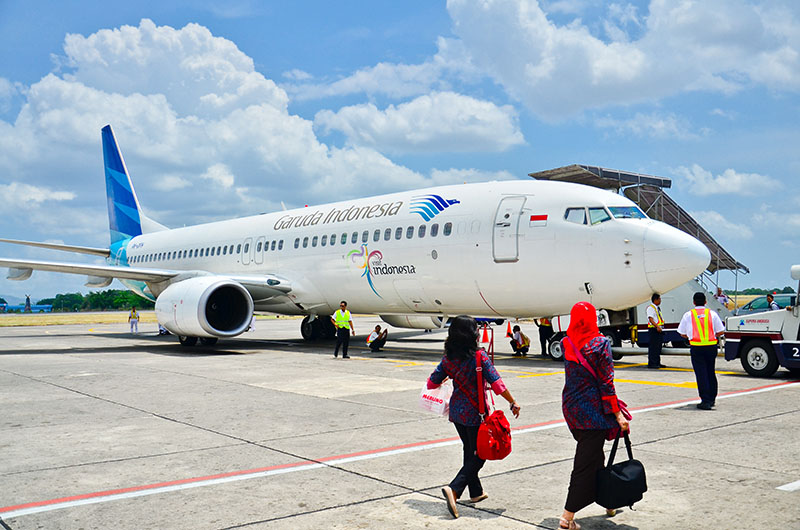 A former number one pick on the Skytrax line-up of the world's best economy class carriers, Garuda Indonesia have slid down a single spot for the rankings in 2014. However, there's still plenty to write home about here, because Indonesia's flag carrier offers a whopping 32-inch pitch on seats, individual foot rests as standard, private power outlets for each passenger, and all-new entertainment systems courtesy of Panasonic. Oh, and let's not forget the food — a mouth-watering medley of Southeast Asian treats!
1. Asiana Airlines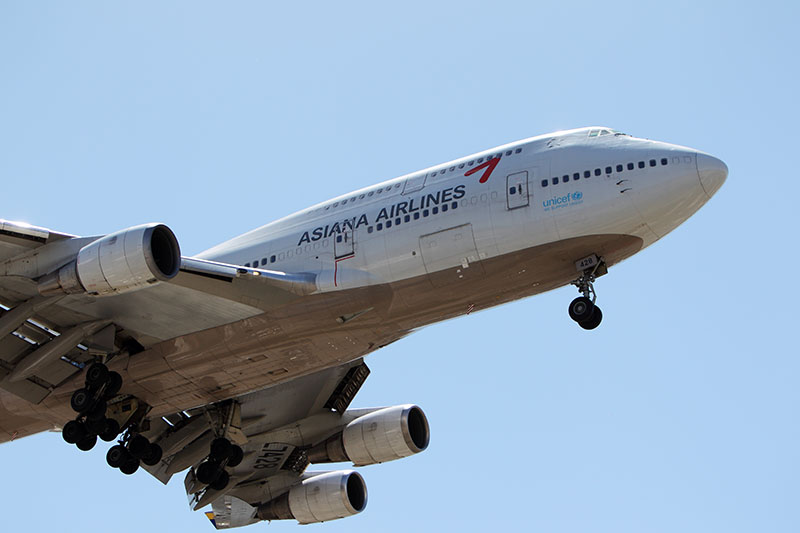 Flying high as the top-rated choice when it comes to the economy class seats we all know and love is Asiana Airlines of South Korea, who currently tout oodles of other accolades as well — from Skytrax 5-star ratings to past Business Traveler and ATW Airline of the Year awards. The carrier's coach offering is currently branded as "Travel Class", which adds a certain air of refinement that's actually pretty well deserved. Passengers can expect a roomy 2-3-2 cabin configuration, SMS and e-mail connectivity, and a great range of home-grown Korean dining options to boot.
If you want to fly one of the world's best economy classes, then you should download Hopper first. When you set up airfare alerts in the app, we'll tell you when flight prices drop. We'll also tell you when is the cheapest time to book and which airlines are offering the best deals. Pretty sweet, right? Download it today! Now available on iOS and Android.