With the United States containing so many world-­famous tourist destinations and being home to three giants of the aviation industry (US Airlines, American Airways, and Delta Air Lines), it's no surprise that the country's airports rank among the busiest in the world, weaving a complex network of routes all over the globe.
This list of America's 10 busiest airports has been put together using data from Port Authority Aviation Department's Annual Traffic Report, ranking airports according to the number of passengers who cross their gates every year.
10. Phoenix Sky Harbor International Airport with 42,125,212 yearly passengers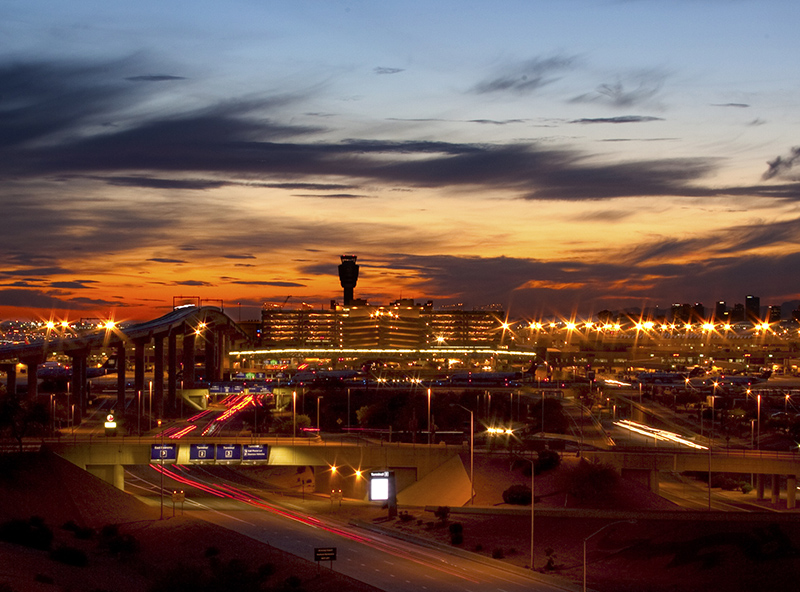 The first spot on this list goes to Phoenix Sky Harbor International Airport. Each day, more than 1,200 aircraft arrive and depart from this Arizona hub, a domestic, Mexico and Hawaii hub for US-American and also one of the largest focus cities for Southwest Airlines. This means that some 100,000 daily passengers use the terminals and amenities at Sky Harbor, and the new PHX Sky Train provides them easy inter-airport transportation 24 hours per day.
9. Las Vegas McCarran International Airport with 42,869,517 yearly passengers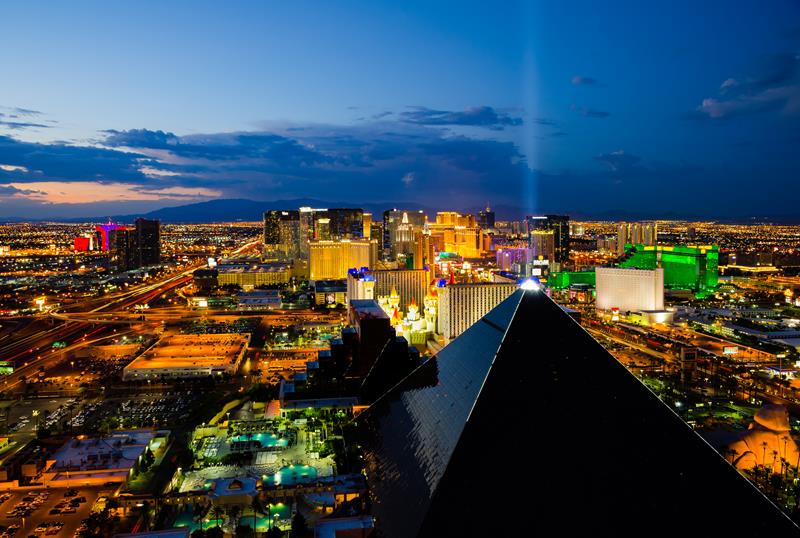 With Las Vegas being one of the most popular tourist destinations in the world, it's no wonder that McCarran International Airport features on this list — and even if you're just dropping by during a layover, you'll be able to enjoy one of Las Vegas' favorite pastimes by trying your luck at the slot machines located throughout the airport. Its four runways and two terminal serve as the largest operating base for Allegiant Air and Southwest Airlines and, since 2012, as a maintenance base for low-­cost carrier Spirit Airlines.
8. Charlotte Douglas International Airport with 44,333,475 yearly passengers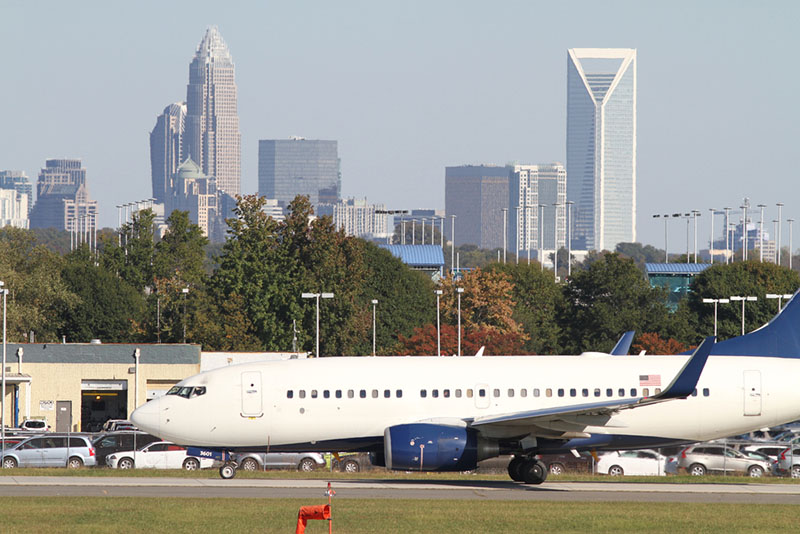 This next entry on the list had rather humble beginnings as a municipal airport in 1935, but you wouldn't guess it now, as Charlotte Douglas International currently ranks among the 25 busiest airports in the world. It offers nonstop flights to over 140 destinations all over the globe and more than 700 departures and landings per day, making it a prime starting point for East Coast residents who crave getaways to far­-flung locations.
7. San Francisco International Airport with 47,114,611 yearly passengers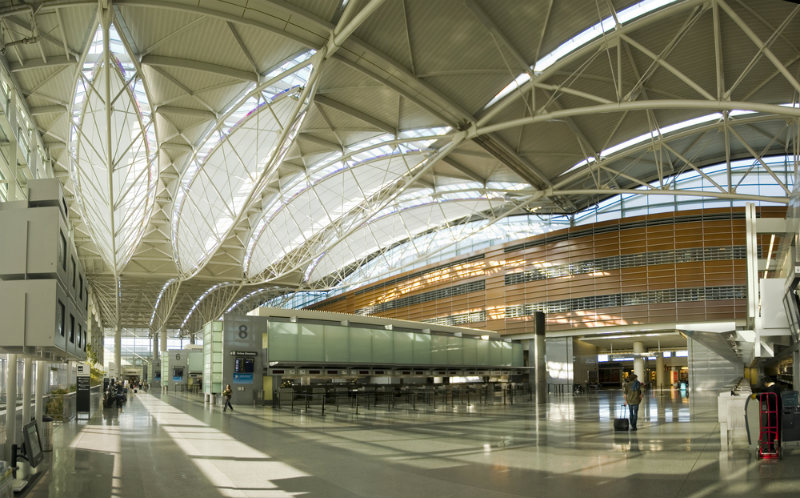 Virgin America's principal base of operations and the fifth largest hub for United Airlines, San Francisco International Airport flies hundreds of thousands of passengers each year to popular international destinations such as London, Hong Kong, Seoul and Frankfurt, in addition to 76 domestic destinations. And between the aviation museum, rotating art exhibitions, relaxing spas, countless shops and self­-guided tours, there's plenty there for visitors to explore, ensuring you won't find time to get bored even during a long layover.
6. Denver International Airport with 53,472,514 yearly passengers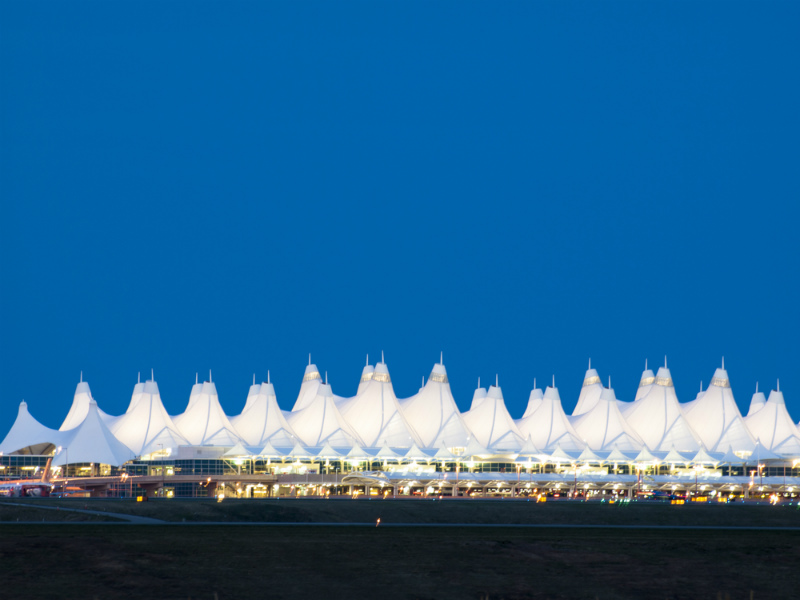 Denver International Airport opened in 1995 after many delays and unfortunate incidents, but it's put its shaky beginnings firmly behind by becoming the largest and one of the consistently highest­-rated airports in the United States. It's not only famous for its impressive service and scope, though, but also for its aesthetics: Its peaked roof, designed by Fentress Bradburn Architects, is inspired by Colorado's Native American history, and the airport contains a number of artworks, including grotesques that lurk in suitcases above the baggage claim exit doors.
5. New York JFK International Airport with 53,635,346 yearly passengers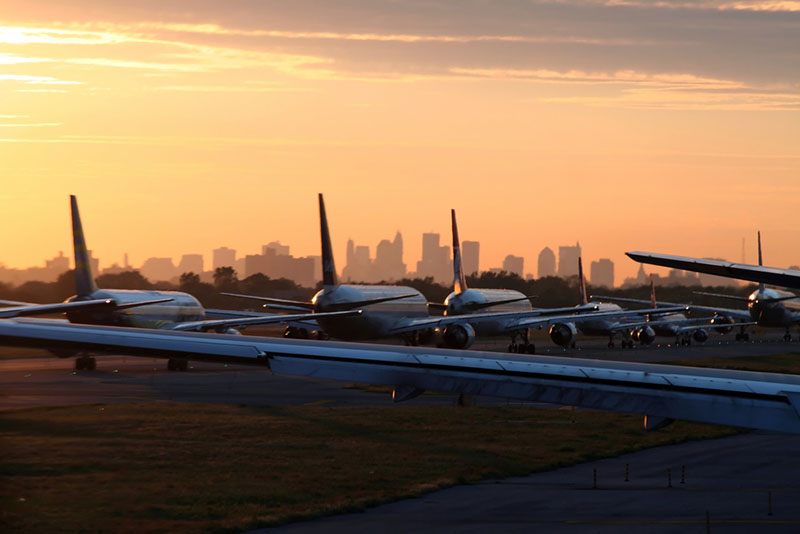 JFK International Airport has grown rapidly since its construction in 1942 and now comprises eight terminals where an impressive 90 airlines operate. As the busiest international air passenger gateway in the US, it serves as a major hub for American Airlines and Delta Air Lines, and is one of only three airports in North America to offer direct flights to six continents. Direct flights to Dublin, Edinburgh, Sofia, Grenada and Manchester will be added to an already impressive roster of international destinations this year.
4. Dallas/Fort Worth International Airport with 63,523,489 yearly passengers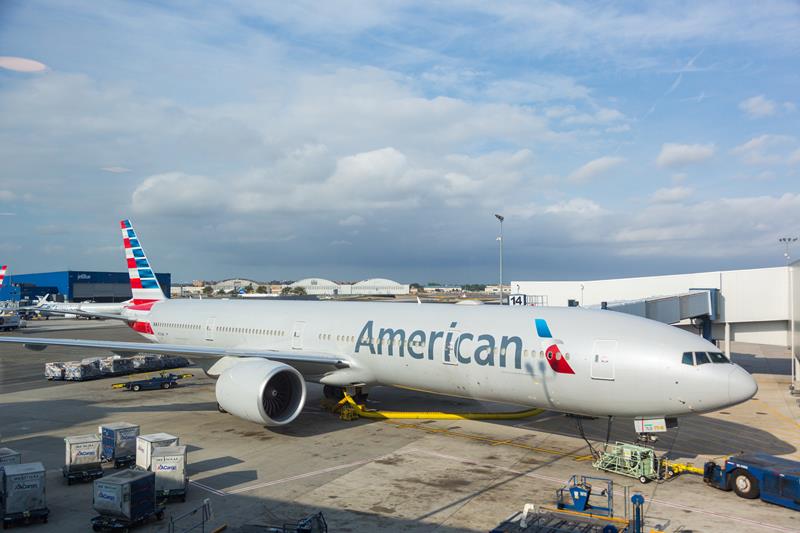 Dallas/Fort Worth International Airport is the third busiest airport in the world by aircraft movement, and the largest hub for American Airlines, which is headquartered near the airport. It services a total of 202 destinations (147 domestic and 55 international), the most popular of which include Los Angeles, Atlanta, London, Cancun, Mexico City, and Tokyo. It's in the middle of a $2.7 billion project to renovate its four original terminals, set to be completed sometime in 2015.
3. Chicago O'Hare International Airport with 70,015,746 yearly passengers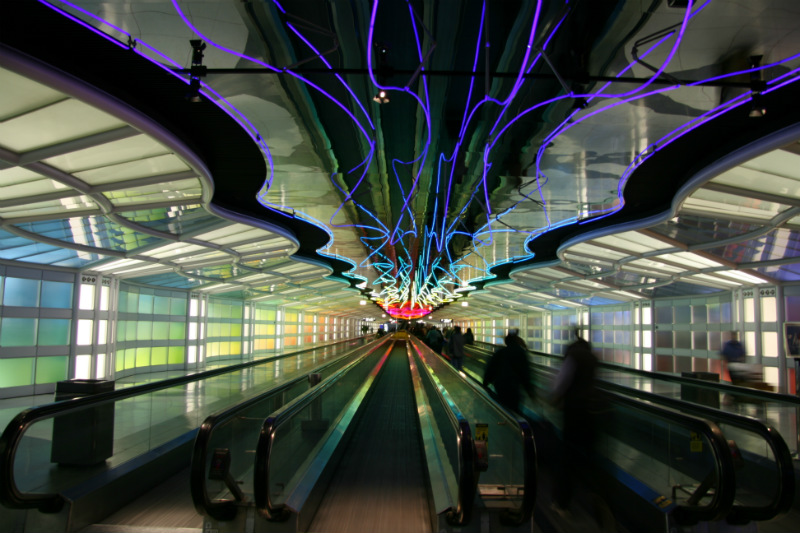 Although it sits at number three in terms of yearly passengers, O'Hare is the clear number one for yearly takeoffs and landings, with a total of 585,517 airplanes. It's a major hub for both American Airlines and United Airlines and provides direct service to 153 domestic and 57 international destinations in South America, Asia, and Europe. And although it has a bit of a reputation for flight cancellations, it's working on the problem with a $6 billion modernization plan that will not only decrease delays but also increase the airport's capacity by 60%.
2. Los Angeles International Airport with 70,655,472 yearly passengers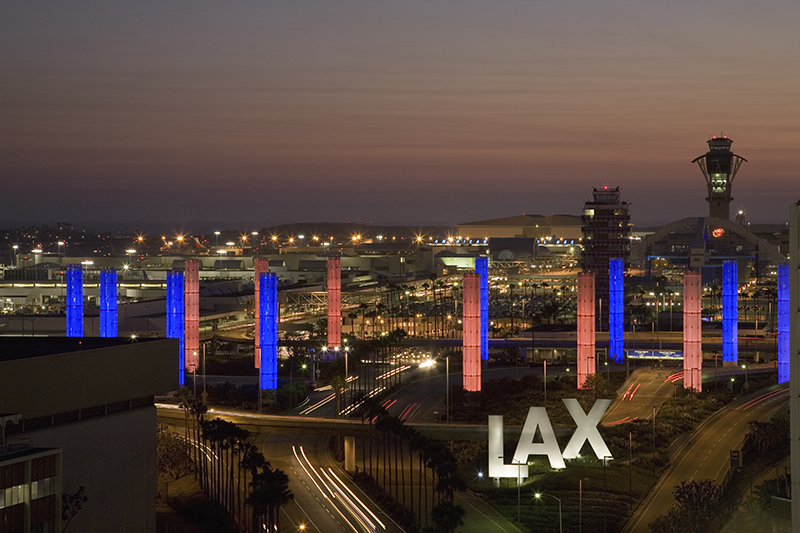 Located along the Pacific Coast 16 miles from downtown Los Angeles, LAX (as it's usually referred to) serves as a hub for a handful of carriers, including the three major US airlines (American, Delta and United) in addition to being a focus airport for several more. Its iconic Googie-­style Theme Building, designed by Paul Williams and built in 1961, resembles a flying saucer on four legs beneath which hides a restaurant with a fabulous view, lending a bit of whimsy to the busy airport.
1. Hartsfield­-Jackson Atlanta International Airport with 96,178,899 yearly passengers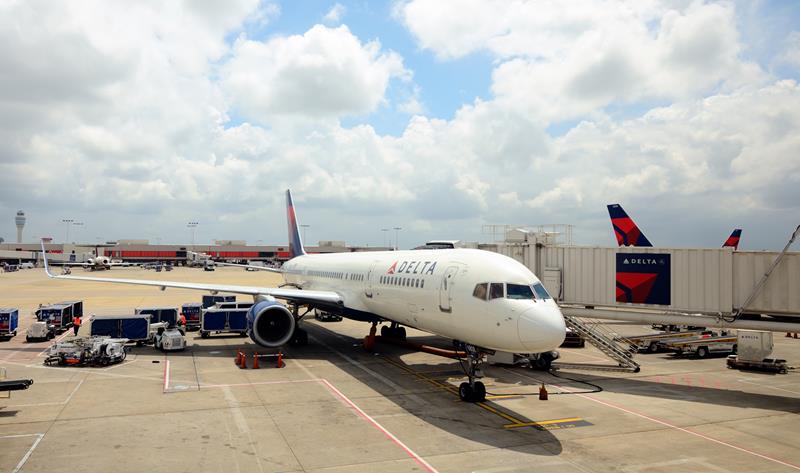 Atlanta's airport is not only the busiest in the United States but also the busiest in the world, accommodating 96 million passengers on its nearly 1 million yearly flights. It serves as a focus city for Southwest Airlines and as the primary hub for Delta Air Lines, which accounts for over half of all passengers passing through the airport. It's still growing, too, with a master plan that includes the addition of a sixth runway, three new international concourses, and the replacement of existing domestic parking garages.