Head due south from the chill of Montreal and you'll find yourself in the middle of the Caribbean Sea. There, instead of grey skies and chill winds sneaking through back­ streets, you can shed your winter jacket ­(and just about everything else) and slip into a turquoise sea with the same temperature as a warm bath. For a little more activity, scuba dive beneath the sea's glittering surface or hike beneath the canopy of a verdant tropical rainforest.
This all sounds great, but the Caribbean has something of a reputation for being pricey. But, while we can't negotiate with the all­-star resorts for you, we can help you knock a significant chunk from the cost of your airfare. By analyzing the results of millions of individual airfare searches, we've calculated the 10 cheapest Caribbean destinations you can fly to from Montreal. So just take a look down our list and see which of these fragments of tropical paradise appeals to you most.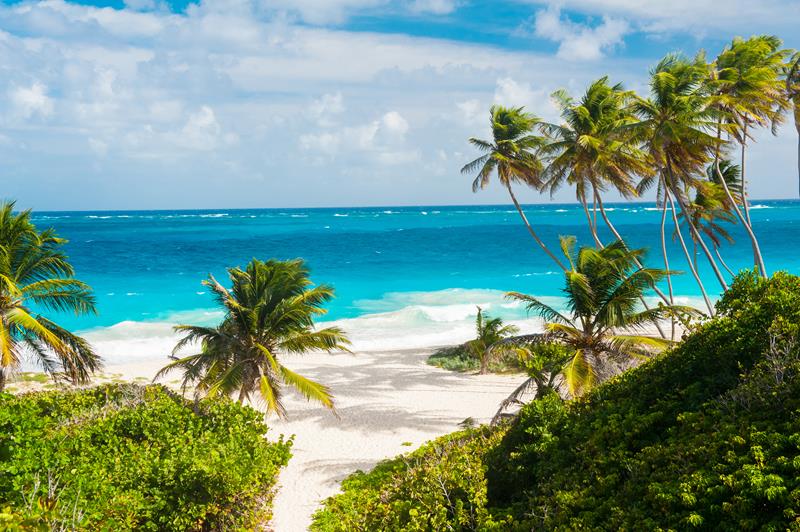 Starting things off in style, at number ten in our rundown is the quintessential Caribbean destination of Barbados. Its rugged Atlantic coastline is great for spectacular walks above the ocean, but it's the palm­-studded, gold­-hued, soft-sand beaches of the island's sheltered shores that have placed it among the world's greatest vacation destinations. A sublime setting for water sports, the island is particularly popular with scuba divers, surfers and kite surfers, or you can take a catamaran cruise out to swim with sea turtles. Air Canada offer the cheapest fares on connecting flights; they also run a more expensive direct route which will get you there twice as quickly.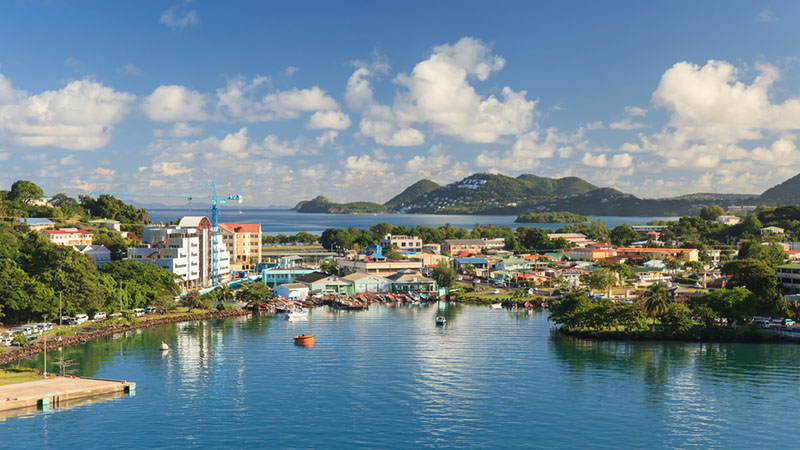 Castries is the French-­founded capital of Saint Lucia, replete with great shopping opportunities, both in the duty­-free mall near the harbor and in the colorful local market spread across Jeremie Street. But it's Saint Lucia's lush natural world that really draws people to the island, cloaked with verdant rainforest, fringed with beautiful beaches and dotted with hot sulphur springs (not to mention the iconic Twin Pitons towering above it all). Getting there from Montreal is an absolute breeze, too, with Canadian carriers Air Transat and Air Canada both running great-­value direct routes, with airfares available for around CAD$500.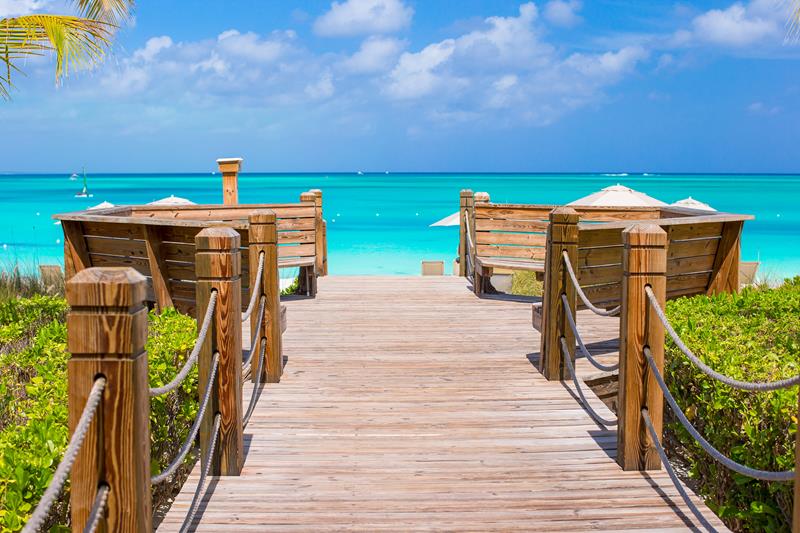 From the award-­winning white ­sand of Grace Bay in capital Providenciales to the pristine bays of the archipelago's uninhabited fragments, the beaches of the Turks and Caicos are renowned around the world. But a visit to these idyllic tropical islands isn't just about sunbathing and sea-splashing: It's a top birdwatching destination, too, thanks to a profusion of migratory species, and a fantastic place to whale­-watch in January and February. Delta run the cheapest flights from Montreal, with one connection and a travel time of nine hours. Alternatively you can fork out an extra CAD$150 or so to fly direct with WestJet.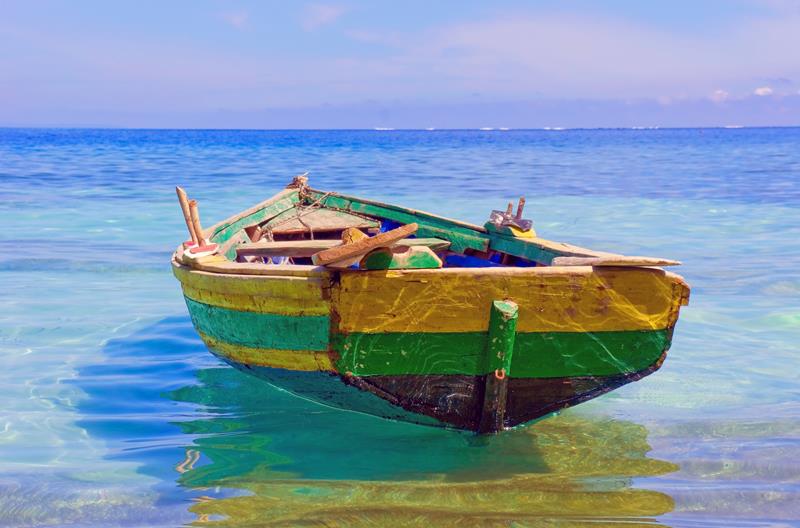 With its flagship attractions­ crumbled by 2010's devastating earthquake, Haiti's capital might seem an odd choice of vacation destination. And going there­ certainly isn't going to be anything like relaxing in the languorous resorts that host visitors on most of the islands on this list. But with chaotically colorful markets, vibrant local culture spread across plazas and rum­-soaked bars, and stunning views from neighboring Fort Jacques National Park, Port­-au­-Prince has plenty to reward anyone intrepid enough to make the trip. It couldn't be easier to get to, with Air Canada and Air Transat both running great-value direct flights that take little more than four hours to reach Haiti.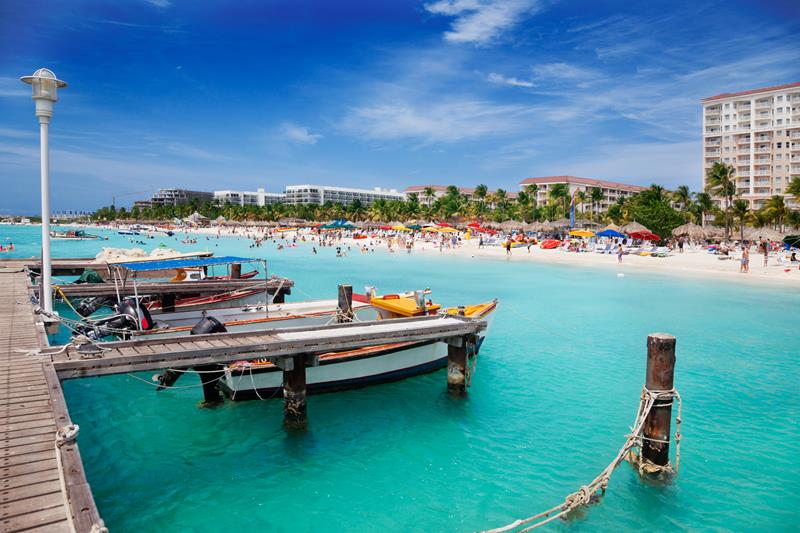 A small slice of Holland stranded off Venezuela's northern coast, Aruba's natural beauty is no secret: During the winter months, refugees from the north's biting cold make it one of the most crowded destinations in the Caribbean. A string of immaculate beaches on the south coast, an exhilaratingly rugged and wave­-struck northern shore, a plethora of luxurious resorts and shopping opportunities provide ample justification for this popularity. But visit just a little outside of peak season and you'll find you have heaps of time and space to yourself to explore this beautiful island. United's low­-cost connecting flights offer a great opportunity to do so, with airfares at rock­ bottom throughout the quieter month of April.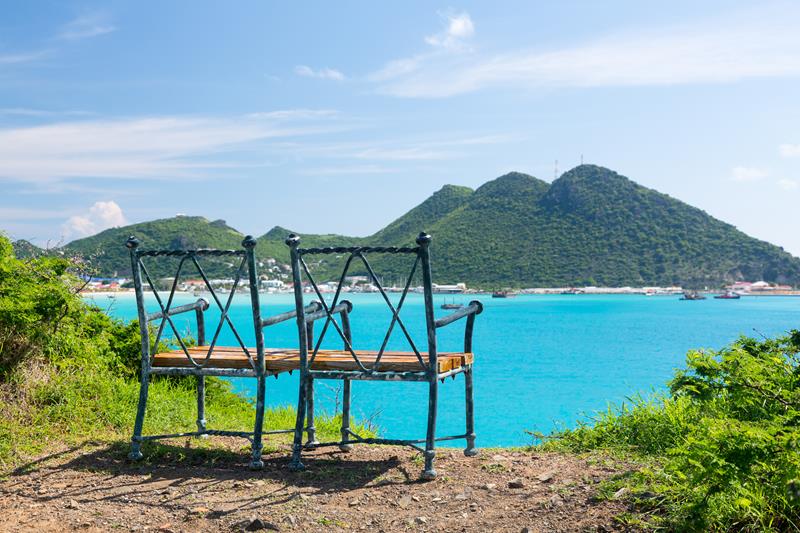 With WestJet running a super-­cheap direct route from Montreal, it couldn't be easier to discover another Dutch destination incongruously situated in the midst of the turquoise Caribbean Sea: Sint Maarten. Philipsburg is Sint Maarten's surprisingly big and bustling capital, offering ample opportunities for shopping, dining out, gambling and other forms of hedonism. And once you've had your fill of these pleasures, you can head out of town and get to know the island's astonishing beaches and beautiful back country, pausing to sip frozen beach­-bar cocktails as you go.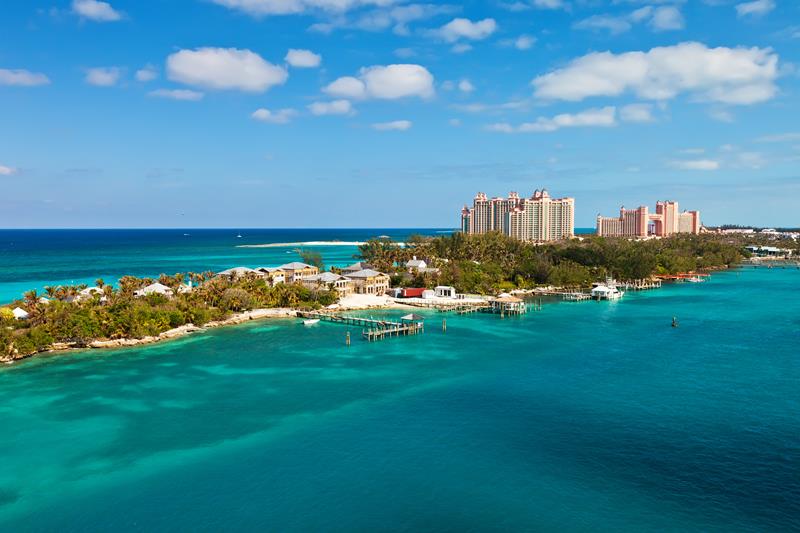 Sunbathing, snorkeling and water sports don't get much better than in the Bahamas, with innumerable beautiful beaches fringing the 2000 islands and cays that compose the archipelago. But while they,­ along with more deep­-water activities such as scuba diving and sea kayaking, ­ make up most of the island's appeal, you'll also want to spend a little time discovering the isles' fascinating past. Stumbled upon by Christopher Columbus in 1492, they evolved into a haven for pirates, chancers, outlaws and fugitives, who found sun-­soaked sanctuary on the sand and rock. Air Canada run the cheapest connecting flights from Montreal, as well as the only direct flights, which cost around CAD$150 more.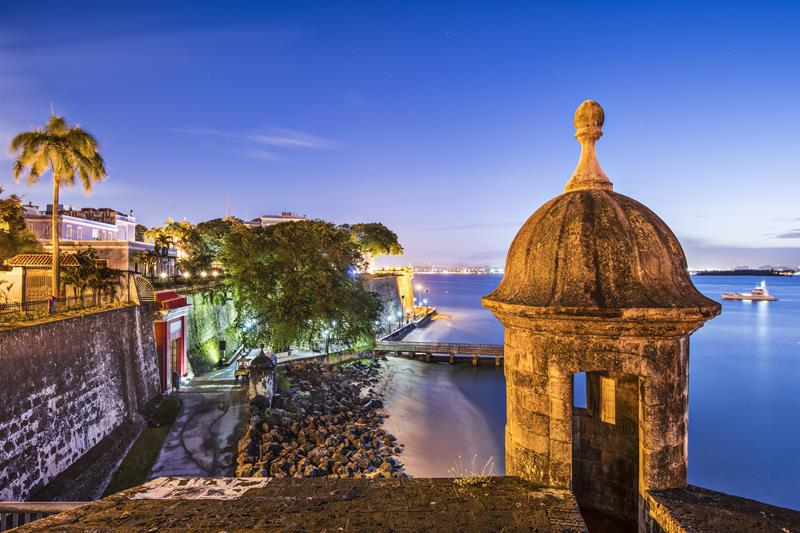 Combining beautiful colonial architecture, a wealth of local history and all the sun, sand and turquoise water you could ever need, Puerto Rico's stunning capital bundles the best of the Caribbean into one beautiful package. Stroll the warren of cobbled, flower­-decked streets of its old town, dropping into stylish cafes and bars as you go, before heading to the beach to wade out into an ocean that hovers at 80­ degrees Fahrenheit year round. All flights from Montreal involve connections and United offer the cheapest airfares, with good deals available through the end of April, as peak season ends and prices begin to drop.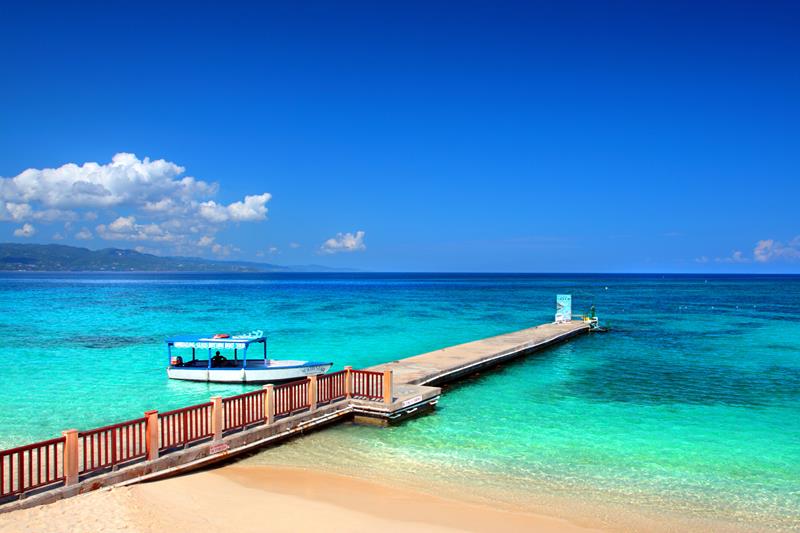 Jamaica's premier vacation destination, Montego Bay has built a reputation for two things: a sublime shoreline and pumping nightlife. While both are thoroughly merited (the region hosts such exquisite beaches as Cornwall and Doctor's Cave, and the town's Hip Strip has been the setting for innumerable rum-­scented nocturnal adventures)­ there's a lot more to it too, such as colorful artisan markets, mind­-expanding local history, and eco-­trips on foot or horseback into the surrounding rainforest. Check it all out for yourself with these fantastic­-value connecting WestJet flights, which will carry you across the length of the US and back for under CAD$450.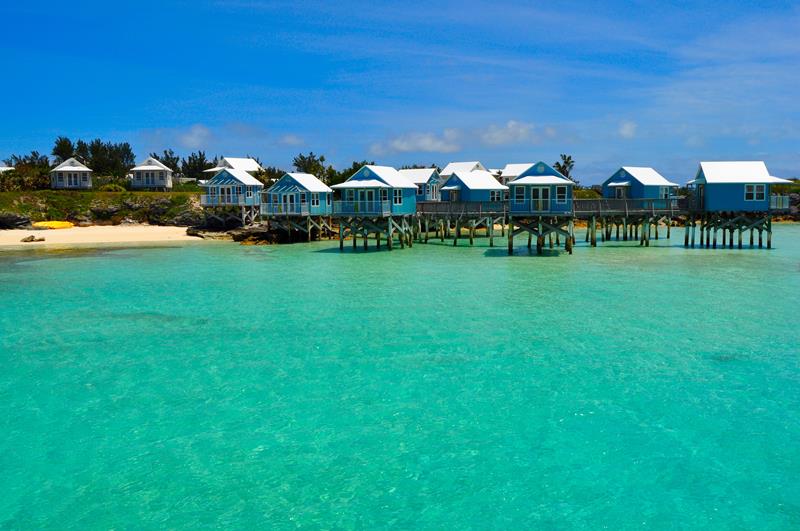 By far the cheapest destination from Montreal is Bermuda, which makes sense if you consider that the island isn't actually in the Caribbean at all but rather flung out in the middle of the North Atlantic. But we've included it here because we wouldn't want you to miss out on the island's many wonders, from memorable diving among shipwrecks and kaleidoscopic coral to the atmospheric town of Saint George, Britain's oldest surviving New World settlement and a UNESCO World Heritage site. Despite its relative proximity to Canada, you'll have to exert a little patience to get there from Montreal, though: there are no direct flights and the super­-cheap airfares, offered by WestJet, involve a journey time of at least nine hours.