California's coastline ain't a bad place to enjoy sun, sand and sea, but if you want to add a tropical flavor to your time by the beach, just jump onto one of these flights across the Southern States and cavernous Gulf to the pearly waters of the Caribbean Sea. To make it easy for you, we've calculated the ten destinations in the Caribbean region which have the cheapest flights from San Francisco International. Despite the expanse of land and water that separates California from the Caribbean, our analysis shows that there are plenty of places you can reach for between $400 and $500 round trip, from the lively pulse of Jamaica to the hidden resorts and colonial history of the Dominican Republic.
Download Hopper's new mobile app to set up airfare alerts and get the cheapest flights!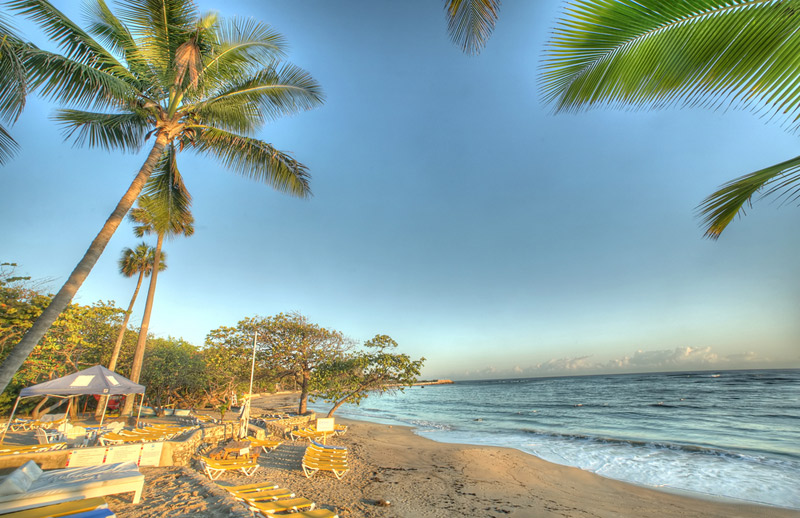 Puerto Plata is a small, picture-perfect Dominican resort where luxury hotels line the sand of pretty beaches and, in the town itself, markets are colorfully stocked with local goods and spicy street food. It's a great destination for sunbathing, eating long leisurely lunches, and a whole range of watersports, although pollution levels mean it's probably best to travel elsewhere if you plan to scuba dive. United operate the cheapest flights from San Fran, with one stop and a journey time of 11 to 13 hours.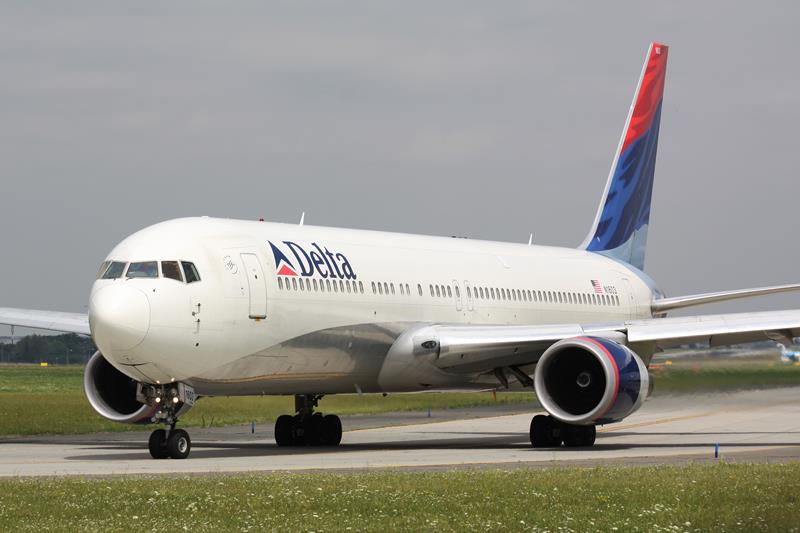 Kingston is the heart of modern Jamaica, and if you want to get a taste for life on the island beyond the plethora of resorts, it should be the first stop on your itinerary. Take yourself on a tour around the historic buildings, dusty art museums and vibrant street markets of downtown, then check out the swankier districts of uptown — and don't miss the Bob Marley Museum. There are no direct flights from San Francisco, but Delta and JetBlue operate round-trip routes for under $500.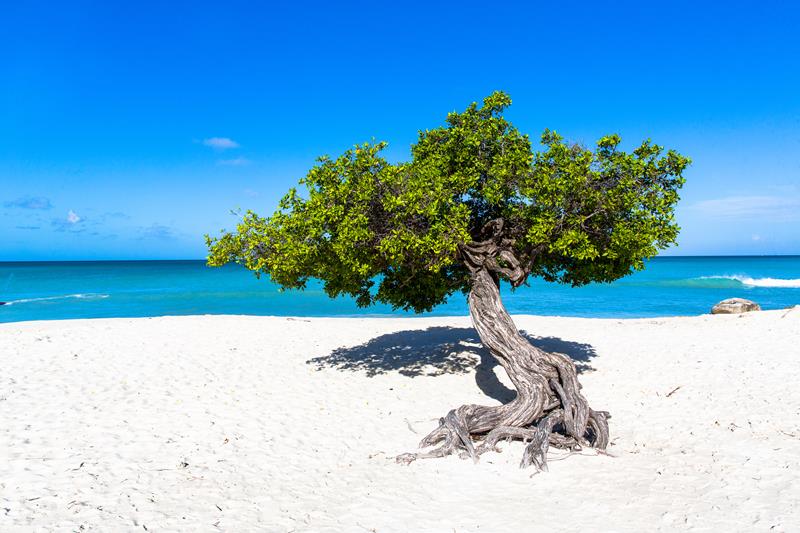 The small island of Aruba, a lingering outpost of colonial Holland, is at first sight somewhat featureless — its inland topography is entirely flat and riverless. But keep to the coastline and the reason for its popularity as a tourist zone quickly becomes clear: to the south stretch languorous white sand beaches, slipping smoothly into the warm water of the Caribbean Sea. Meanwhile, the island's northern shoreline is exposed to the vagaries of the Atlantic, which has carved it into a spectacular series of jagged cliffs and hollowed-out bays. The cheapest flights from San Fran to the capital Oranjestad are indirect with United.
Looking for cheap flights to Aruba? Hopper's new mobile app can save you money!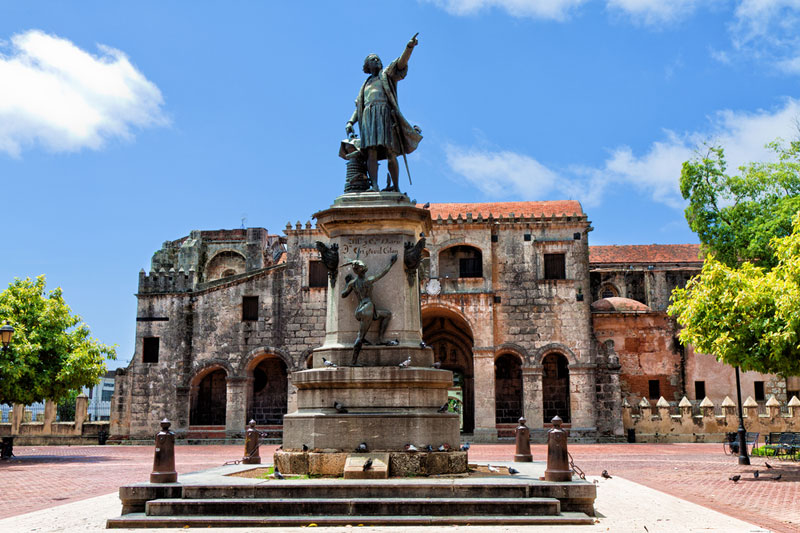 The Dominican Republic's vibrant capital concentrates contemplative history and fast-paced urban life into one compact space. Beautiful old stone churches and the first fortress built by Europeans on American soil cluster shady cobblestone streets in the Zona Colonial. Meanwhile, in the city that's grown around this venerable center, salsa clubs, clothes stalls, rickety cafes and thickets of restaurants and hotels contribute the pulse and energy of a modern city. JetBlue operate the cheapest flights, with one stop and travel time of 15 hours, más o menos.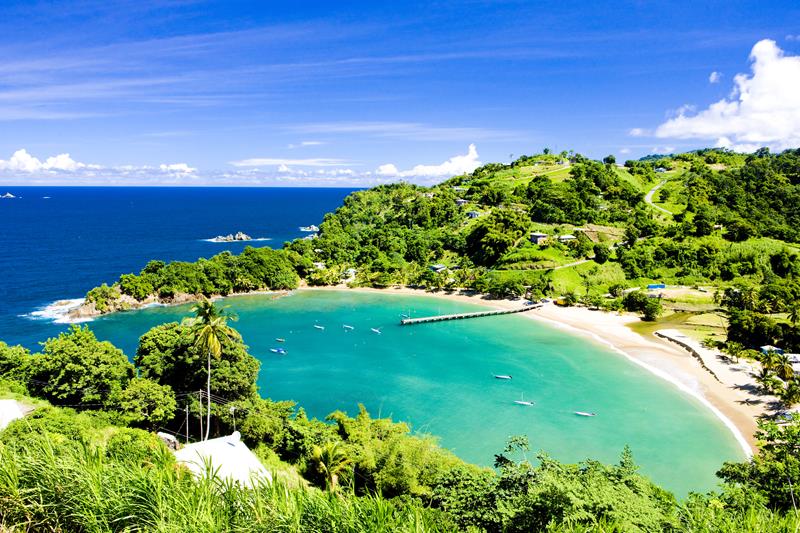 Trinidad has far less tourist infrastructure than its sibling Tobago, which may be a good or a bad thing, depending on your tastes. Instead, it's got a lushly forested interior with some unique sights that will take a little adventuring to reach: ascend a mountain to see the remote Catholic Monastery Saint Benedict, where you can enjoy breads and pastries freshly baked by the monks, or slip off into Asa Wright Nature Reserve, a former cocoa plantation now returned to the wild and populated by lizards, mammals and an astounding diversity of tropical birds. All flights from San Francisco are indirect, with United offering the cheapest rates.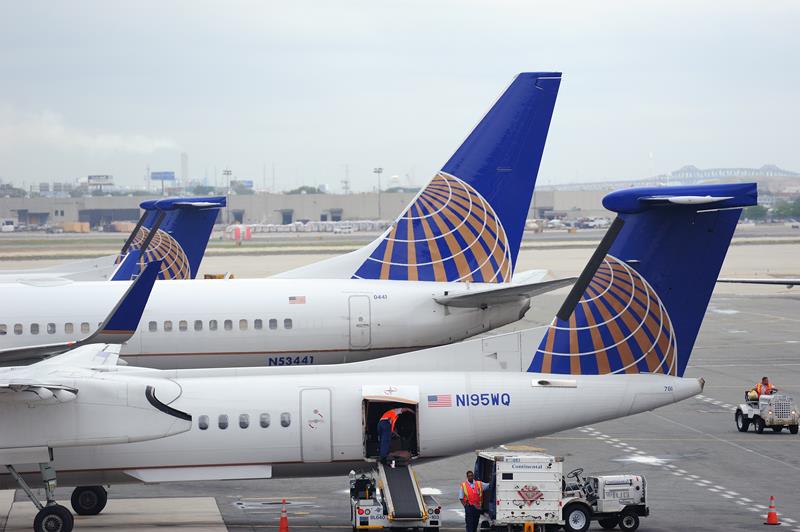 Situated on a stunning horseshoe bay that numbers among the Jamaican coastline's most memorable spots, Montego Bay has drawn the admiration of visitors since Christopher Columbus named it "Fair Weather Bay" in 1494. Nowadays its natural beauty is joined to a roistering tourist trade, with rows of resorts and hotels lining the shore and companies offering everything from scuba diving to boat rides to trekking on the ocean floor. It's an ideal setting for a stress-free weekend away, easily accessible from San Francisco on United's indirect flights, which take between 10 and 16 hours.
Looking for flights to cheap flights to Jamaica? Download Hopper's new mobile app now!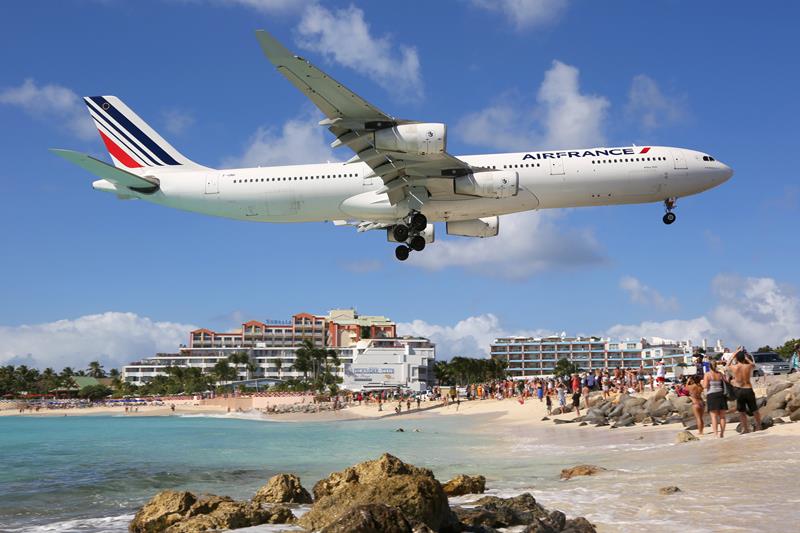 Philipsburg is the capital of one half of an already diminutive island in the Caribbean Sea. This is because it's situated on Saint Martin, an island divided in two between France and Holland — Philipsburg, as you might be able to guess from the name, is the seat of the Dutch half. Not that any of this makes a great deal of difference to visitors, who can wander freely among the island's 37 beaches, its frozen-cocktail-serving cafes, its casinos and its selection of cozy nudist coves. US-American and JetBlue are the only carriers operating flights between the island and San Francisco, with the former offering slightly cheaper rates on average.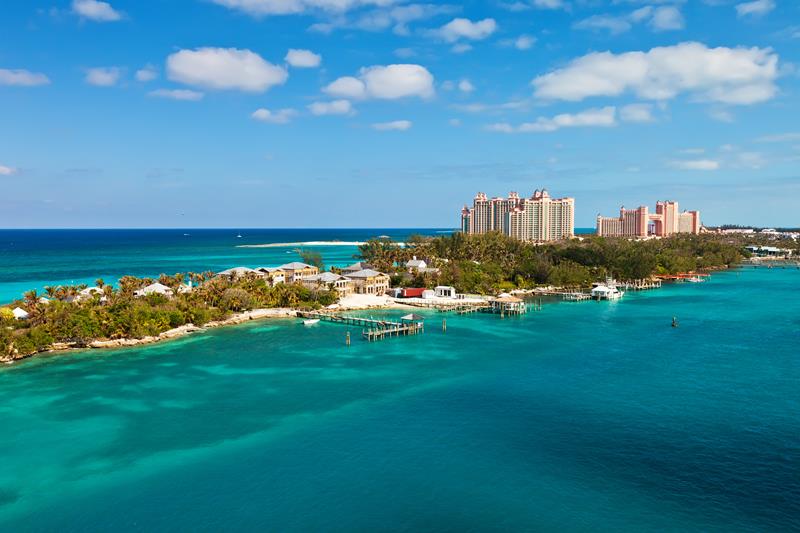 Nassau is a great city to explore in its own right, with attractions that bring together the city's piratical past (Pirates of Nassau Museum) with its natural history (Ardastra Gardens), as well as all the pulse and energy of a modern Caribbean capital. And it's also the perfect launching point for broader explorations of the Bahamas, a hotspot for watersports (especially kiteboarding) or for simply chilling out on beautiful beaches and among the historic forts and other buildings that drowse in the Caribbean heat. United operate the cheapest flights, with one stop and a flight time of 10 or 11 hours, which is as fast as any other carrier from San Francisco.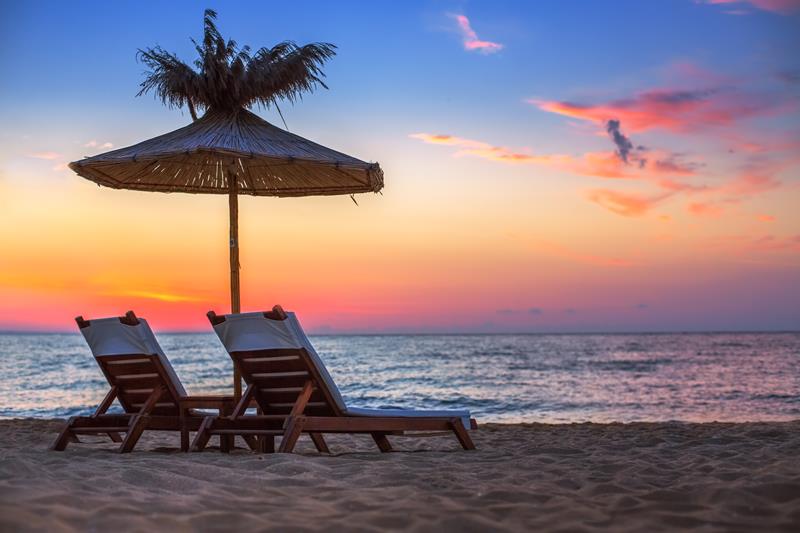 Situated on the eastern edge of the Dominican Republic, Punta Cana's paradisiacal appearance — white sand, swaying palms, glittering turquoise sea and colorful local markets — propelled it to the front of the Caribbean's explosive tourist trade in the '70s and '80s. These days it's got everything you could possibly want from a Caribbean vacation: visitors can swim with dolphins, stroll small towns, play golf with stunning sea views, scoff seafood at characterful restaurants, dance through the night at unique super-clubs and sequester themselves in secluded seafront luxury. The cheapest flights take 20 hours with US-American, but for an extra $60 or so, you can reduce this to 11 hours with United.
Looking for cheap flights to the Dominican Republic? Set up fare alerts in Hopper's new mobile app!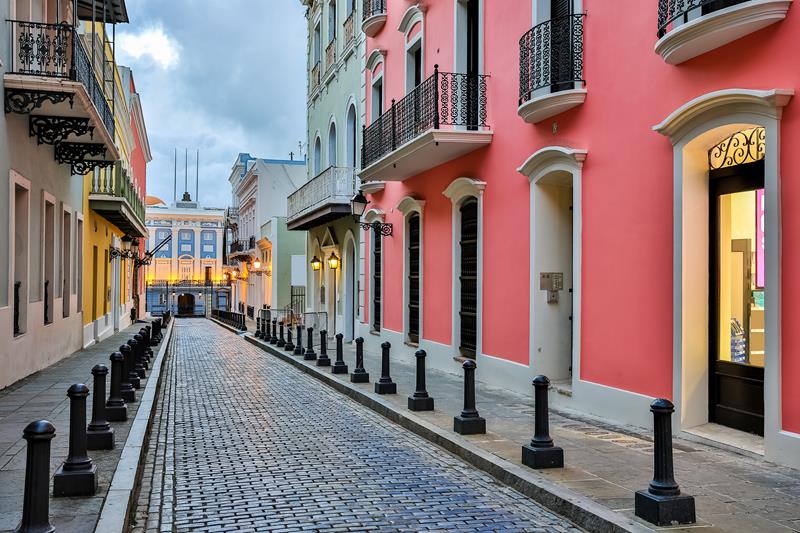 Getting from San Fran to San Juan is pretty straightforward: United, Delta and US-American all operate flights with one connection that cost around $410. And there's a lot to enjoy once you've arrived. To start with, just stroll through the city to its picturesque harbor, one of the prettiest in the Caribbean and the place to observe the heart of the town's activity. From there, head into the historic old town, a UNESCO World Heritage Site dotted with colonial forts, churches and palaces. Then find yourself a cafe in one of the Old Town plazas and sit out in the balmy air as the setting sun ignites the glimmering waters of the Caribbean Sea.
Cheap flights to the Caribbean can be hard to find, but with Hopper's new mobile app, all the hard work is done for you. Simply download the app and set up airfare alerts for your favorite Caribbean destination. We'll send you notifications when your flight price changes (plus we'll tell you when to book and when to fly). Download the Hopper app now!