Flights to Australia are often bank-breakers; leaving gaping holes in the budgets of American travelers in their wake. However, we at Hopper really don't want that to stop you enjoying the rolling surf of Bondi, the bustling strips of downtown Melbourne, the windswept outback or the rugged ridges of the mighty Blue Mountains — to name just a few of this country's bucket-list beating sights! That's why we've crunched millions of pieces of data related to flights from the United States to Australia from right across the internet, cutting through the confusion of airfare pricing and jargon of marketing, to show travelers the cheapest time to fly to Australia.
The Cheapest Day to Fly to Australia is on a Monday
If you think you can handle the excitement as it builds up over the weekend, then it's certainly worth putting off your flight to Australia until a Monday, because our stats have shown that it's the cheapest day of the week to depart from the United States. We also discovered that good prices on routes to Australia persevere through Tuesday and Wednesday, while anything from Thursday onwards is bad news if you're looking after the bank notes.
The Cheapest Day to Return from Australia is on a Tuesday
Try to time your trip home from the shimmering beaches of New South Wales or the colorful reefs of Queensland for a Tuesday, because we've discovered that it's when flight prices find their average weekly low. If Tuesday is totally impossible and you simply can't contemplate leaving the Aussie sun before mid-week, then Wednesday returns are also a pretty good option, with flights coming in as just a little more expensive as on the day before.
The Cheapest Time to Buy a Flight to Australia is on a Wednesday
Yes we know it seems silly, but rearranging your weekly schedule just a little to ensure you search for and book your flights from the United States to Australia on a Wednesday could help you save some of those much-needed dollars on the price of your ticket. For example, on routes from New York's JFK to Melbourne, passengers could bag as much as $37 by booking on Wednesdays, while fliers on the nonstop connection from Dallas to Sydney could enjoy overall savings to the tune of $27!
The Cheapest Time to Book a Flight to Australia is 100-200 Days in Advance
There's always a lot of talk about saving cash by booking early and when it comes to connections between the United States and Australia, that the mantra rings truer than ever. We've learned that the average cheapest fares on routes between the two countries happen around 100-200 days before take-off. With potential savings of up $350, it's a tip that's simply not to be missed!
The Cheapest Time to Fly to Australia is in November, February or March
For those looking to bolster their budget for Bondi Beach as much as possible, it's certainly worth paying attention to yearly price trends for flights between America and Australia. That's because our stats have shown that departures in November (just in time for the Aussie summer!), February and March (perfect for a spot of winter sun!) can offer travelers savings of up to $450, boasting averages in the region of $1,550 round trip. That's a whole load cheaper than flying high-time in January, when tickets soar to almost $2,000 round trip!
Fly from Honolulu, Dallas or Los Angeles to Find the Cheapest Flights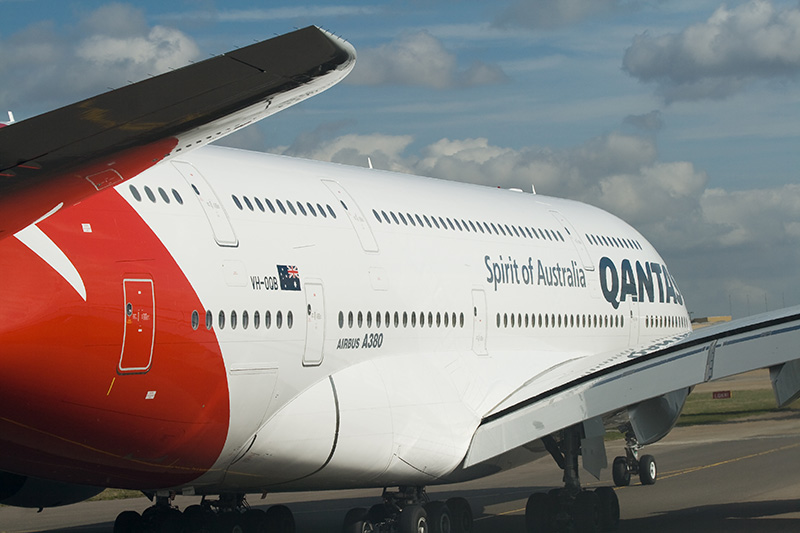 Direct flights to Australia from the United States can be a daunting business for travelers — with their gasp-worthy flight times in excess of 17 hours — but they can also offer plenty of savings when it comes to the crunch. Currently, only 4 cities offer direct flights to Australia, with the cheapest hailing in from Honolulu at an average of $1,095 round trip, followed by departures from Dallas and Los Angeles at around $1,500, and then San Francisco, at a whopping $1,700 in total.
While it's a great idea to stay ahead of the national trends for flights between the United States and Australia in general, there can really be no substitute for focusing in on connections between your specific departure and arrival airports. For statistics related to those, be sure to head over to Hopper's When to Fly and Buy Reports Page, which offers up-to-date information on the cheapest departure days, booking times and more, all sourced from millions of pieces of data from right across the web every month.
Check out Hopper's Deals Page to see Flash Sales from Your Airport to Australia
If you know exactly what airport you want to depart from and are eager to grab a mega bargain on your flight to Australia, then Hopper's all-new deals page is absolutely essential daily viewing. It offers regular updates on any flash sales from your airport and will ensure you're always one step ahead of the crowd when those much-coveted 75%-off seats or half-price fares hit the market.