For most of us, finding cheap tickets to Hawaii can mean the difference between staying at a luxury beach resort or somewhere a little less relaxing. That's why Hopper's expert flight team has worked hard to break down all of the complex airfare data and bring would-be visitors this list of top tips for finding the cheapest time to fly to Hawaii.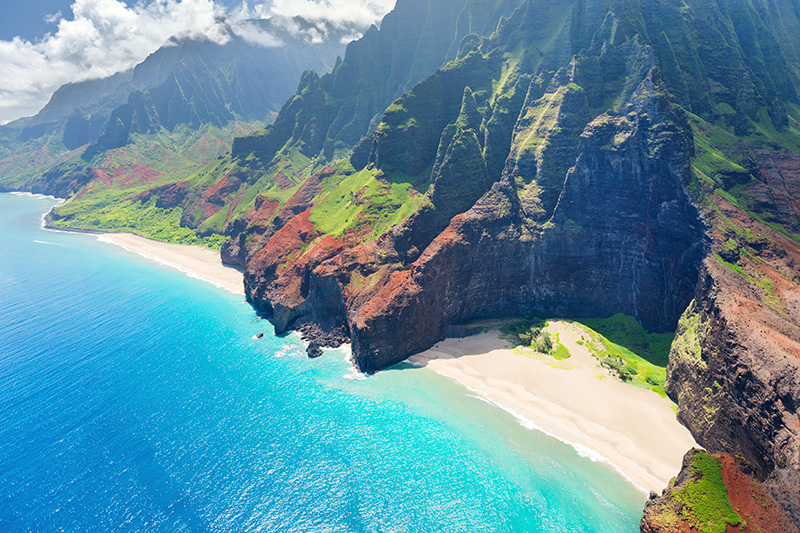 The Cheapest Day to Buy a Flight to Hawaii is on a Wednesday
If you find yourself stuck in the office this Wednesday pining over the swaying coconut palms and scintillating beaches of Oahu, the Polynesian party dives of Honolulu, or the wild vistas of the Na Pali Coast, then why not indulge and start searching for air connections between the continental United States and Hawaii? Not only will a booking to that paradisiacal corner of the world go a long way to curing those midweek worker blues, but buying on a Wednesday could even help save some dollars on the flight!
The Cheapest Day to Fly to Hawaii is on a Tuesday or a Wednesday
Perhaps the only thing better than booking flights to Hawaii for conquering that Wednesday depression is actually leaving for Hawaii, which we've discovered could also help save would-be passengers some money on their trip. Indeed, from looking at millions of average ticket prices between airports and Hawaii over the last year, we've discovered that passengers who departed on Tuesdays and Wednesdays got the best deals overall. Oh, and they didn't have to contend with the weekend crowds at the airport either!
The Cheapest Day to Return from Hawaii is on a Tuesday or Wednesday
Rather unsurprisingly it's that unconventional midweek departure that comes in as the cheapest option for fliers returning from Hawaii to the continental United States. And while it may not fit perfectly with the usual hotel changeover days, leaving town on a Tuesday or a Wednesday does have its perks — whether its avoiding the weekend bottlenecks at the airport or affording travelers a couple of extra days to explore the party stops of Honolulu's Kuhio Avenue.
The Cheapest Time to Book a Flight from Hawaii is at Least 25 Days in Advance
Our statistics have shown that average flight prices between all airports in the United States and Hawaii steadily increase from around the 150 day mark. Then they dip quickly between 50 and 25 days before departure, which is the perfect time for any budget-conscious travelers to go looking for tickets. Be sure not to leave it too late either, because our graphs also show sudden and sharp increases in the days immediately before take-off, increasing ticket prices by an average of $200!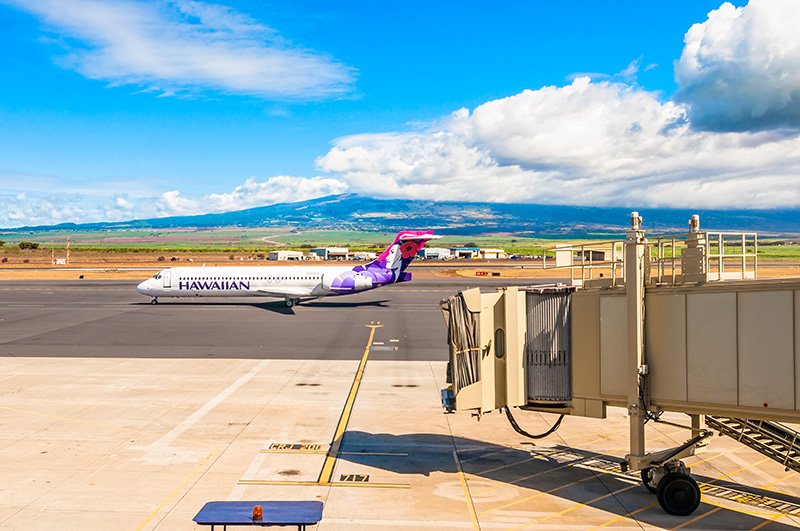 The Cheapest Time to Fly to Hawaii is from January to February
While Hawaii's high season occupies most of the early summer with its soaring 90-degree temperatures, calm seas and daunting average price tag of $750 for a return trip flight from the continental United States, the rainier shoulder-seasons are great news for the dollar-counting traveler, and — aside from offering savings in the region of $175 on airfares — also throw up some excellent surfing conditions, tantalizing hotel deals, empty beaches and oodles of fresh tropical fruits straight from the trees. January and February are the cheapest though, which is perfect for anyone eager to escape that cold American winter!
Download Hopper's mobile app to Get Information for Your Specific Route
Of course it's important to remember that the facts and figures we're discussing here are for all flights leaving all airports in the United States for Hawaii (calculated as aggregate averages across the board). If you're interested in getting data related to departures from a particular airport, then you'll need to download the new Hopper mobile app. Set up a fare alert for your home airport and favorite Hawaiian island and we'll not only give you helpful information about the cheapest days to fly and buy, but we'll also watch that flight for you and let you know when the price drops!
Check out Hopper's Deals Page to see Flash Sales from Your Airport to Hawaii
Imagine the satisfaction when you manage to bag a bargain flight from your hometown to Hawaii at some ridiculous reduction, like half-price or 75% off. Well, it's not as impossible as you may think, because Hopper's all-new deals page ensures that any travelers eager to capitalize on flash sales on flights departing for the Aloha State stay one step ahead of the game, helping them to book those super-cheap seats before they disappear for good.
Keep These Numbers in Mind when Searching for a Cheap Flight to Hawaii
It's important to remember that not all bargain-hungry flight seekers will manage to secure the lowest prices, and it's equally important to remember than many will end up paying much more than the average. That's why we think would-be fliers to Hawaii should consider purchasing anything below their regional average, which is $799 RT for the Midwest, $745 RT for the Northeast, $827 RT for the South and just $490 RT for the West Coast.