In the 19th century, castle building became a craze among Canada's newly affluent elite. The grand, stone-built structures, it was felt, suited the area's vast and rugged landscape. They also evoked Canada's European heritage, whether the styles were Scottish Baronial in British Columbia, or Chateau-esque in Quebec. All five of the extravagant structures gathered here are open to the public, and visiting them is a fascinating way to get an insight into 19th century Canadian history.
See the world's most photographed castle, Fairmont Le Chateau Frontenac in Quebec City, Quebec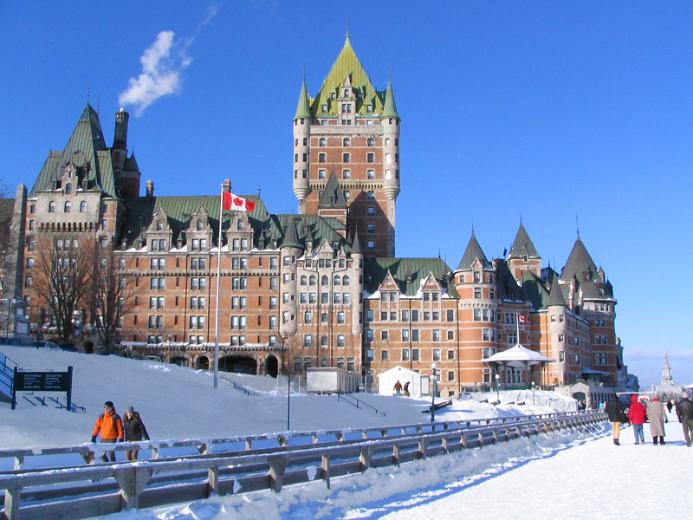 Fairmont Le Chateau Frontenac, Quebec City – photo by insertclassyhere
The towers and turrets of the Chateau Frontenac loom over the skyline of Quebec City, a startling sight that has made the castle the most photographed in the world, according to the Guinness Book of Records. It was built to stand out, constructed by the Canadian Pacific Railroad Company to attract wealthy tourists to Canada, mingling the Gothic stylings that were fashionable at the time with chateau features that evoked Quebec's French heritage. Opening in 1893, a great deal of history has flowed through its doors – the Quebec Conference was held in the hotel in 1943, where Churchill, Roosevelt and Mackenzie King thrashed out their strategy for the invasion of France.
Explore the winding passageways of Casa Loma in Toronto, Ontario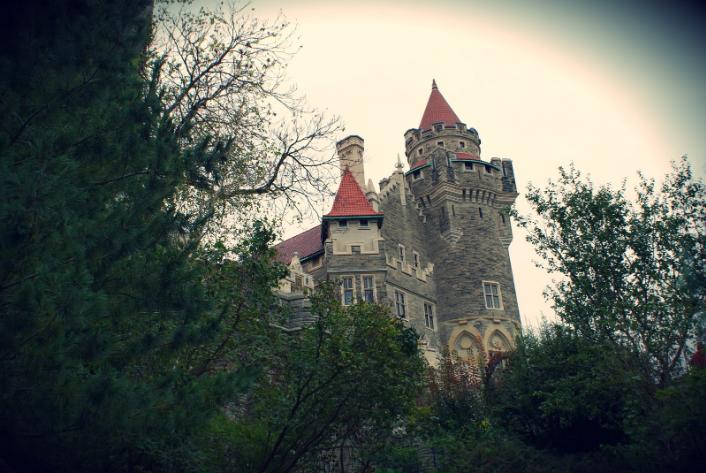 Casa Loma, Toronto – photo by Alicia O'Shea
Perched on a hill above Toronto's north end, Casa Loma – Hill House in Spanish – was the fulfillment of a childhood fantasy for the wealthy Canadian financier Henry Pellatt. He built his castle in flamboyant Gothic Revival style in 1911, encouraging his architects to indulge their imaginations – the resulting structure encompassed 98 rooms, vertiginous towers, winding secret passageways, an 800-foot tunnel built for horses and five acres of gardens. A decade after its completion, however, depression hit Canada and Pellatt was forced to auction off his possessions, including his castle. It went through a series of incarnations – including as a lively nightspot for affluent Americans during Prohibition – before becoming a tourist attraction in 1937, and later, a popular filming location for films like X-Men, Strange Brew, Chicago, Scott Pilgrim vs. The World, and many more.
Visit an extravagant 19th century family home, Craigdarroch Castle in Victoria, British Columbia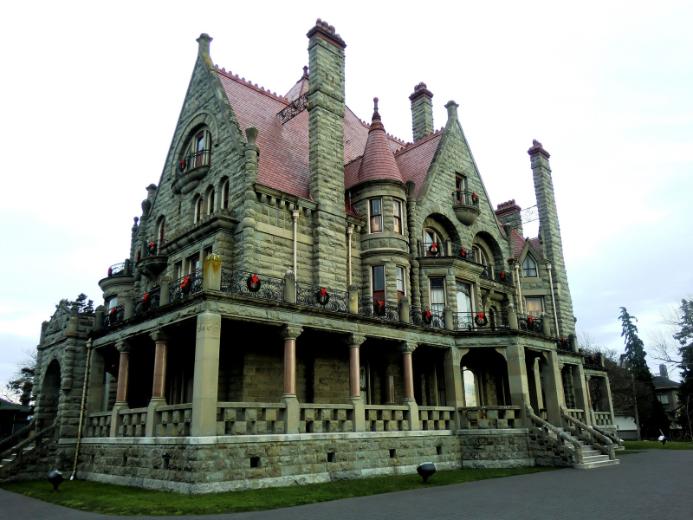 Craigdarroch Castle, Victoria – photo by HillHouse
Built by the coal baron Robert Dunsmuir, Craigdarroch stands on the edge of Victoria, British Columbia, and was intended as a homely, comfortable and somewhat extravagant home for the Dunsmuir family. But Robert died ten months before construction was complete, and the final touches had to be overseen by his two sons. The castle's striking design draws on Dunsmuir and British Columbia's Scottish heritage, based on a Scottish Baronial style that incorporates aspects of the Gothic Revival architecture that, as we've seen, was everywhere in late-19th century Canada. Today the castle is open as a museum, and showcases lavish furnishings from the 1890s along with gorgeous stained-glass windows and intricate woodwork.
Relax among the gorgeous gardens of Hatley Park National Historic Site in Victoria, British Columbia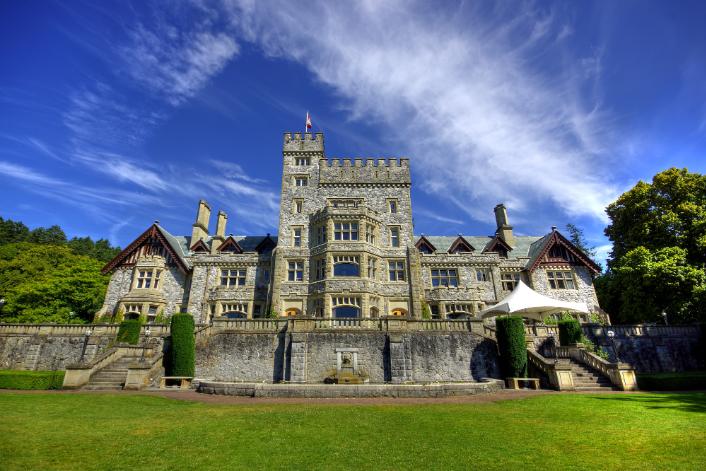 Hatley Park National Historic Site, Victoria – photo by Benjamin Madison
The coal-baron owner of Craigdarroch Castle, Robert Dunsmuir, had a son named James who grew up to become British Columbia's Lieutenant Governor. James Dunsmuir followed in his father's taste for castle building, constructing a second Scottish Baronial structure on the outskirts of Victoria, which he called Hatley Park. James chose to surround the 40-room mansion with a series of colorful and intricate gardens, drawing on renowned landscape architects to realize his vision. The result was a gorgeous estate, inhabited by the Dunsmuir family until 1939, when it was purchased by the Government of Canada. The government used it for naval training for several decades before transforming it again into a public university in 1995. It has featured in several movies, including as the X-Mansion in the X-Men film franchise.
Discover the everyday life of 1850s Canada at Dundurn Castle in Hamilton, Ontario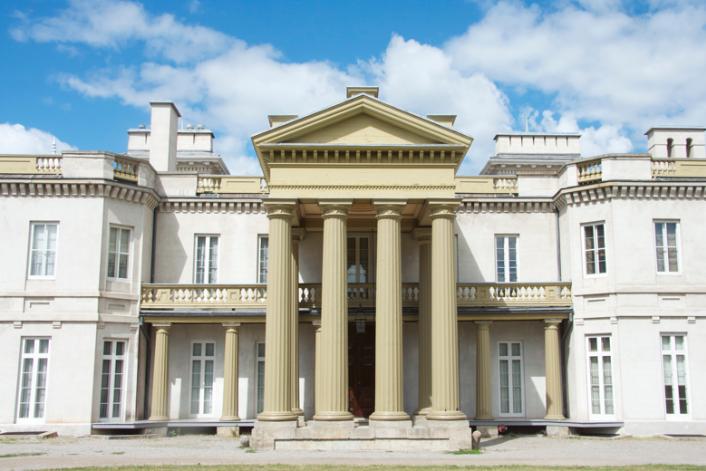 Dundurn Castle, Hamilton – photo by Naomi Yasui
Dundurn Castle, built in 1835, is an older structure than most on this list, a fact that is immediately recognizable: the extravagant Gothic spires and turrets of the later 19th century are nowhere to be seen, and instead the facade is regimented and geometric, dominated by a neat portico – an exemplar of neoclassical order. Located in Hamilton, Ontario, it was the grand project of Sir Allan MacNab, affluent Premier of the Province of Canada. MacNab made the most of his exquisite property, hosting entertainments that grew in renown through the decades, attracting dignitaries such as the King of England. It is now run as a tourist attraction, its rooms restored to 1855 when MacNab was at the height of his career. Costumed guides lead visitors through the castle's 40 rooms, illustrating the daily life of a prominent family in 1850s Canada.