Las Vegas is a city known for its excesses – one need only to look at the replica Eiffel Tower to understand just how excessive – and dining is no exception. As one would expect from a city that receives 40 million visitors each year, there are a ton of great restaurants in Las Vegas. But why go to an ordinary restaurant when it's just as easy to eat at an establishment with a celebrity chef at the helm? We have curated the city's five best celebrity chef restaurants, but, please, do visit to see what exactly it is that make's these chefs and their restaurants just so famous. Foodies visiting Las Vegas will not be disappointed, and, as far as couples go, these are some of the most romantic restaurants in Las Vegas.
---
The Joël Robuchon is the destination when they talk about the MGM Grand Hotel and Casino being a "destination hotel."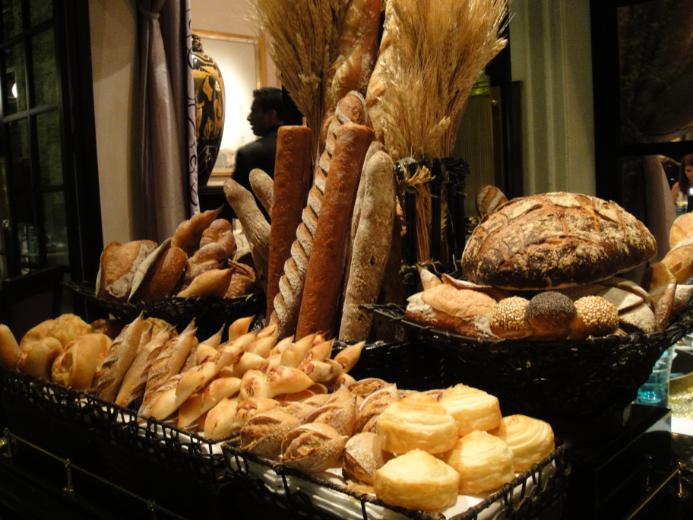 Joël Robuchon, Las Vegas – photo by nyhime73
Joëll Robuchon's restaurant is not for the faint of heart. It's a die-hard foodie destination, or it's wasted – and there's a lot to waste. For one thing, do you know how often the Gault Millau restaurant guide names someone the "Chef of the Century"? Math aside, it's going to be Robuchon for, like, fifty more years. The flagship he's planted in the illustrious MGM Grand is the only restaurant in all of Las Vegas to be awarded three Michelin Stars. So yeah, he's a pretty good chef, and so are his restaurants. This restaurant in particular, however, is la pièce de résistance of his vast culinary empire. What he does with butter is not gastronomy; it is pure alchemy. So dress respectfully, forget that money carries weight and eat purposefully.
A lesson in nouvelle cuisine at Restaurant Guy Savoy in Caesars Palace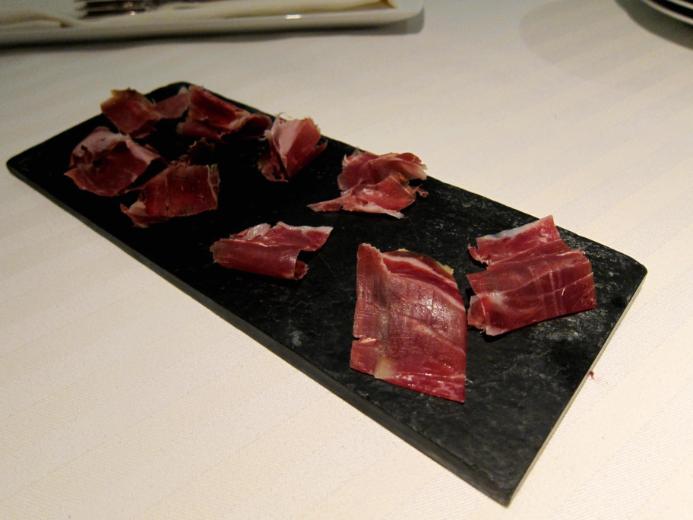 Restaurant Guy Savoy, Las Vegas – photo by lvegas
The dining room of Guy Savoy Las Vegas is as meticulously designed as the food, and both drive directly to the heart of nouvelle cuisine – clean, simple, expressing only the flavors of the natural ingredients. Not to mention the wine cellar that can accommodate the 2,100 variety wine list. Often considered alongside Joël Robuchon in the MGM Grand as the two finest of the fine-dining French eateries in Las Vegas, Guy Savoy holds his own with two Michelin stars, five Forbes stars and an AAA Five Diamond Award. Critics and diners both agree that "unforgettable" doesn't come close to describing the Lobster Bordelaise.
Twist (and shout) with Pierre Gagnaire at the Mandarin Oriental, Las Vegas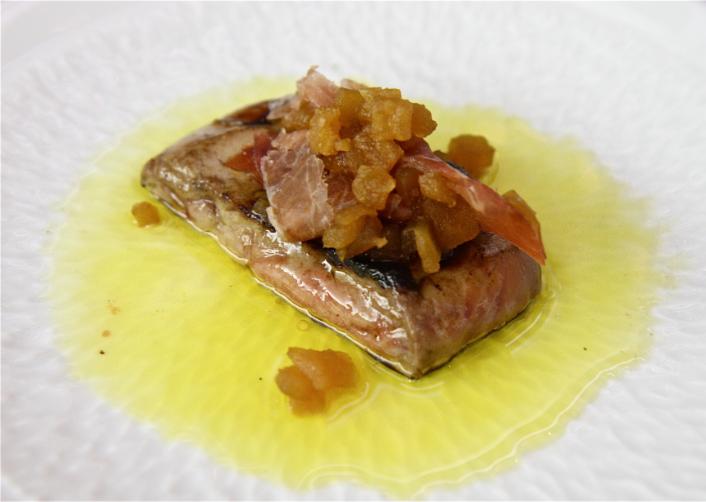 Twist, Las Vegas – photo by tomostyle
Ready for America with three Michelin stars and a handful of accolades from his eponymous restaurant in Paris, intrepid pioneer of French fusion Pierre Gagnaire set up shop in Las Vegas in 2009. Twist, his new home high up in the Mandarin Oriental Hotel, is exactly as it's named: elevated French cuisine, comprised of classic American ingredients like Yukon potatoes and Santa Barbara lobster, even a Jack Daniels gelée, with distinctly Asian flavors of soy, green tea, lemongrass, and ginger. Impossible to define, ingeniously conceived and expertly executed, Twist offers a meal unlike any other found in Las Vegas
Meat and wine at Carnevino by Mario Batali in The Palazzo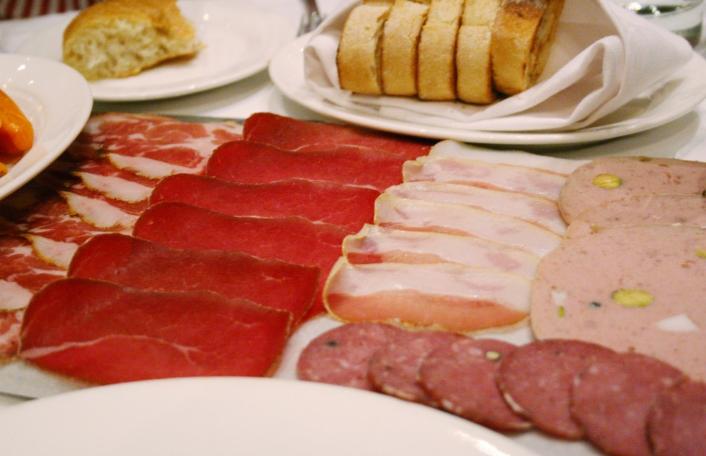 Carnevino, Las Vegas – photo by mybeautifulmessblog
For the connoisseurs of fine wine and great slabs of meat, Canevino by Mario Batali hits every pleasure point. As soon as the diners are seated, a bread basket served with pots of both butter and pure lard is presented, giving a nice tip-off to the meal at large. Another tip-off: its ranking as the "Best Steakhouse in America" by the Robb Report and Las Vegas Weekly, a wave of great press and the passionate repeat customers. Seriously, this is the "best steakhouse in America," it's the mother lode of steakhouses.
Molecular gastronomy at E By Jose Andres at The Cosmopolitan Of Las Vegas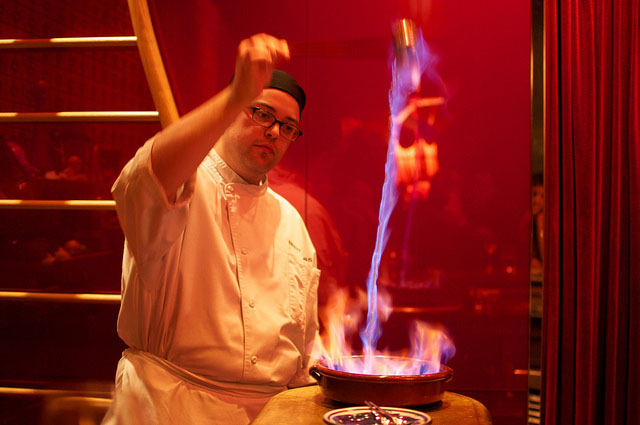 Photo by Thomas Gundersen via Flickr
Dinner theater becomes a lot more exciting with liquid nitrogen. Reservations are made by e-mailing the address on their very minimalist website at least a month in advance, receiving a confirmation via e-mail and then waiting on the literally golden tickets to arrive in the mail. The restaurant seats eight, and the dishes are made in front of the diner. Anyone who is curious about molecular gastronomy needs to take a seat here and watch how it happens. With skilled, informative and entertaining chefs serving up unique courses and informed drink pairings, this place will be sure to shock and surprise – but only in the good way.
Also check out these tips from the Hopper research team on how to save money on your flights to Las Vegas
Book at least 14 days in advance to save up to $200
Depart on a Saturday to save up to $76
Return on a Tuesday to save up to $54
Buy your ticket on a Wednesday to save up to $11
Travel in October or August to save up to $25
- Read more on how to find cheap flights to Las Vegas and see all 7 money-saving tips from the Hopper research team