Everyone knows that if anyone has a shot of becoming famous in this world, it'll happen in Los Angeles. It's the land where the sun and the spotlight come together; so bright you could light a movie. The culture is equal parts competition and leisure, and its inhabitants have turned lounging into a competition. So fine dining is key, both for the patrons in the dining room and for the artists in the kitchen. There's a celebration of names, and in the culinary industry, name means everything: José Andrés, Gordon Ramsay, Scott Conan. Much like the other electric and electrifying cities of New York and Las Vegas, Los Angeles serves it up big. Dude food smothered in bacon grease, smoking cocktails formed of molecular magic, dirty burgers stuffed with top-grade wagyu, anything that gets people with money salivating is what's on the menu in L.A. New visitors to this shimmery city need only do a little bit of research and the rest is just following their tongues.
See 5 tips, like when to book your ticket, from the Hopper research team that can save travelers hundreds on their flights to Los Angeles.
Animal is a different kind of culinary animal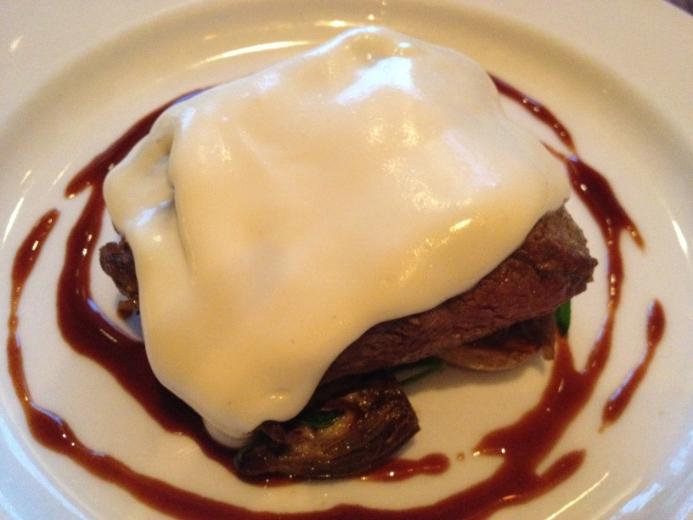 Animal, Los Angeles – photo by CharminBearsTravel
In case it wasn't already evident by the name of this joint, Animal is not a place for vegetarians. Nor is it for the prudent diner – in any sense of the word. Even those who can afford to eat here every night don't, simply because heaping messes of foie gras and bacon are not exactly part of ones recommended daily nutritional intake. Not to say that this high-end comfort restaurant is not a deeply essential player in the world of American cuisine (certainly, so says LA Weekly, Bon Appetit, Wall Street Journal and others), nor that the particular brand of dude food whipped up by chefs John Shook and Vinny Dotolo isn't decadently delicious. But it is rich – and it doesn't let any part of the animal go to waste, whether that's veal brains, pigs tails or ears, rabbit legs, bone marrow, or anything else you wouldn't trust anybody but an award-winning chef to touch. Oh, and save room for dessert and do not agree to share it: their bacon chocolate crunch bar is as delicious as it is unholy.
At The Bazaar, José Andrés whips up some magic while the diners make it disappear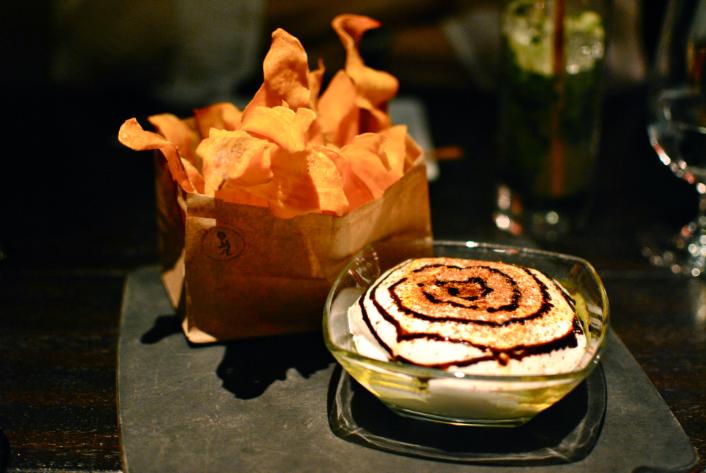 The Bazaar By José Andrés, Beverly Hills – photo by Alex & Priya
The granddaddy of molecular gastronomy, José Andrés takes traditional Spanish cooking, turns it on its head, foams it up with an organic emulsifier, sets it on fire and delicately arranges it on a white plate before sending it out in the hands of a knowledgeable server. The restaurant, located in the ultra luxurious SLS Hotel Beverly Hills, is laid out in eclectically decorated zones including a gift shop, a cigar lounge and a patisserie that looks like the set of a Madonna music video. Designed by leading interior designer Philippe Starck to look like an indoor European piazza, The Bazaar astounds in ambience and in pure, fun and funky flavor. Splurge on a cocktail and it'll be an inventive concoction seen nowhere else, with liquid cherries, salt air, emitting smoke and much more.
Gordon Ramsay twists up French, British and Japanese at the London West Hollywood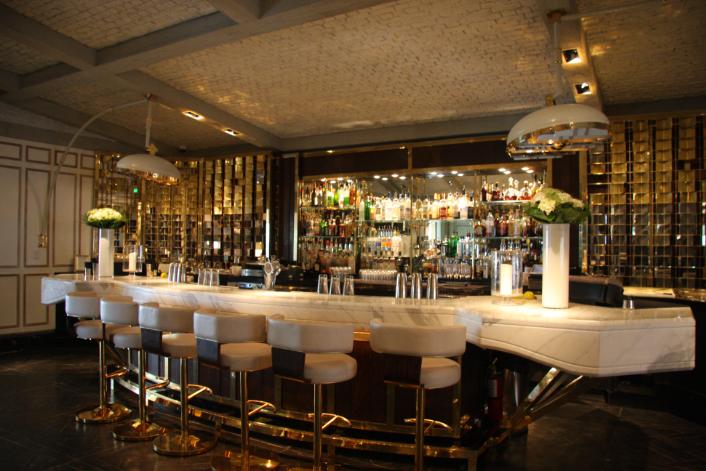 Gordon Ramsay At The London West Hollywood, Los Angeles – photo by tomostyle
Get the true Ramsay experience at his eponymous restaurant in the London West Hollywood. The opulent white and gold trimmed dining room possesses a great view of L.A. but most diners end up just staring down at their own plates. Gorgeous small plates of black winter truffle risotto smothered in lobster sauce, a pork belly sliders, and some of the best fish and chips found this side of the Atlantic. Gordon Ramsay refreshes a deeply French-infused palette with the offerings of fine Japanese delicacies, like rock shrimp tempura in sweet chilli and a spicy tuna roll. So for a classic and reliable celebrity chef restaurant, go see Ramsay.
See the hottest celebrities eating the most gluten free of the gluten free pastas at Scarpetta At Montage Beverly Hills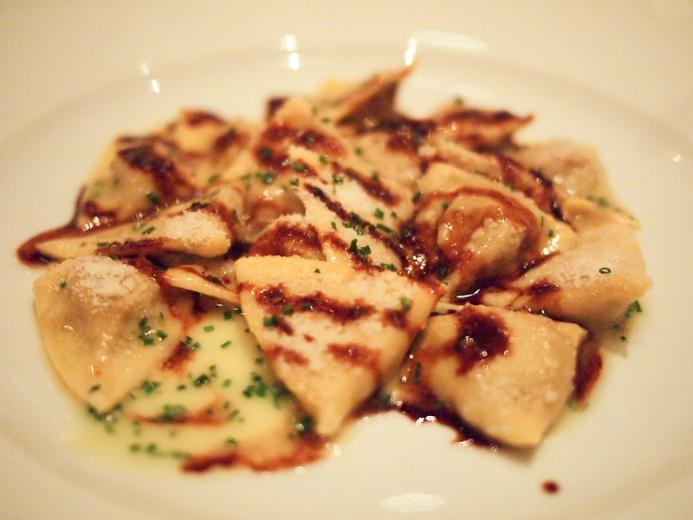 Scarpetta At Montage Beverly Hills, Beverly Hills – photo by effingdericious
Celebrity hotspot, helmed by the celebrity chef Scott Conant, Scarpetta is one of those places you go when you want to feel like a VIP. Conveniently located in the deliciously upscale Montage Beverly Hills Hotel and decorated like Los Angele's glossed over interpretation of the Mediterranean, Scarpetta specializes in elevated Italian cuisine like braised short ribs served over vegetables and farro risotto, and locally sourced wagyu carpaccio with ricci di mare, crispy sunchokes and white Alba truffle. Offering an extensive vegetarian menu with the option for gluten-free pasta as well as a small plates and specialty cocktail menu that will make any diner's happy hour, Scarpetta is one of the most famously trendy restaurants in the city.
Go to the market, La Market Restaurant By Kerry Simon, that is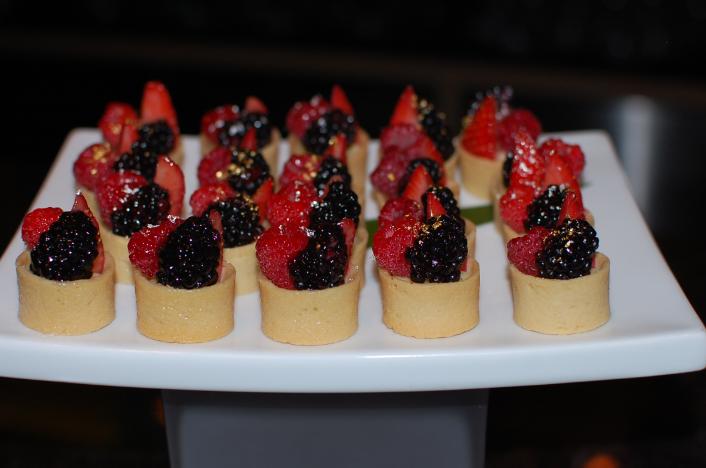 La Market Restaurant By Kerry Simon, Los Angeles – photo by Jill Weinlein, Times Community News
LA Market couldn't exist anywhere else. Serving standard American fare with a Californian twist, this restaurant offers elevated burgers, gourmet sandwiches, fresh seafood and salads from its location at the base of the Marriott Hotel right in the L.A. Live entertainment district. Followers of the show Hell's Kitchen will remember that the kitchen of this place was offered as a prize to the winner of Season 8, Nona Sivley. She now works as the restaurant's Chef de Cuisine, as the restaurant is helmed by celebrated celebrity chef Kerry Simon. One thing's certain, LA Market has kept up its award-winning standards to offer visitors and locals a unique Californian taste. Nostalgic sugarholics adore their Junk Food dessert platter: a heaping plate piled with childhood goodies like whoopie pies, brownies, Snickers, homemade Bounty bars and cotton candy.