Since 1950, Club Med has been a leading name in the tourism industry – anywhere there's hot water and some sand, you can pretty much bet that Club Med has set up a thatched-roofed bungalow or Mediterranean villa there. They're called Club Med villages and they're designed after something like modern-day Eden, if Eden's rivers flowed with never-ending strawberry daiquiris and a very hospitable stranger was being paid to play with your kid for seven afternoons in a row while you sit tanning on the shore. Club Med, the originator of the all-inclusive resort, the game changer in the luxury travel industry, the name with the biggest, baddest real estate on the Caribbean and beyond. Why not choose Club Med? Actually, here's a more productive question: why choose Club Med? Clock this list of the 5 Best Club Med Resorts in the Caribbean and find out.
Play pétanque with the rest of the chillaxing guests at Club Med Punta Cana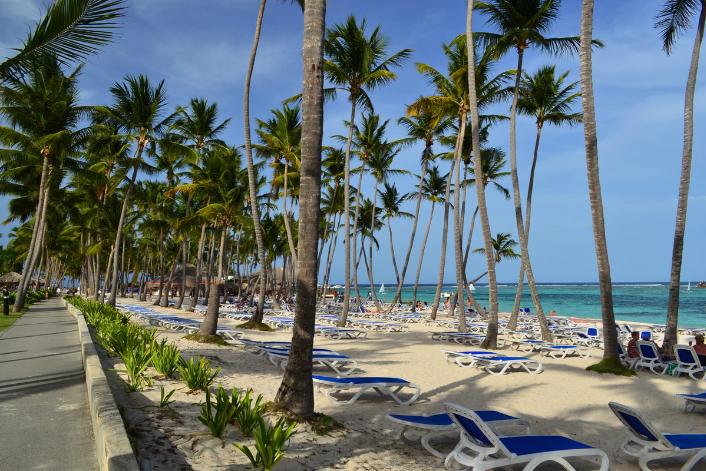 Club Med Punta Cana, Punta Cana – photo by clubmedpuntacanaphotos
Perched on the Atlantic coast of the Dominican Republic, the Club Med Punta Cana encompasses a sprawling lagoon pool, three eateries (one international buffet, one beachside buffet and a snack bar), two bars, a spa by L'Occitane, private gardens with a coconut grove, and a 2,000-foot-long white sand beach. With so much action on-site, visitors might feel less of a need to go out, but that would be a huge mistake, because just off the resort is an entire community with a diverse and rich culture, incredible water sporting opportunities and breathtaking Colonial-era historic buildings to discover. To make it easy to explore, Club Med Punta Cana sends out daily rides on the Atlantis yacht to the Saona Island, a fishing village with great barbecued seafood and deep-sea scuba diving and more; as well as opportunities to see the dolphins.
Club Med La Caravelle in Guadalupe will help make sure you never see the rest of Guadalupe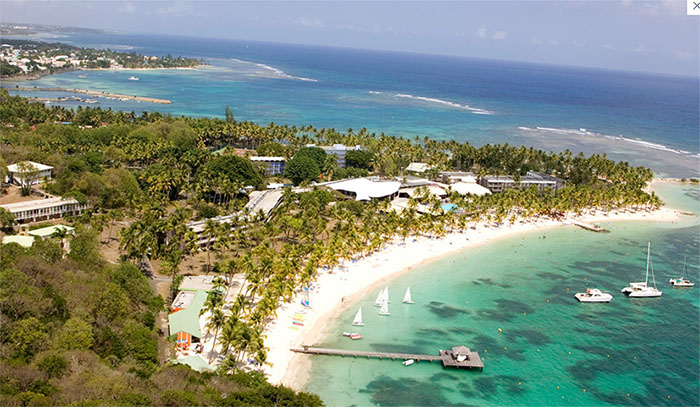 Photo via their official website.
For a Club Med with a touch of the French, the Club Med of La Caravelle is located on Pointe-à-Pitre, the largest city on the island of Guadalupe. Officially an overseas region of France in the Lesser Antilles, the area offers European appeal in the form of restaurants, boutique shops and nightly entertainment (not every resort has circus performers!); while retaining the natural bounty of the Caribbean: silky golden sand, crystal clear waters, perfect weather and unique cuisine focused on seafood. On top of his general ambiance, the Club Med guests can be treated to top-shelf all-inclusive service and their children are in for treats not typically offered at other resorts like archery, trapeze training, windsurfing and more.
Deep dive into the Club Med Columbus Isle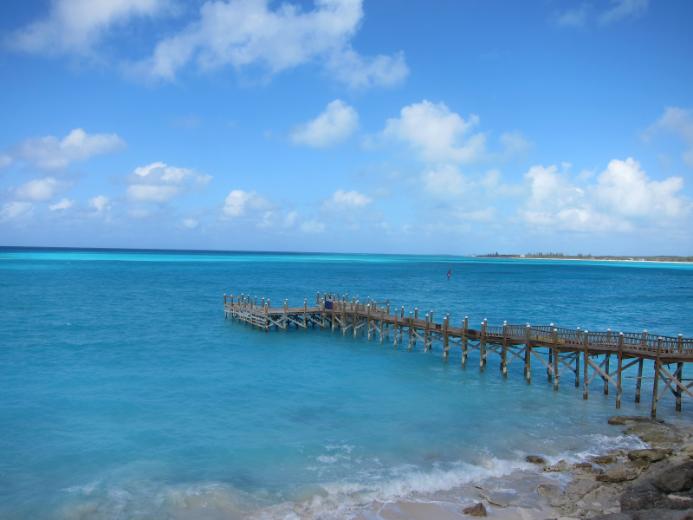 Club Med Columbus Isle, The Bahamas – photo by In and Around Town
Located just 500 yards from the San Salvador Archipelago airport, the Club Med Columbus Isle resort offers a kind of island seclusion that few other resorts can afford. Perfectly perforated with lakes and beaches and strewn through with gardens of bougainvilleas and palms, this all-inclusive resort encompasses 236 bungalow-style rooms in colorful colonial style design, two diverse restaurants and three exciting bars and nightclubs, and tons of activities for guests and families. The scuba diving is unmissable – San Salvador is historically known throughout the Bahamas for its healthy coral and fauna, deep crevices and gardens of colorful coral reefs. Club med Columbus Isle makes it particularly easy, offering excursions all over the islands to the most desirable scuba stops.
Run along the super-long boardwalk of Club Med Buccaneer's Creek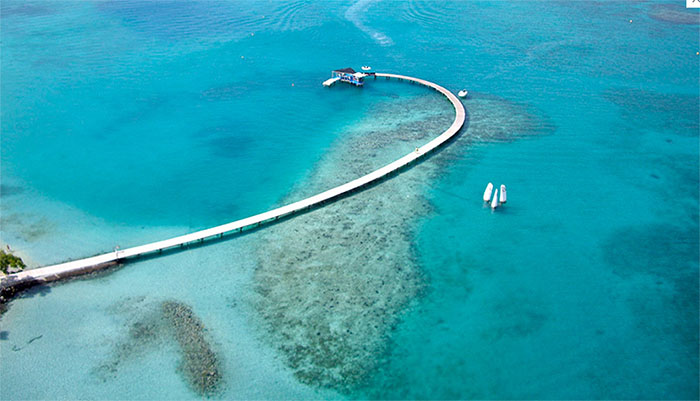 Photo via their official site.
Popular with French travelers, the Club Med Buccaneer's Creek in Martinique in the eastern Caribbean Sea is spotted by a remarkably long boardwalk jutting out into the Baie du Marin like a widely outstretched arm with a large cabana for a hand. All well-located resorts are surrounded by crystal beaches and soft sand, that's just good business, but Les Boucaniers has much more going for it: the beach is one of the best in the country, and threaded through the property are over 3000 coconut trees. Recently, the resort was awarded Green Globe certification and the architecture was specifically designed to highlight and celebrate the Creole spirit. Activities include scuba lessons so visitors can deep dive into the vast sea and skim over the coral reefs; as well as a tennis school that is also included in the all-inclusive package. There's also, y'know, chilling on the beach.
Club Med Cancun Yucatan All Inclusive - a trusted classic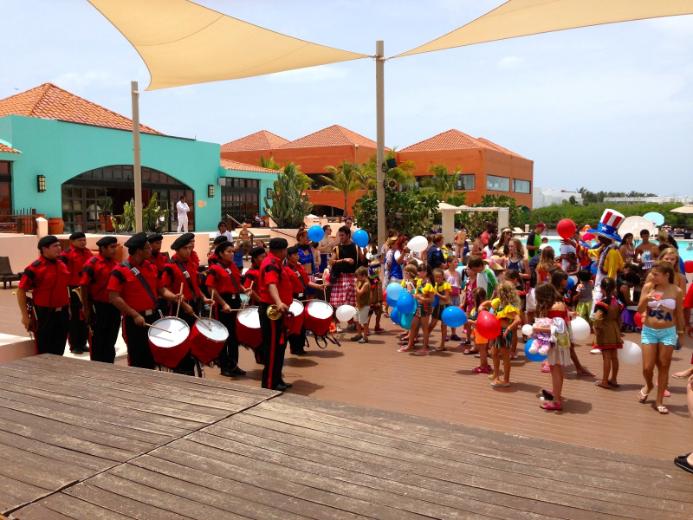 Club Med Cancun Yucatan All Inclusive, Cancun – photo by Pam Perkins
There are tons of resorts in Cancún, but if you're going to stay at a resort, why not go for the gold? A frequent recipient of titles like "Top Resort for Families in Mexico" on travel sites, the resort has recently just undergone a $14 million transformation, upgrading two restaurants, and installing a new lounge and amphitheatre and ocean-front family accommodations right on the shore. However, just because visitors are staying at an all-inclusive resort doesn't mean they can't venture away from it – excursions include tours to the archeological site of Chichen Itza, as well as the Ecco Coba and Cenote located deep in the jungle. There's more: Mayan sites, boat outings to the gorgeous Caribbean island of Isla Mujeres, a speed boat tour through the laguna, swimming with the turtles, swimming with the whale sharks, swimming with the dolphins, and even more activities and adventures abound – all fun for the whole family.
See 7 tips, like when to book your ticket, from the Hopper research team that can save travelers hundreds on their flights to Cancun.
Don't miss this article on the five best all-inclusive beach resorts in Cancun if you're planning a visit to the area