What most people who find themselves on the Vegas Strip don't know is that the best view of the glittering marquee lights, neon signs and shiny hotel complexes and casinos is from afar. The commercial epicenter of Nevada is pure artifice buzzing with electricity and activity, and for most visitors, it's the reason to visit. However, not too far from the glittering towers are natural wonders beyond anything man could produce – pure rock formations that date back 250 million years, steep cliffs that poke into the clouds, about 300 natural hot springs in the surrounding area with gallons of water somewhat unaccounted for. History blows through the tunnels dug by construction workers in the '30s to facilitate the development of Hoover Dam. So, for a day or two, why not trade in that vodka cran for a bottle of water, pull on some hiking boots in lieu of the Louboutins, hit the mountains and fill your lungs with some fresh air?
See 7 tips, like when to book your ticket, from the Hopper research team that can save travelers hundreds on their flights to Las Vegas.
Don't climb a mountain, go through one on the Historic Railroad Trail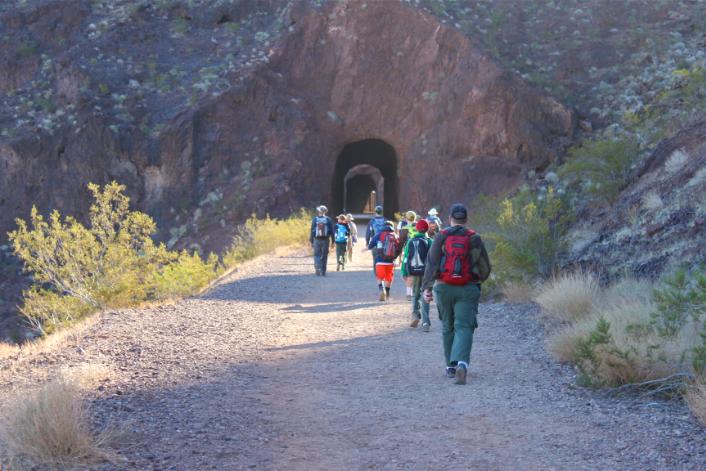 Historic Railroad Hiking Trail, Nevada – photo by lasvegas360
For a cool experience walking around the desert, the winding 3.7-mile Historic Railroad Trail lets visitors step out of the sun and straight into history. Constructed in the '30s to connect all available facilities to build Hoover Dam, like cement mixing and gravel sorting plants, the 25-diameter tunnels are now empty stretches of walkable intra-mountainous trails occupied by desert wildlife.
Also check out this Hopper article on the five best places to enjoy the outdoors in Las Vegas for more ideas on where to hike
Chase the colors at the Red Rock Canyon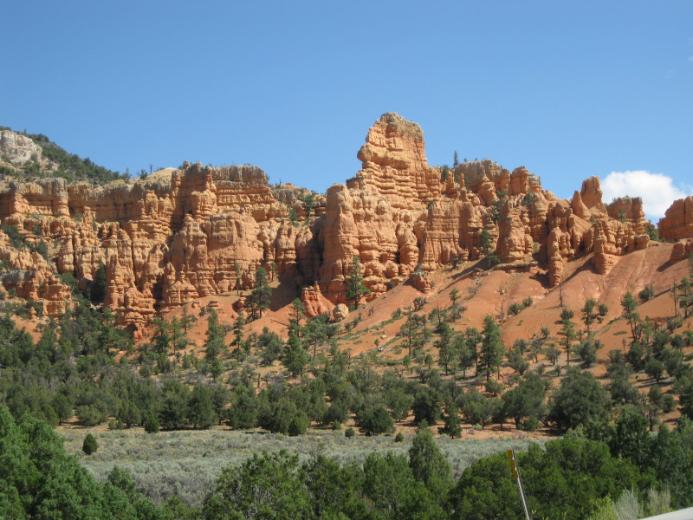 Red Rock Canyon National Conservation Area, Nevada – photo by Nancy
With 19 hikes and trails ranging from beginner to advanced to discover the rainbow of natural colours splashed and layered across the vibrant 195,819 acres of Red Rock Canyon, this is not an attraction to be missed. Geology-fans, kids and nature lovers alike will find the tracks of small bipedal dinosaurs stamped in the Aztec Sandstone and the fossils of sea life dating back to the Paleozoic Era fascinating. Want history? This is it, over 250 million years of it. So go out and explore.
Red Rock Canyon is also on Hopper's list of pet-friendly places in Las Vegas that are great for visitors and their furry friends
Follow the ropes from Hoover Dam to the Gold Strike Hot Spring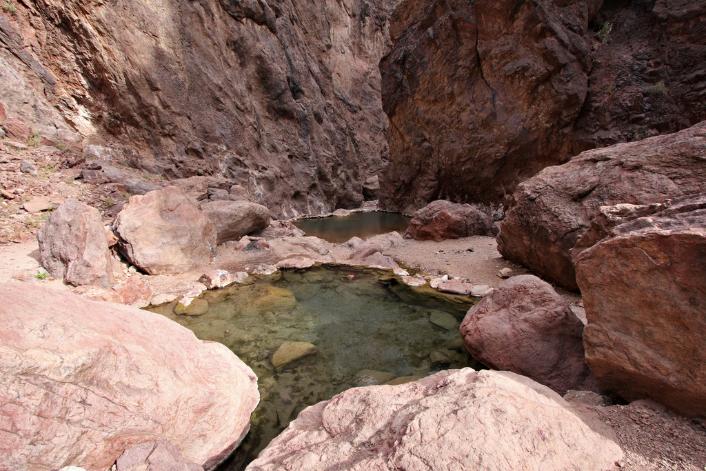 Gold Strike Hot Spring, Nevada – photo by feastsonscraps
Follow a series of eight fixed ropes along steep boulders and drop-offs starting just by the Hoover Dam along the canyon floor to the Gold Strike Hot Springs just before the Colorado River. It's a few hours of daunting trails, but the the hot springs make it worth it – one large pool about shoulder-deep, surrounded by smaller little pools and a narrow cave. Travel with caution as there's no cell phone reception most of the way, and those boulders can get slippery in the rain.
These five excellent state parks near Las Vegas are also great places for hiking and other outdoor activities
It's a long way to the top of Frenchman Mountain, but the views make it worth it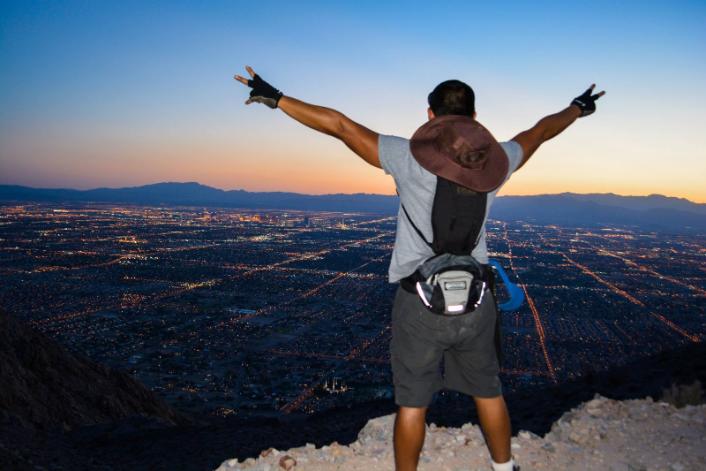 Frenchman Mountain Summits, Nevada – photo by Tito M
A direct vertical view east to Las Vegas waits atop Frenchman Mountain and its sister peak, Sunrise Mountain, above the dauntingly steep path, loose rocks and the 2,200 feet of elevation gain. This four mile round trip hike takes its trespassers up to the 4,056 foot peak that starts moderately and gets harder from there – a pair of Chucks won't cut it, it's a proper climb. However, those who make it get to bask on top of the peak, there's a clear area next to the radio towers backlit by the sparkling Las Vegas lights in the distance.
This list of the top five national parks near Las Vegas should give visitors plenty of ideas on the possibilities awaiting visitors to Vegas
Lone Mountain is a short hike with a big payoff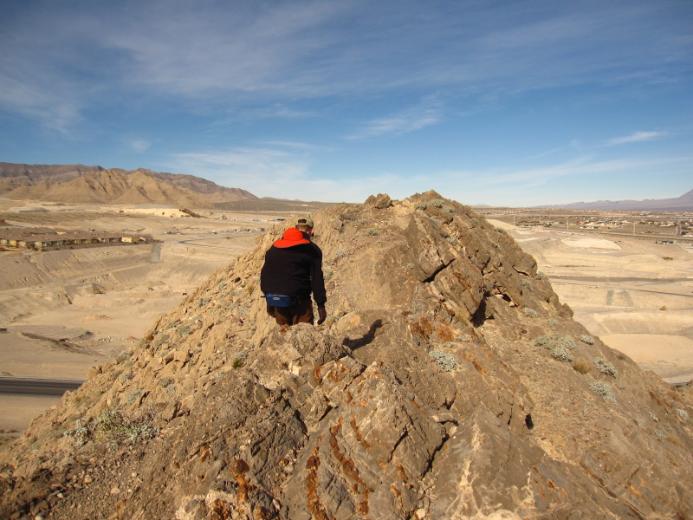 Lone Mountain, Las Vegas – photo by The Traveling Backpackers
For a moderate hike that's great for large or small groups, it's about half a mile from base to peak up a well-marked trail. While it's a short hike, the 600-foot vertical rise makes the mountain a fairly steep climb, but the summit offers beautiful views of northern Las Vegas and makes for a lovely evening trip. Keep an eye on the ground as you go up and spot some interesting cacti and wildflowers pushing up the rocks. Pack some food and a bottle of wine and have a picnic at the top, or meet at the picnic tables at the park near the base.
Hiking too tame? Turn it up a notch and check out Hopper's guide to Las Vegas for thrill-seekers for some exciting ideas for your trip