Love is in the air in Las Vegas, whether it be in the form of a hasty elopement, a luxury honeymoon vacation, or an alcohol-fueled night of passion at the club between strangers. It's a place for single ladies, too, and bachelors by the party-bus-load, but that's for another guide. With so many attractions tailored to couples, and the elaborate romantic fake cities lining Las Vegas Boulevard, it's hard not to fall for it. So if you're going on a romantic weekend, make it count.
See 7 tips, like when to book your ticket, from the Hopper research team that can save travelers hundreds on their flights to Las Vegas.
When at the Venetian, ride a gondola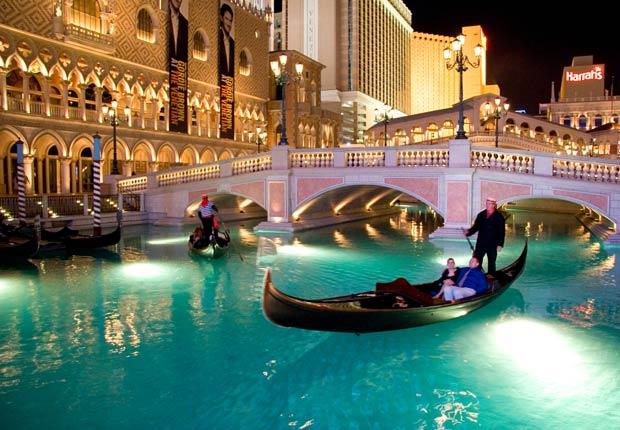 Venetian Gondolas, Las Vegas – photo by Passion 4 Luxury
Catch a Vegas-style facsimile of the canals of Venice on a real gondola ride! At around $20 per person, or $75 for a private two-passenger gondola for a 15-minute ride, guests are treated to a tour around the luxury Venetian resort to the sounds of soft lapping water and their singing gondolier. Gliding under bridges and past cafés, shops and sidewalks modeled after those in Italy under a picture-perfect painted blue sky, you'll either feel oceans away from Las Vegas, or pretty much directly embedded in the nucleus of what Vegas represents.
After your gondola ride, stop by one of these five great lounge bars in Las Vegas for a relaxed drink together
Couples can get artsy with each other at the Platinum Hotel Spa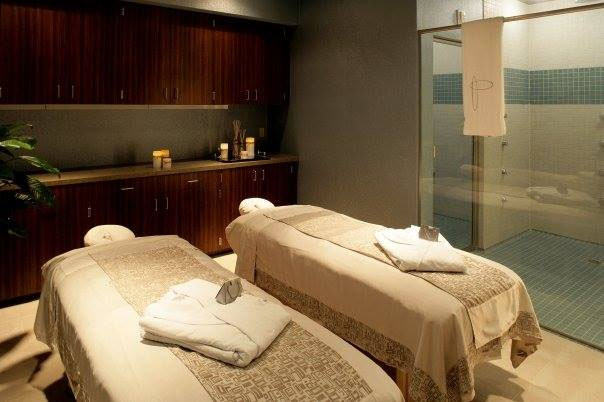 The Platinum Painting Party is designed with couples in mind – guests start out in a private steam room, and then they give each other a scrub-down with an invigorating body scrub. Afterwards, the partners paint each other with a detoxifying spa mud. Finished with 50 minutes of side-by-side Swedish massages, couples practically float out.
Don't miss Hopper's article on the five best spas in Las Vegas to be sure of a relaxing time
You'll want to rob this Bank of all its booze
The Bank, Las Vegas – photo by Shannon Shelton
The Bank at Bellagio is where all the club teenagers graduate into when they become adults. Their elegance is reflected in the main entrance, where 500 bottles of Cristal champagne hang from the ceilings, and the gold and black color scheme on the main party floor. With A-list performers and party hosts and modelesque cocktail waitresses, The Bank is sure to be the most exclusive club you'll visit in Las Vegas.
With a name like Sin City, you just know that Las Vegas' best nightclubs know how to throw a party
Las Vegas' Mon Ami Gabi brings a little French flare to Paris Las Vegas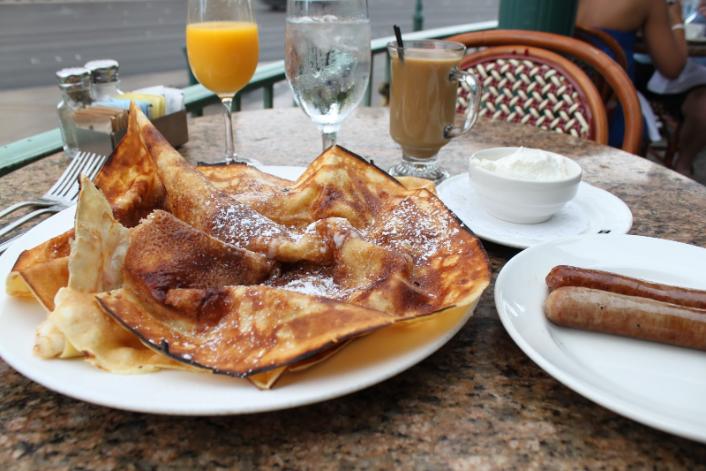 Mon Ami Gabi - Las Vegas, Las Vegas – photo by Deann
Wine and casually dine under the stars in Paris, that was the idea behind Mon Ami Gabi, though the Bellagio fountains seen from the bistro's terrace hints at a very different city of lights. Situated inside the Paris Hotel and Casino, Mon Ami Gabi serves French cuisine for an American audience – brie burgers, steak and frites, with a generous helping of caramelized onions and classics like French onion soup and a variety of seafood dishes. After a romantic meal overlooking Las Vegas Blvd, you'll want make Gabi your ami, too.
For more upmarket French dining options, check out Hopper's picks for the five best celebrity chef restaurants in Las Vegas