Las Vegas shines as a symbol of modern America partly because this glittering city of neon lights and five-star excess has somehow taken root in the barren, waterless soil of the Nevada desert. But this location also means that the city is surrounded by a great expanse of quiet, wind-scattered sand. Among this arid wilderness, visitors can find several spectacular state parks.
Within an easy hour or two-hour drive from Las Vegas, these state parks provide a salutary contrast to the city's cacophonous hedonism. Colorful rock formations and ancient art can be seen at the Valley of Fire, while other parks encompass lakes and oases surrounded by miles of desert. A little further north, Beaver Dam Park on the Utah border offers a greener alternative to the parched land around Las Vegas.
Want to save money on your flights to Las Vegas? Hopper offers seven simple tips that can save travelers up to $380 on round-trip tickets to Las Vegas!
Hike among red rock and prehistoric petroglyphs in the Valley of Fire State Park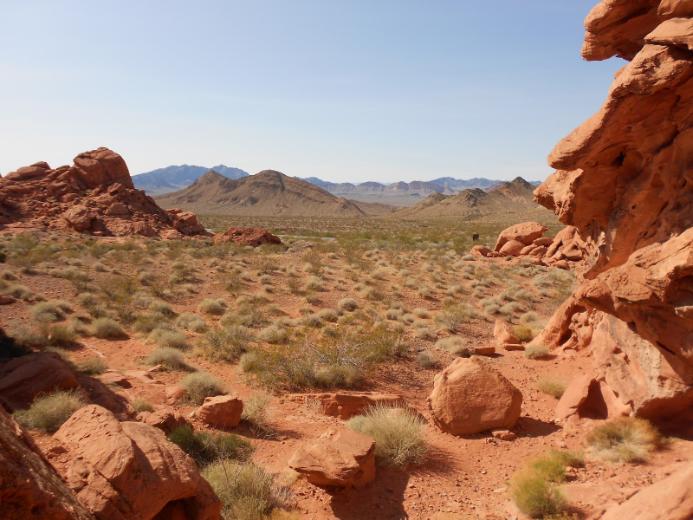 Valley of Fire State Park, Nevada – photo by Nanda Raksakhom
Fifty miles north of Las Vegas, the Valley of Fire is named after its striking red sandstone formations. Shifting sand dunes left an array of unusual shapes across this ancient land, which can be reached through a variety of hiking routes. The park's long history is human as well as geologic, tracing back to the 3000-year-old Native American petroglyphs preserved on the rock.
Outdoor enthusiasts should also check out our article on the five best places to hike near Las Vegas
Explore a historic oasis at Spring Mountain Ranch State Park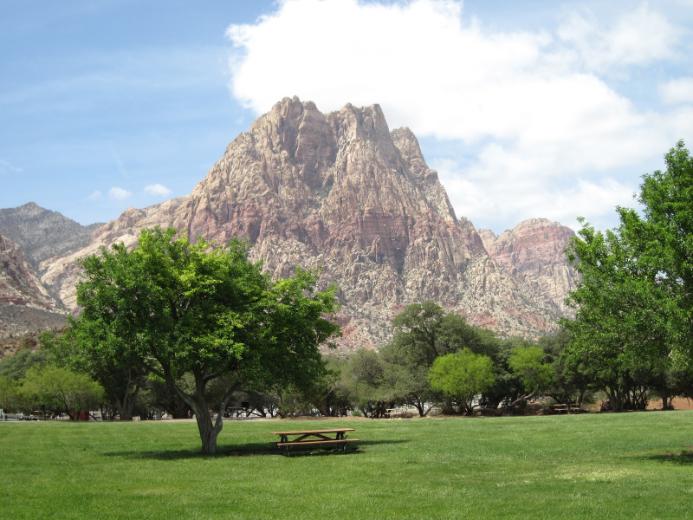 Spring Mountain Ranch State Park, Nevada – photo by Terry d. Chacon
Water from mountain springs has created an oasis in the desert 15 miles east of Las Vegas, where a turquoise lake, winding creek, green meadow and clusters of trees are overlooked by the towering crags of the Wilson Range. In the nineteenth century this oasis provided essential relief for travellers between New Mexico and California, and in 1876 a permanent ranch was constructed here. Today visitors can explore the ranch and information centre, and hike through the surrounding landscape.
Don't just check out state parks. Also take a look at the five best national parks near Las Vegas, like Zion and the Grand Canyon.
Sail into quiet coves and hike across crags at Cattail Cove State Park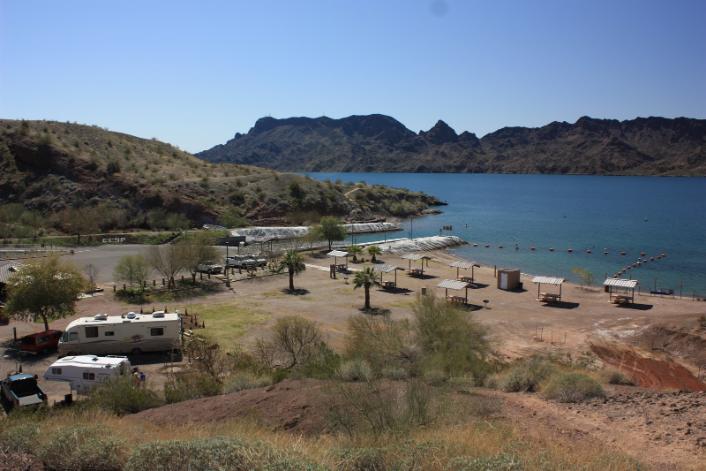 Cattail Cove State Park, Arizona – photo by Kohuts Rving Adventures
Cattail Cove State Park centers around Lake Havasu, a 45-mile long body of water which is ideal for fishing, boating, water sports and wild swimming. Boats can be brought or rented, and the lake has several secluded coves where sailors can stop and pass a peaceful afternoon. The surrounding desert has numerous hiking routes overlooking the lake below. There are over 60 camping sites, a marina and an RV Park.
Want to stay closer to the city? Take a look at these five great ways to experience the outdoors in Las Vegas
Leave the desert behind and hike through forest, streams and waterfalls at Beaver Dam State Park
A change from the barren rockscapes of the Nevada desert, a hike through Beaver Dam park is defined by the presence of water. Forests of juniper and pinyon, cut through by creeks and streams, enclose a 350-acre lake, while waterfalls cascade down grey rocks and canyons. Canoes can be rented to explore all these waterways. As the change in terrain suggests, Beaver Dam is a little farther from Las Vegas – three hours drive north on the Utah border.
Explore the first permanent structure built in the Las Vegas Valley at the Old Las Vegas Mormon Fort State Historic Park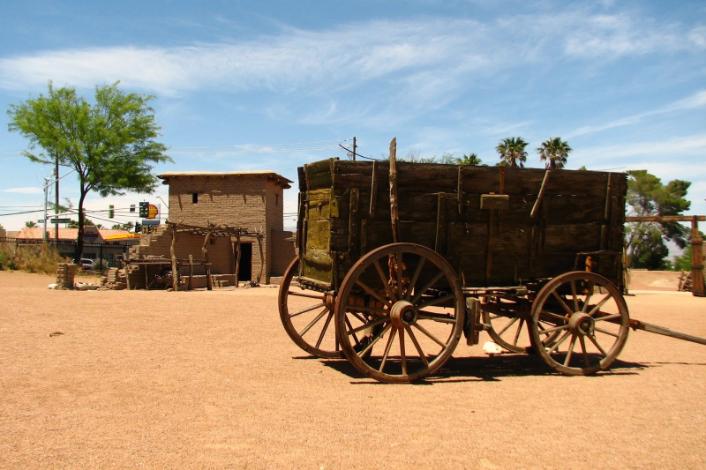 Old Las Vegas Mormon Fort State Historic Park, Las Vegas – photo by Karen and Tony
Located in downtown Las Vegas, this historic site transports visitors back to a time when the city matched its name, which is Spanish for 'the meadows'. Prior to any settlement, a small creek ran through the area, producing the only grassland for miles. In 1855 a group of Mormon missionaries built a fort on the site, the first permanent structure in the area that would eventually become modern day Sin City. The park showcases remnants of this original fort, other historical artifacts, and various exhibits and interpretive displays.
Check out Hopper's Las Vegas travel section which features dozens of articles on the best of Vegas and ways to save money in Las Vegas!