Forget everything you know about sushi. The tradition began as simple street food using fish freshly caught from the Tokyo Bay in the 18th century when the city was still called Edo, wrapped in dried seaweed (also called Nori) or on a bed of vinegared rice. It was optimal on the go, because it could be prepared easily and eaten with the hands. Now it's an international phenomenon and an art form, simultaneously grabbed from a grocery store counter by New Yorkers on their way back from the gym and meticulously prepared by skilled shokunin in internationally acclaimed restaurants. In the upper echelon of sushi masters, the California roll does not exist, additional soy sauce is a faux-pas, eating with one's hands is entirely accepted, and the price tag is always worth it in the presence of an artisan who has spent their entire life in the pursuit of perfect sushi.
Hungry Japanophiles on their way to Tokyo need only keep in mind a few things before they sit down for the most sumptuous meal of their lives: 1) many of the best sushi restaurants max out their capacity at 10 to 15 seats, so reserve months in advance – do it through the hotel if you can't speak Japanese, 2) Non-Japanese speakers might have a harder time fitting in, as these chefs prefer to explain their offerings comfortably, 3) Make sure you understand what you're about to eat, and 4) Eat quickly, because the temperature of the rice and fish are part of the process of enjoyment.
---
Jiro Dreams of Sushi in the world-renowned Sukiyabashi Jiro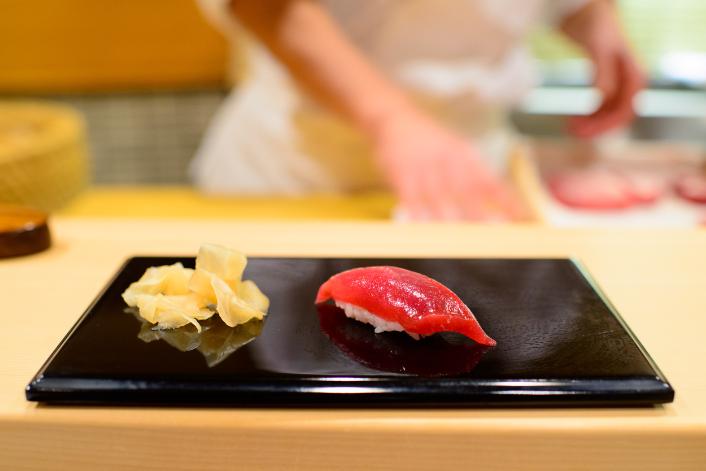 Sukiyabashi Jiro, Tokyo – photo by inspiredblather
In order to understand the exclusivity and the art of what Jiro Ono serves out of his basement 10-seat Sukiyabashi Jiro restaurant in Ginza, one must know the story. For those who have not seen the critically-acclaimed documentary Jiro Dreams of Sushi, the head chef and leading Japanese sushi artist has spent the bulk of his 87 years on a quest to perfect the art of sushi. Perfection is a tricky thing, beautiful and uncompromising. The temperature and ratio of rice and fish, the freshness of said fish as well as the sourcing and quality, and the dedicated preparation are all factors to achieving perfection, as well as adherence to tradition and understanding the limits to creativity. That's why it's exceedingly important to remember that at Sukiyabashi Jiro service is going to be different than at any other three-star Michelin restaurant. The meal rarely takes more than half an hour, as diners are expected to eat their sushi within 45 seconds of presentation (to ensure that it's consumed in prime temperature), and the next piece comes out almost as soon as the last one is lifted off the table. Most visitors won't be able to get a reservation at Jiro because it's phenomenally famous (and small) but also because the owners simply prefer their diners be able to speak Japanese. With these strict rules, many may turn away and head to some other three-star restaurant, but those who are seeking perfection in art and some perspective-blowing sushi should find a Japanese speaker or arrange a reservation through their hotel a few months in advance.
Savor sublime seafood at Sushi Saito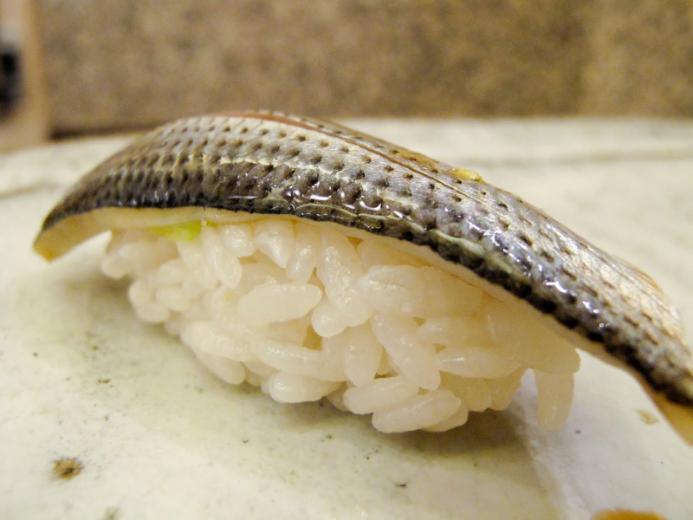 Sushi Saito, Tokyo – photo by wendy
Sushi Saito is another stripped down sushi-ya, hard to reserve and even harder to locate inside a multi-level parking lot in Akasaka. Hailed by Joël Robuchon and a whole smattering of other very reliable voices as the best sushi restaurant in the world, Sushi Saito has a lower price point than other restaurants in its class but it'll still take a few months to make a reservation due to its seven-seat capacity. Chef Takashi Saito's style of sushi craftsmanship involves some aged fish and precisely controlled temperature, adding a bit more salt and mild red vinegar to his rice, and the careful application of freshly grated wasabi, soy or lemon to select pieces as needed. Unlike its similarly exclusive competitors, Chef Saito speaks enough English to greet each diner warmly and explain the menu, and he keeps the atmosphere relaxed.
A breath of fresh sea air at Sushi Yoshitake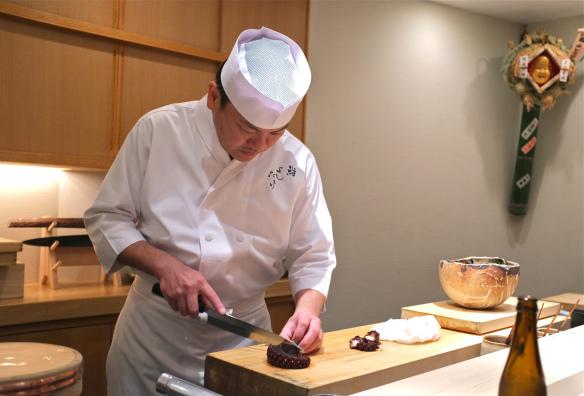 Sushi Yoshitake, Tokyo – photo by tomostyle
Sushi Yoshitake deals his fish a little differently. Less traditional than his other Edomae competitors, Chef Masahiro Yoshitake pairs his sumptuous slices of abalone with sauce made from abalone liver and uni and oyster with shiso and oyster juice jelly. The structure of this dining experience is omakase style, almost like a traditional tasting of small plates from the chef. The creative combinations using ingredients like wasabi stalks, sansho peppers, yuzu zest, and others set this restaurant apart from most of its fellow hardcore sushi sellers in the country and certainly miles apart from any of the sushi joints in North America. Following the innovative entrées are piece after piece of delicate nigiri sushi, delicately assembled in front of the diner by Chef Yoshitake himself. He prepares his rice in the traditional Edomae style, with a splash of red vinegar, and 70% of his fish is personally ordered rather than market-bought. Having been granted three stars the same year Sushi Yoshitake was inducted into the Michelin guide, this dinner comes with a show of Chef Yoshitake's care and detail. There are two seatings a night and the seating capacity is about seven people, so reservations are, like with the other top-class sushi-yas, absolutely necessary.
Join the lunch crowd at Sushi Kanesaka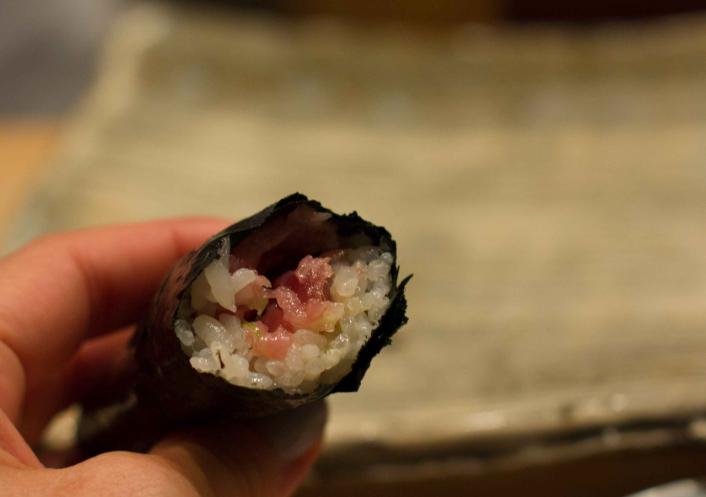 Sushi Kanesaka, Tokyo – photo by Call me a food lover...
With two Michelin stars, Sushi Kanesaka offers one of the best dining experiences in Tokyo for those who wishing to try sushi at the premier level. For one thing, it's roughly $150 for the optimum omakase tasting, which has the same amount of food as their $100 omakase option but with finer cuts of fish. And people who are willing to shell out over $100 on lunch might as well as opt for a finer cut, because a finer cut at Kanesaka is about a million cuts above anything one might find at a sushi restaurant in North America. Again, perspective-blowing, even if it means subsisting on takoyaki from a street vendor for the rest of the trip. This classical Edomae-style restaurant skews towards shellfish and relies only on the purity of their superb seafood and the scrupulous preparation of the rice. Worth the wrangle with Google Maps, this hidden gem is located in a basement under a nondescript building in Ginza. Like the others on this list, it's small (with a 14-seat capacity) and stripped down – some have likened the ambiance to dining in a garage, but a first bite into the delicate Hamachi opens up to a world of surreal flavor and it doesn't stop until the last of 16 courses, the sweet and dense Tamago, an egg omelette that tastes closer to a custard.
Waking up at the crack of dawn to wait in line for breakfast at the fish market? Sushi Dai makes it worth it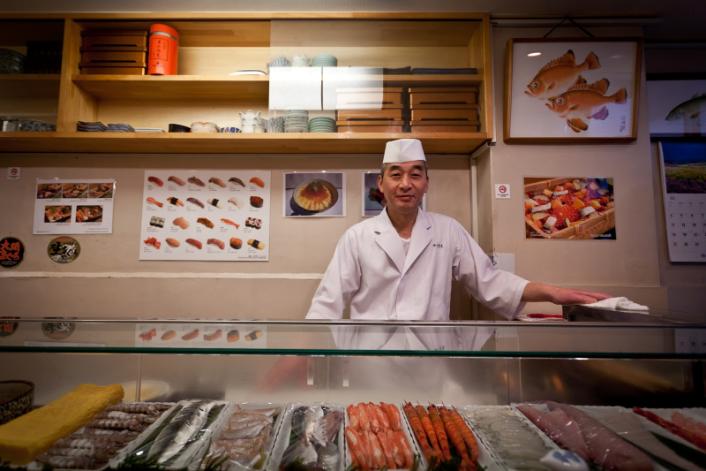 Sushi Dai, Tokyo – photo by Sybaricious
If you want fresh fish, you go to the source. Not quite the ocean, but close to it. Hands down, the freshest sushi available in Tokyo is at the Tsukiji Fish Market, and the best way to try it is by waiting in line to get into Sushi Dai. Remarkably less expensive than most sushi places of its caliber and certainly more paired down, operating out of a veritable fish stall with two counters, Sushi Dai is a true stand-out in the Tsukiji Market due to its finesse and accuracy in preparation, from slicing to seasoning. They offer an à la carte menu, but it's highly recommended that visitors go for their Omakase menu, which features 10 pieces handpicked by the talented chefs based on seasonality and is finished off with a roll and a bowl of miso soup.