Spain has risen to the top of the world's foodie destinations in recent years. The strong sense of regional identity that fractures the country – Basque, Catalan, Galician, Valencianos – gives rise to a wonderfully varied set of cuisines, which then influence each other, creating the perfect conditions for culinary inventiveness. There are the famous restaurants, of course, and all these regions have a smattering of top-end establishments run by celebrated chefs. But of course the real joy of food in Spain lies in ambling casually through the warm streets, and dropping into anywhere that catches your eye; savoring a few pintxos or tapas, then strolling leisurely onwards to make your next gastronomic discovery.
Enjoy the fruits of land and sea in Alicante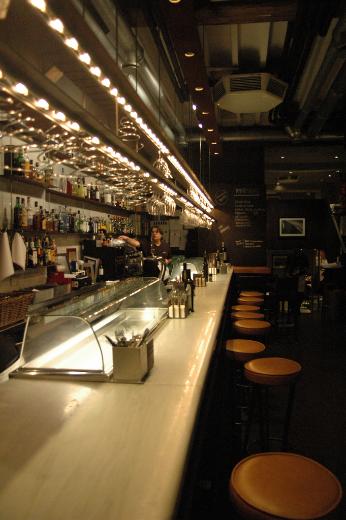 La Taberna del Gourmet, Alicante – photo by liz2024
The vibrancy of Alicante's culinary scene has only recently begun to garner attention beyond Spain, but it is rapidly gaining an international reputation. Situated below Valencia on the southeast coast, its chefs have a diverse range of cuisines to draw on. There's seafood from the Mediterranean and the superb fish markets in the surrounding countryside; roasted meats and stews from the mountains to the west; and Catalan influences to the north. Two of the best eateries which take inspiration from all three are the sophisticated Monastrell restaurant, and the more laid-back La Taberna del Gourmet, which also has a fantastic bar.
Hearty stews and delicious pintxos in San Sebastian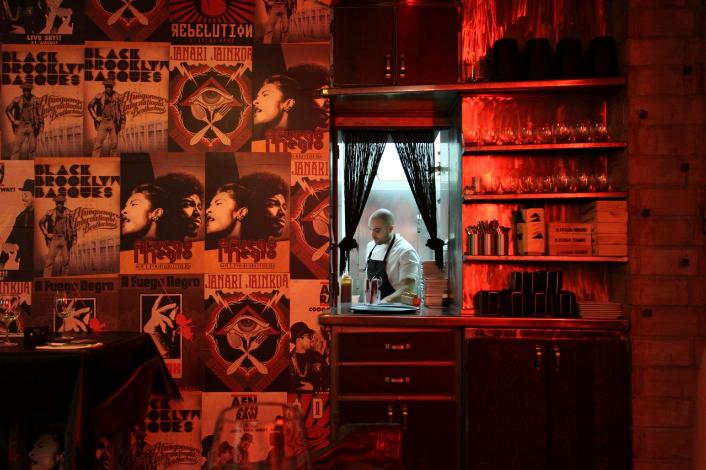 A Fuego Negro, San Sebastian – photo by schatzandschatz
San Sebastian has won a shower of laurels in recent years, proclaiming it "the greatest food city in the world." It hosts three of Spain's five Michelin-rated restaurants and is home to a string of world-famous avant-garde restaurants. One such venue is Arzak, which grounds its experiments in the Basque Country's culinary culture along with the daily produce sold at local markets. But perhaps the best way to experience San Sebastian's cuisine is not to sit down for a full meal but rather to move between the city's pinxto bars, where myriad different pinxtos – Basque tapas – are spread colorfully across the counter. Some of the best places to drop into include the mint-green Bar Zeruko and the dark-walled A Fuego Negro.
Savor sublime Atlantic seafood in A Coruna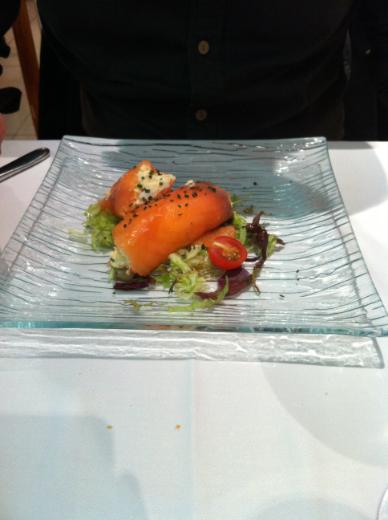 Artabria, A Coruna – photo by slow paseo
For centuries A Coruna has been a hub of the Galician fishing industry, trawling the vast waters of the Atlantic off Spain's northwest coast. Unsurprisingly, then, its cuisine centers around seafood, which is sublime both at the cheap and raucous tascas where locals lounge at all hours of the day, and at the more formal and upmarket marisquerias. Regional specialities include the polbo á feira (octopus), and Galicia (nicknamed "green Spain") is also known for its fantastic cheeses. One of the best places to experience the town's cuisine is Domus, with its meticulously-crafted seafood dishes. Alternatively, just wander down Calle Barrera and take your pick of the street's tascas.
Unearth the gems embedded in the backstreets of Barcelona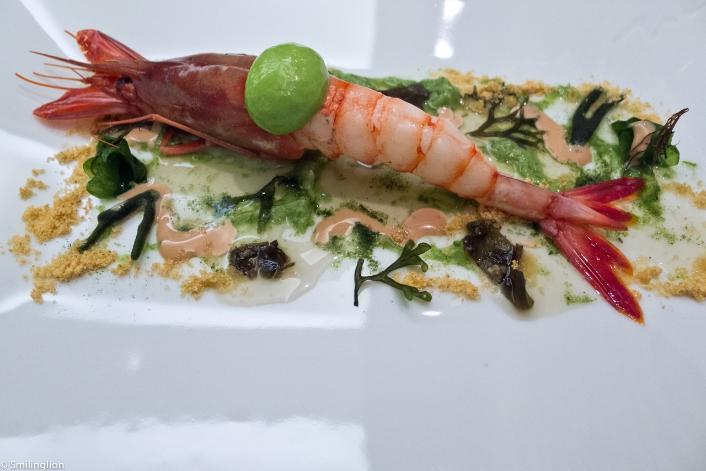 Lasarte, Barcelona – photo by smilinglioneats
Eating well in Barcelona – what in the world could be easier? In actual fact, finding good, authentic cuisine in Catalonia's seething capital is not as simple as it may seem. Of all Spain's cities, its center is most peppered with snares and tourist traps poised to strip the unwary of their money for an uninspired conveyer belt dish. But avoid the major tourist areas – Las Ramblas, Placa Catalunya – and delve into Barcelona's labyrinthine residential districts, and you'll find an endless array of eateries serving great food at staggeringly low prices. You can savor a meal-sized portion of Catalan cooking in a restaurant like Casa Delfin, with its fish stews, rich dishes, pork and offal. Or you can stroll the city's tapas bars and compare its montaditos – a slice of baguette topped with some sumptuous mix of foodstuffs – with San Sebastian's pintxos.
Check out these tips, like when to book your ticket, from the Hopper research team that can save travelers hundreds on their flights to Barcelona.
Top-end restaurants and casual tapas bars in Palma de Mallorca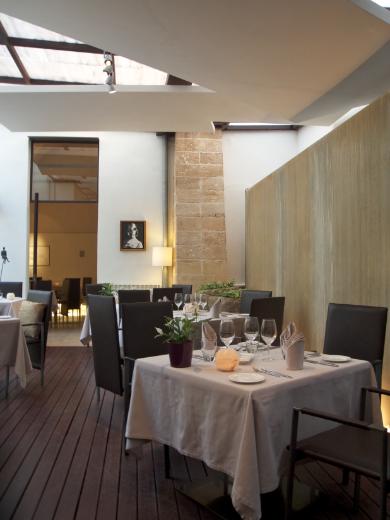 Simply Fosh, Palma de Mallorca – photo by James Hall
Palma, capital city of classic package holiday destination Mallorca, offers similar if smaller-scale challenges to the food tourist as Barcelona. One solution is simply to select one of its superb top-end restaurants, booking a table well in advance; one of the best is Simply Fosh, run by chef-auteur Marc Fosh, whose beautifully presented Mediterranean creations change frequently. Alternatively, delve into the city's narrow medieval streets and experiement with its eclectic array of tapas bars and cafes. Lizarran is definitely worth visiting, with cheap and delectable pintxos decorating the bar and great platters of meat and cheese being carried out by frenetic waiters.
Sample the rich produce of the Extremadura countryside in Cáceres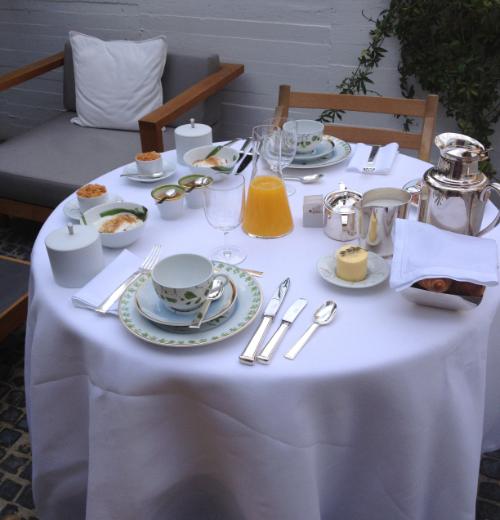 Atrio, Caceres – photo by Eatamadworld
Cáceres is a city in the western region of Extremadura, most famous as the home of jamón Ibérico. This is one among several specialities nurtured by the region's hot climate, another being pimentón de la vera, a smoky paprika made from peppers grown, smoked and crushed in La Vera valley. A dish that combines both these specialities can be enjoyed at the Hospedería Del Real Monasterio restaurant, which marinades jamón Ibérico in La Vera paprika. Alternatively, the quaint, cool, stone-walled interior of El Figon de Eustaquio is the perfect setting to enjoy a small selection of excellent dishes drawing on the rich produce of the Extremadura countryside.
Enjoy seafood, local farm produce and paella in Valencia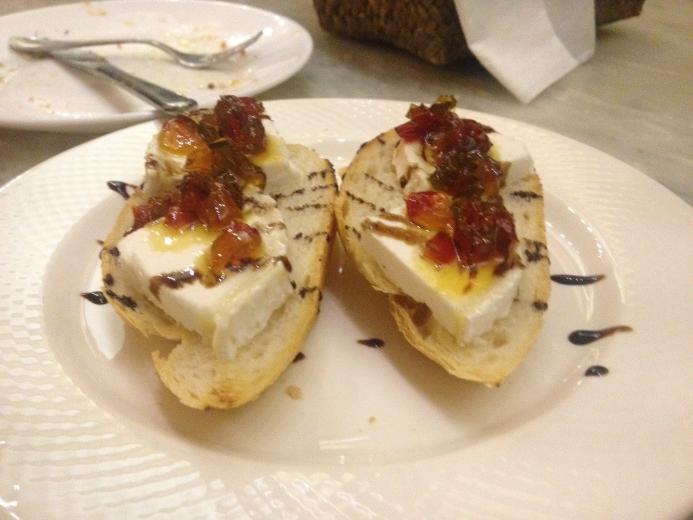 Bodega Casa Montaña, Valencia – photo by Naomi Tatchell
Valencia is a pretty city on a gorgeous stretch of the Mediterranean coast, but unlike its Catalan equivalent Barcelona it has yet to be completely swamped by tourists. Consequently there are fewer tourist traps, and superb food is easy to come by – drawing on fresh seafood and the vegetables grown on the farms dotting the land beyond the city. And of course Valencia is most famous for paella, the saffron-tinged rice dish that, in classic forms, comes with either seafood or chicken and vegetables. These and other varieties of the dish are at their best in La Rosa restaurant on the seafront, and in the long-established La Pepica.