The practice of smoking meat over an open fire has been around for as long as people have known how to summon the flames and needed to eat meat, but almost certainly, it was the good old United States of America that perfected it – and continue to perfect it. It's an art – anything that is marinated and slow-cooked for anywhere between three to 14 hours has got to be an art, there is color and delicateness and an ecstasy involved in the process and consumption. There are centuries in the making, and recipes handed down from generation to generation, and it's so good it very often doesn't even need to be packaged, because it is truly of the people. Welcome to America, here are ten fantastic barbecue cities for you to salivate over.
10. Brooklyn, New York City

Photo by Cheo70/Flickr.
Nobody should be surprised that Brooklyn is on this list. Say what you want about hipsters, but they are thorough in their processes, innovative to carve their own way and very into small batch. What sets Brooklyn apart from their Southern barbecue buddies is that Brooklyn has a very specific mandate towards supporting a sustainable environment and forming partnerships with local farms. They also have a lot more money and a younger clientele. In Brooklyn, one can find all-natural St. Louis ribs at Fletcher's, and Memphis style dry-rubbed ribs at Fette Sau in Williamsburg.
9. Atlanta, Georgia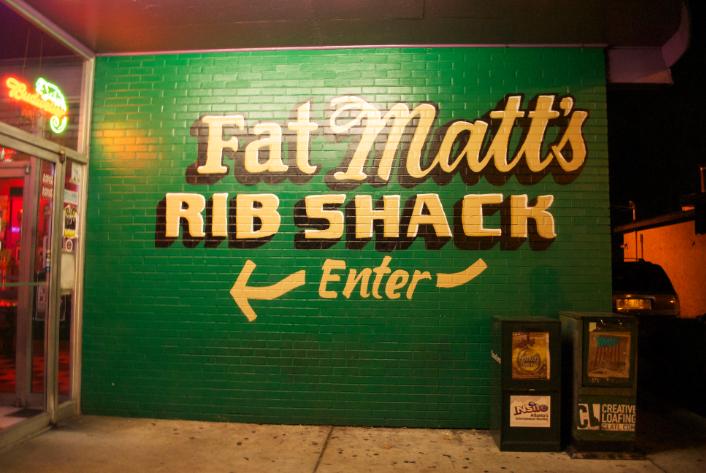 Fat Matt's Rib Shack, Atlanta – photo by tokyohamster
In Atlanta, big city slickers can have their fill of the smoked stuff too. Every year around August, about 50 teams from backyard barbies to professional restaurants gather at Atlantic Station and compete for the title of Atlanta's Best BBQ. Atlanta might not have its own style, but their chefs come from all over the South to hack it in this large metropolis. A consistent winner, Fox Bros. have specialty sandwiches like their Fox Bros. "Burger," a toasted sesame seed bun wrapped around chopped brisket, bacon, tomato, red onion, pickles, melted pimento cheese and jalapeño mayo; as well as massive plates with any kind of meat you want – the "Everything Plate" is heaping with pulled pork, beef brisket, a quarter chicken and wings. Fat Matt's, an electric and unpretentious blues and barbecue joint specializes in ribs, from sandwich to slab, and a long list of special sides. Nightly live acts, a slab of award-winning ribs and a sweet potato pie – what could make a Southern night more special?
8. Nashville, Tennessee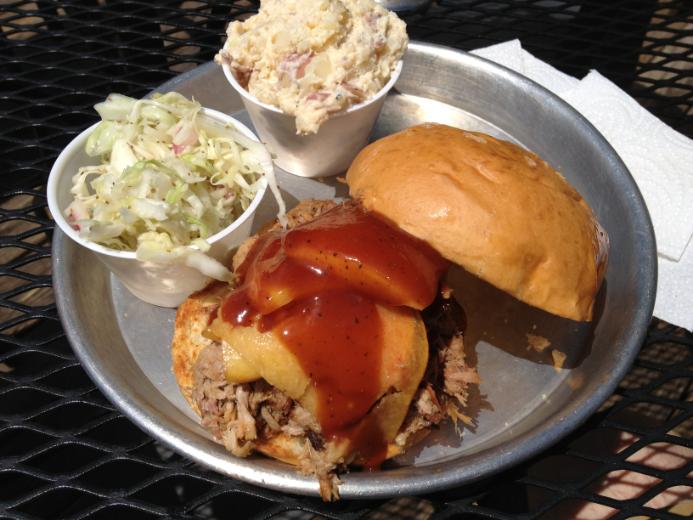 Edley's Bar-B-Que, Nashville – photo by nashvillenourriture
Music and meat – that's what you get in Nashville. Lesser known as a barbecue spot, there are a ton of diverse grill spots serving up everything from hand-pulled chicken topped with white BBQ sauce (from Hog Heaven, a reincarnated state for the pigs they've smoked and plated and divine experience for the diners chowing down on them) to smoked Boston turkey, St. Louis ribs and Tennessee pork shoulder (from the jack of all trades, Jacks Barbecue downtown). For a totally Nashville experience, check out Edley's airy, friendly barbecue joint, which slow-smokes all their meat over local White Oak wood and offers up to ten southern-style side dishes made from scratch, served in the Nashville style of Meat and three with sweet tea style.
Looking for cheap flights to Nashville? Download Hopper's new mobile app to save big!
7. Dallas, Texas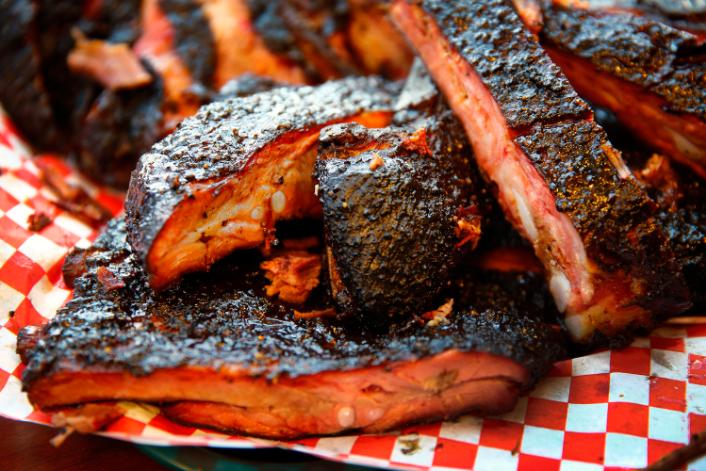 Pecan Lodge, Dallas – photo by Gary Jacobson
Dallas' rough and tumble nature lends itself very well to its barbecue style, which sees beef and pork smoked over hickory, savagely cut and thrown on a bun with a tomatoey sauce. That's just tradition, but as these things go, each restaurant throws in something new. Try the totally unpretentious Lockhart Smokehouse in the Dallas area, which serves up magnificent brisket and shoulder clod in lean, fatty, extra bark, or others of your choice, forego the plates and just hand you butcher paper. Or, for the more adventurous palate, the slightly out-of-the-way Angelo's in Fort Worth is about as real as it gets: family founded and run since 1956, this nationally known barbecue joint looks like a hunting lodge and specializes only in fine East Texas barbecue and ice cold beer.
6. St. Louis, Missouri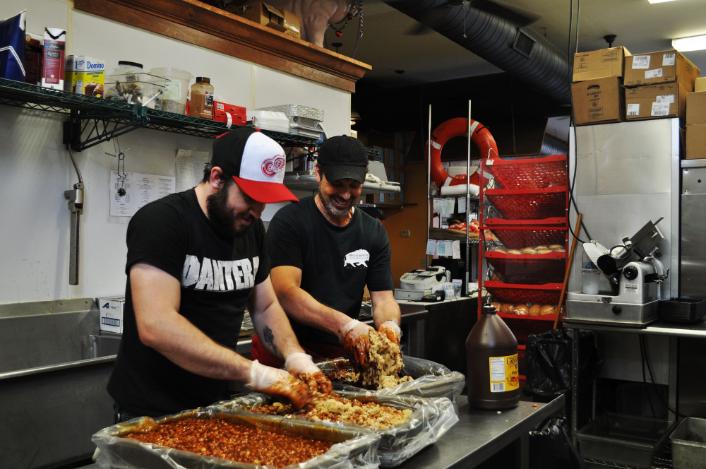 Bogart's Smokehouse, St. Louis – photo by mjohn143
St. Louis has carved a name for itself in the world of barbecue – as far as American smoking styles go, their pork ribs are close to the holy grail and deep smoked pig snout (or a "crispy snoot") is just regional standard fare. Pappy's Smokehouse is nationally renowned for their dry-rubbed ribs slowly smoked over apple and cherry wood as well as their truly unique Frito Pie diner's choice of barbecue with baked beans, cheddar cheese and onion heaped over a mount of Fritos. Like many other BBQ places across the country with equal fame, Pappy's sells out fast and draws lines out the door. For the snoot experience, Roper's Ribs offers up great combos and deliciously grills the heck out of pig parts most people wouldn't think about eating.
5. Austin, Texas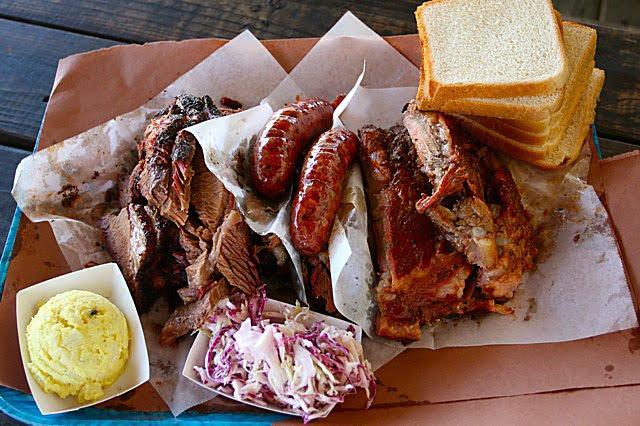 Franklin Barbecue, Austin – photo by Chris Wilkins
Best known for music and barbecue, Austin is a can't-miss on the barbecue trail. From fine-dining to truck stop, every smoker adds their own spin and style to the traditional sweet and tangy tomato-based sauce. Franklin Barbecue, a major BBQ force on the scene since 2009, opens their shop to a lineup that snakes around the block and doles out pounds of brisket until it sells out – sometimes it takes as little as an hour and a half. Stubb's, an American institution, has been jamming out and smoking beef since their first location opened in Lubbock, 1968, where musicians like Stevie Ray Vaughn, Muddy Waters, John lee Hooker, Willie Nelson and others would sing for their delicious, fall-off-the-bone suppers. Having since relocated to Austin in 1985, Stubb's is still the place where musicians go and jam out while diners bliss out on the down home atmosphere and time-honored barbecue.
Right now travelers are finding great deals on tickets to Austin using the new Hopper app. Download it now!
4. Lexington, North Carolina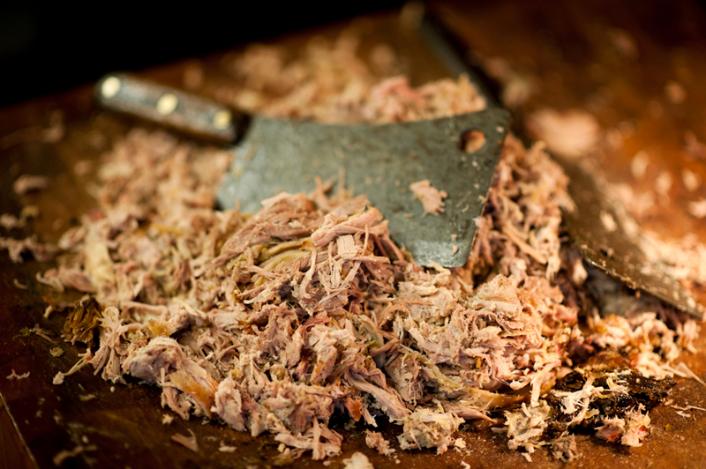 Barbecue Center, North Carolina – photo by thebarbecuebus
Pork is the game in Lexington, a small town just an hour's drive northeast of Charlotte, where a regional favorite is the wood-smoked pork shoulder, coarsely chopped and topped by a mostly vinegar based sauce – those who know their way around a Lexington grill often order it with some outside brown, which means more flavorful extra bark from the meat) and sometimes extra dip, which is just the word for the thinner sauce. Another Lexington trademark is the Red Slaw, coleslaw that's swapped out the mayo for BBQ sauce. There's a lot to the Lexington scene, which is why the city throws an annual Barbecue Festival to celebrate it. For the regular season, Lexington Barbecue #1, established in 1962 and better known by locals as the Honeymonk, is the quintessential Lexington joint, widely hailed as the best in the business, always happy to help a diner out with a big plate of pork and some Cheerwine.
3. Kansas City, Missouri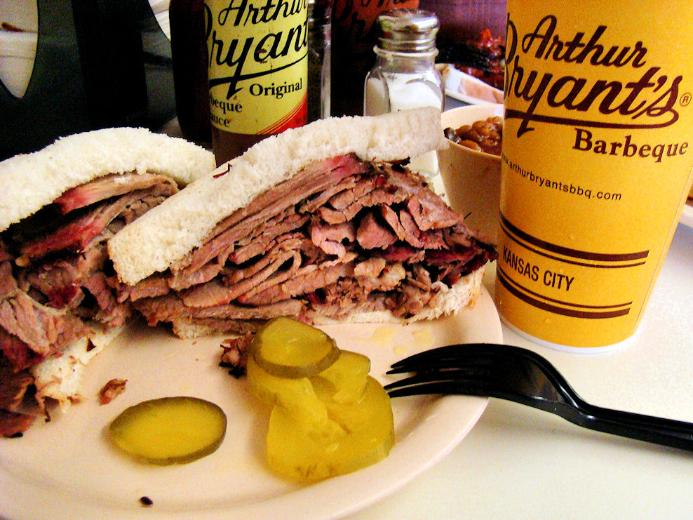 Arthur Bryant's, Kansas City – photo by Christa Rose
Saying that Kansas City, Missouri, is a pretty good BBQ destination is like calling Beethoven a pretty good composer from the Romantic period. The 'cue may not have originated in Kansas City, but certainly the style changed irrevocably as soon as Arthur Bryant set up shop blocks away from the Kansas City Blues and started the tradition of slow-cooking pork and beef ends over a mix of hickory and oak before a splash of the signature sauces. That was about a hundred years ago, and it's still the respected pioneer of KC Style, which uses more molasses in the sauces and hickory smoke. Diners who love the atmosphere of a quality corner BBQ counter as well as fans of the blues need only stop once at BB's Lawnside BBQ before they're hooked: inside the battered exterior of this 40-year-old diner is a warm and bustling blues joint filled with the aroma of hickory and tangy sauce.
2. Memphis, Tennessee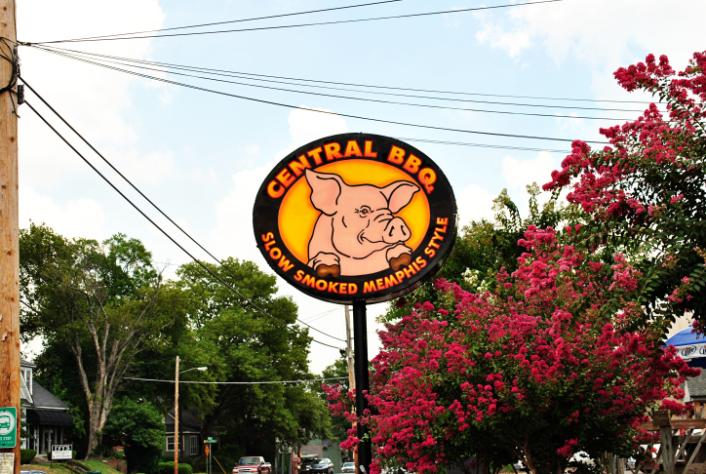 Central Bbq, Memphis – photo by meeshiesmom
Dry rubbed but never dry, Memphis has one of the most amenable while simultaneously distinct styles in American Barbecue. Sauce on the side, of varying bases (tomato, vinegar, or mustard depending on the place), ribs cut St. Louis style, nicely and neatly, mopped or thickly caked with rub, Memphis cooks to taste. Memphis newbies will get a real education in the art of the ribs and rub at Charles Vergo's Rendezvous Charcoal Ribs, where they've been cooking his signature paprika-heavy ribs over charcoal since 1948. For a more contemporary view of the BBQ scene, Central BBQ has been on a scene for just over a decade and in that time, has amassed a loyal following. They slow-smoke their pork for over 14 hours, ribs overnight, and brisket for three. Diners happily chow down out on the snazzy outdoor patio and have their signature pork, ribs, or brisket plates delivered by servers in tie-dye shirts.
Looking for cheap flights to Memphis? Download Hopper's new mobile app and track Memphis flight prices now!
1. Lockhart, Texas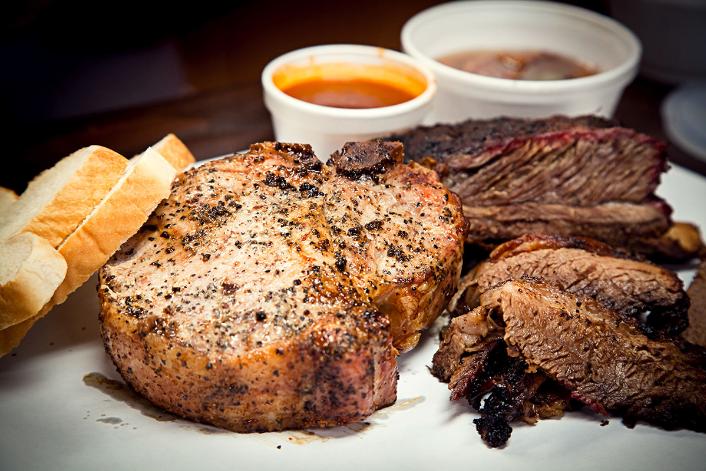 Kreuz Market, Texas – photo by Sara Camp Arnold
Thirty miles south of Austin is the little town of Lockhart, with only four barbecue joints – but those four places pack a punch. Kreuz Market is known throughout the state and has served their well-cooked brisket and German-style sausage with no sauce since 1900. Another historic heavy hitter is Black's Barbecue, owned by the same family since 1932, which uses the same recipe for brisket handed down from just as long. Seriously, no trip through Texas is complete without a stop in Lockhart.