A lot of people have different associations with beer and what beer can represents. It is one of the oldest beverages in the history of the world, with roots that trace back to 9500 BC, but the sound of a tall can cracked open on a sweltering summer day seems like it doesn't belong to a place or a time, only a moment. Some beers are better than others and some places are better for it – when the topography is right and a beer-swilling culture is cultivated, a collective taste for it is finessed. Beer is a golden relief and a field of academia; it's also an expensive hobby and a bonding experience. Why not turn it into a trip? Check out these ten best American cities for beer.
10. Stone Brewing Company always has the best scenes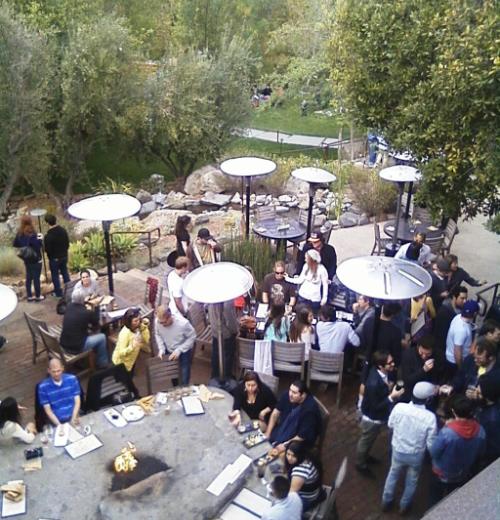 Stone Brewing Company, San Diego County – photo by Dank brewer
San Diego is a beer lover's paradise. Not only do they have over 30 breweries in the county and its own IPA category, the ones at the top are some of the best in the world – in the case of Stone Brewing Co., located in Escondido just north of the city, it is the best in the world, certainly according to BeerAdvocate in 2008 and 2009, and their Stone Imperial Russian Stout, Stone Ruination IPA, and Arrogant Bastard Ales frequently show up on lists for the best beers in the world. In the world. However, beyond the stone cold killers that is Stone Brewing Co., AleSmith Brewing Company is renowned and well loved for its British and Belgian-style crafts, and the Mission Brewery in the Gaslamp District has taken over a Wonder Bread factory to create classic, always reliable Hefeweizen, IPA, Blonde Ale and Amber styles, as well as funky double IPA, Imperial Red and Imperial Stouts.
9. Bros and brews in Philadelphia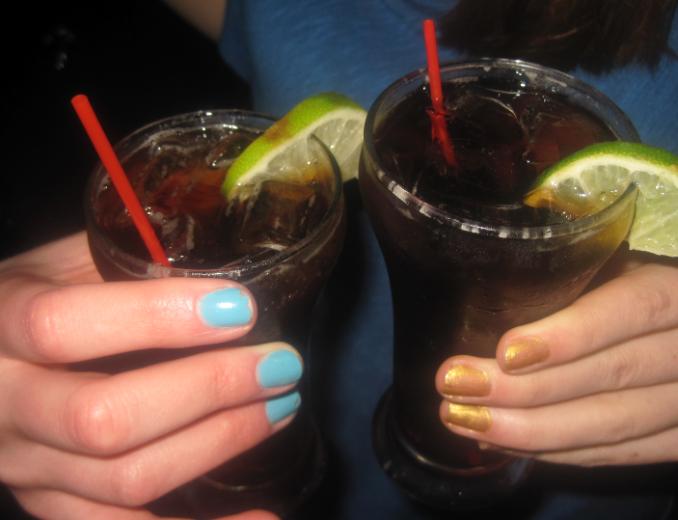 McGillin's Olde Ale House, Philadelphia – photo by Emily Barlow
It's remarkably easy to grab a brew with some bros in the City of Brotherly Love. An early adopter of the farm-to-table culinary philosophy, and a long-time lover of fine beer, it's no surprise that Philly is bursting with the subtle bubbles. In Philly, beer aficionados can follow the trail of time to one of the oldest bars in the country or take up with some young'uns. More likely, they'll want to do both. McGillin's Olde Ale House was established in 1860, right after the Liberty Bell cracked, making it the oldest continuously operating tavern in Philadelphia. Those who go, go for the history but they certainly do stay a while after trying the McGillin's 1860 IPA, an unfiltered, crisp and aromatic ale made from mixed hop varieties. Aside from their own, McGillins supports the local microbrew scene such as Yards, Stoudt's, Flying Fish, and many more.
8. Seattle knows the best substances to abuse is beer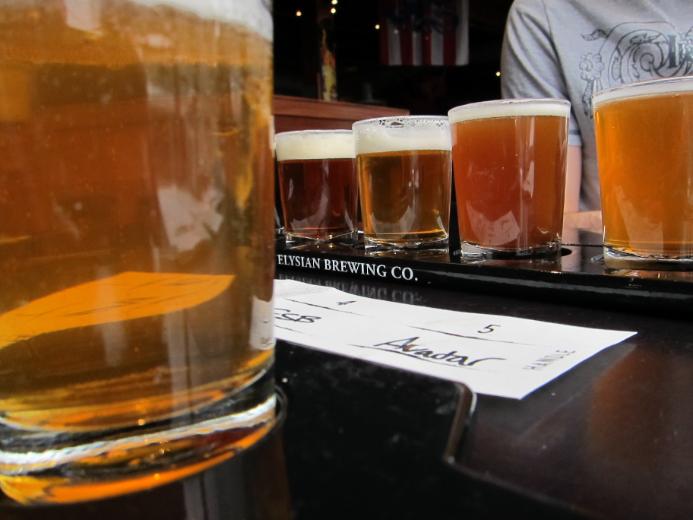 Elysian Brewing Company, Seattle – photo by Sara
Let's all raise a paper cup to honor Starbucks, the kingmaker in the land of the legal addictive stimulants, for keeping close the totally underrated scene of the other legal addictive stimulant (or depressant, depending on the proof). And oh, what a scene! Unlimited free pretzels in Fremont Brewing, the fresh and refreshing Apricot Ale and Weiss Cream drafts in Pyramid Brew's beer garden, and a throwback to the very Seattle art of espresso with the winter seasonal Split Shot Espresso Milk Stout at Elysian Brewing.
7. A tradition started by the Pilgrims in Boston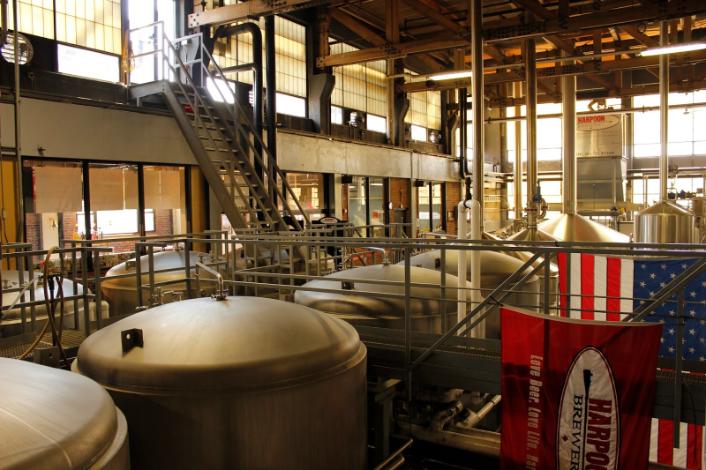 Harpoon Brewery, Boston – photo by Marissa Johnson
It comes to no one's surprise that Boston is on this list. Once upon a time, when the Pilgrims landed on the shores of what would become New England, the first brewery popped up because at the time, beer was thought to be safer than the water. It was necessity, not enterprise, that brought the hops and malt to the lips of New Englanders, and a necessity it remains, for entirely different reasons. Samuel Adams Boston Lager debuted in 25 bars and restaurants across the city in 1985, and though it's hard to imagine it as a small brewer now, it actually started as a two-person operation with no distribution plan except going door to door, no office, and a confidence in their lasting legacy. But you're not going to Boston just to get a taste of Sam Adams. You can do that anywhere. The Boston brew scene now lies largely in the hands of local craft companies like Trillium Brewing Co, who have just released the first bottled beer, an Oatmeal Porter aged in American Straight Whiskey Casks for three months.
6. There's gold in them hills in San Francisco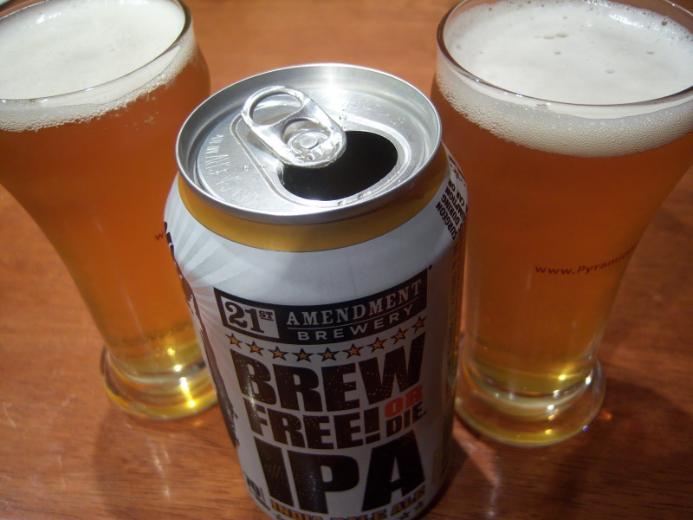 21st Amendment, San Francisco – photo by what we're drinking
The Bay Area has been bursting with beer for as long as people in the area could drink – after all, when an economy depends on manual laborers out in the sweltering Californian rays pounding the ground for traces of glitter, they need a nice cold mug to come home to. The golden sunlight reflects the gold in them hills and pours into the nectar in the glass. Since then it's been a veritable tidal wash of the stuff, of every kind of distribution. The Anchor Brewing Company can trace their beer brewing roots back to 1871, when a German brewer arrived in San Francisco during the Rush and shortly thereafter bought an old beer-and-billiards saloon on Pacific Street to peddle his liquid gold. New kinds of microbreweries that offer a calm and delicious setting to pass an afternoon – The 21st Amendment, named after the amendment that ended Prohibition, was actually founded just a year before the official start of the 21st century.
5. New York loves its beers
Photo by Christopher Lehault/Flickr.
Where can't you get a beer in New York? One of the benefits of having such a diverse population is its diversity of places to get a buzz on. Exclusive clubs, invite-only lounges, Village dives, cocktail bars (and in the case of Brooklyn, "bespoke cocktail" bars), beer halls, Irish public houses, gastropubs, piano bars, after hours, historic ale houses, pop-up bars, and way, way, way more. So yeah, drinking's big in the Apple, and so is beer. There's the Brooklyn Brewery, run by dudes who have literally written the book of beer. Visitors can take a brewery tour and purchase beer tokens at a reasonable price to get tastings. In Manhattan, visitors who prefer a pint of old New York can take a seat or occupy some standing room in McSorley's Old Ale House.
4. Deschutes Brewery, Oregon, is overrun with breweries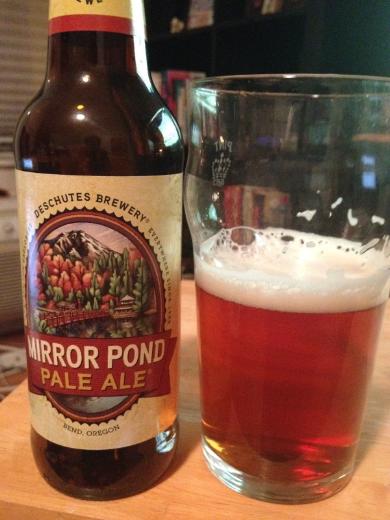 Deschutes Brewery, Bend – photo by Terry
From the outset, it might just look like another typical mountain town, but those with the nose know that great beer is just around the Bend. (Nailed it.) It's really just that Oregon thing of being super chill, all the time, but with 11 breweries for its 82,000 population, it has pretty much beat its rosy neighbor, Portland, for breweries per capita. The best way to discover its unique and abundant offerings is by taking a ride along the Bend Ale Trail. It's easy: visitors can print out, download or receive a passport from any of their affiliate breweries and get it stamped every time they step into a new brewery for a pint or a tour. Once all the stamps are collected, the bearer of the passport gets a prize!
3. Brews, bikes, and bars in Portland, Oregon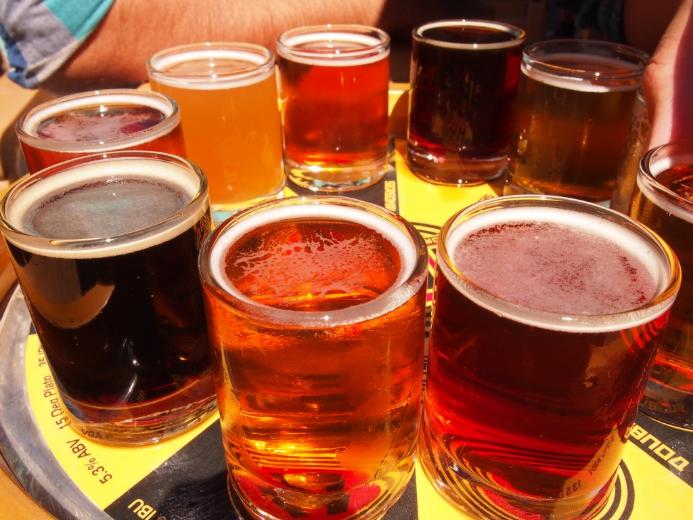 Hopworks Urban Brewery, Portland – photo by Jordan
In the world of the microbrew, Portland reigns supreme. It has something to do with geography and topography as Oregon offers an ideal location to produce hops and the surrounding peaks stream down pure, fresh, perfectly pH balanced alpine water. Once the practice of home brewing was legalized in 1979, once people were aware that they could, they did. There are now over 50 breweries in Portland alone. A tour around the circuit might cost a liver and more than a few pretty pennies – but as it anything, it all depends on taste, no?
2. Beer helps Denver cool down and warm up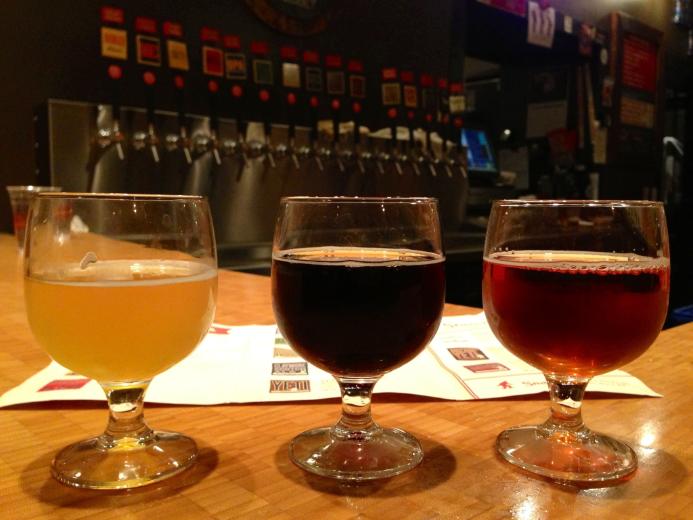 Great Divide Brewing Company, Denver – photo by akvenable
As it's the host city of the Great American Beer Festival, one of the most prestigious competitions of its kind, it's not a surprise that Denver is a great American beer city. The glacial streams coming off the mountains provide excellent crisp waters to brew with and the mountain communities offer chill people to imbibe and celebrate the beers. The stuff here isn't just Coors, after all. In fact, the only people who seem to drink Coors are everyone outside of Denver. Here, brew fans can find The great Divide Brewing Co.'s seasonal offerings of Espresso Oak aged Yeti Imperial Stout, made with local espresso and Chocolate Oak Aged Yeti Imperial Stout made with cocoa nibs, vanilla in the oak and a subtle hint of cayenne.
1. Asheville, North Carolina, is mad chill!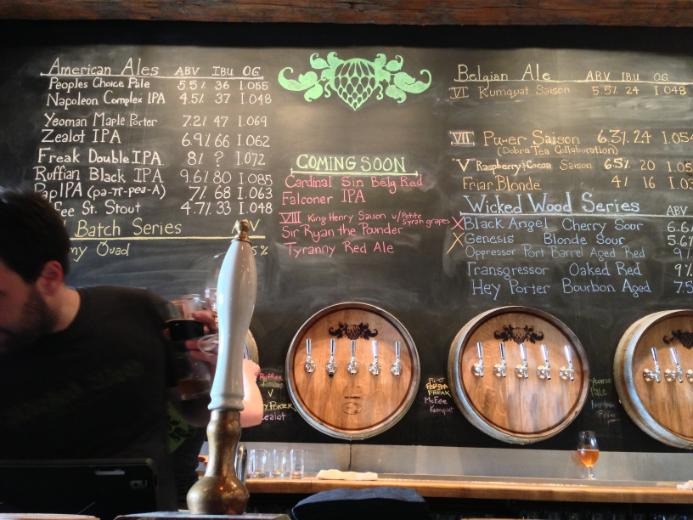 Wicked Weed, Asheville – photo by Bryan Roth
In a sense, the only people not from Asheville who have actually heard of Asheville are (a) active craft beer lovers and (b) people who have relatives in Asheville. However, more people should know it and consider it, if not for its cool artsy vibe or its gorgeous mountain scenery, then certainly for its pursuit in becoming one of the country's greatest beer cities. It's well on its way. It has the highest brewery per capita in the country (which is not an impossible feat when the population is just under 86,000 people), but more impressive is its approach. A host of its own Oktoberfest, Beer Week and Winter Warmer, Best Firkin, Beer City and Brewgrass Festivals, not only do the brewmasters of Asheville make the stuff, they celebrate it.