There's fast food, and then there's food trucks. For the past decade, North America has seen an explosion of mobile eateries rolling out into the streets, delivering their fine goods straight to the people, ladling out heaps of pulled pork onto paper trays, gourmet sandwiches and tacos made with everything from traditional beef and cheese to BBQ pork. The days of nondescript street hot dogs are nearing to an end, and the dawn of the wanderlusting gastronomes is well underway. But some trucks are better than others; some trucks are better than other trucks mothers, and typically it's a reflection of the culinary scenes of the city where they're parked. For the finest of the wheeled restaurateurs, read on to find out there the best trucks keep truckin'.
10. After lots of city drama, the food trucks have finally blown into Chicago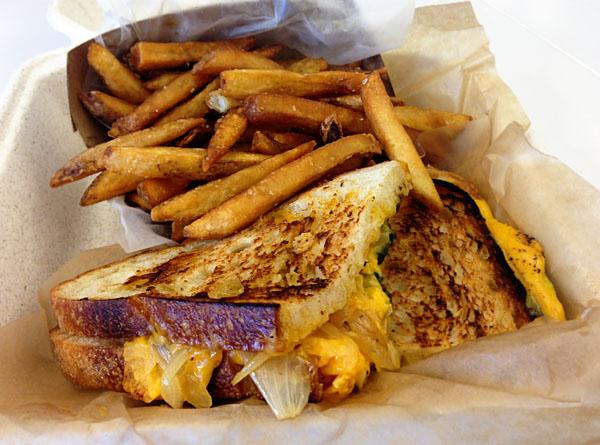 The Fat Shallot, Chicago – photo by rachelleb
After some years-long food truck drama going on in city hall, the Chicago food trucks have finally rolled into town, all engines firing. Certain restrictions still apply, but for such a baby scene, these wheeled restaurateurs are overcoming their obstacles in a pretty big way, hawking everything from steamed baos filled with teriyaki chicken, whole wheat edamame or basic and beautiful barbecue pork at Wow Bao's Buns on the Run to daily-changing gourmet mac'n'cheese at the Southern Mac & Cheese Truck, to classic and simple sandwiches from the Fat Shallot. The street scene has even convinced the very restaurant lobbyists who opposed them to pimp their own rides and start truckin' their wares.
See 6 tips, like when to book your ticket, from the Hopper research team that can save travelers hundreds on their flights to Chicago.
When it's not raining, it's food truck time in Seattle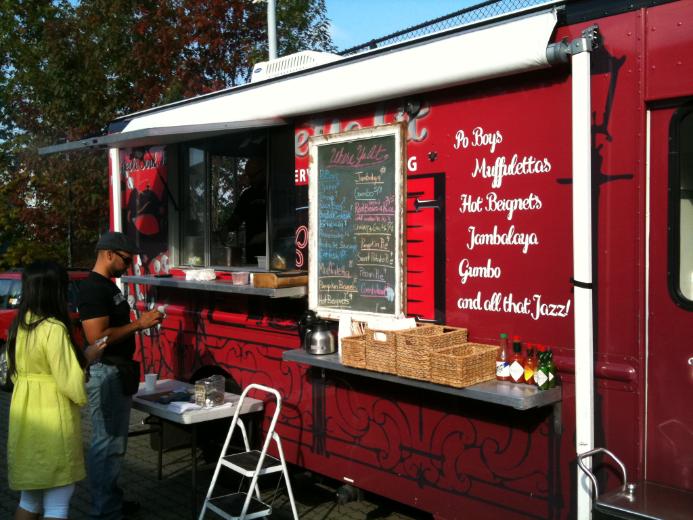 Where Ya At Matt, Seattle – photo by eastlakeblog
The dark horse, or dark cloud, of the food truck contest, Seattle, offers over 50 food trucks proudly displaying Seattle's diversity – sure, everyone and their mom bit into their first truck taco a decade ago when the flames of the food truck craze spread through the country, but Seattle serves up some truly unique American fare, like Native American fry bread, dusted with icing sugar and topped with sweet vanilla pear butter or its savory counterpart, the fry bread soft taco, both up for grabs at Off-the-Rez. Marination offers both kimchi quesadillas and rice bowls and Hawaiian sliders as well as, yes, a range of Korean tacos. For a real trip, Where Ya At Matt is where it's at for a traditional N'Orleans style po' boy and muffuletta sandwiches and divine gumbo.
8. The food trucks are going to Miami (bienvenidos a Miami)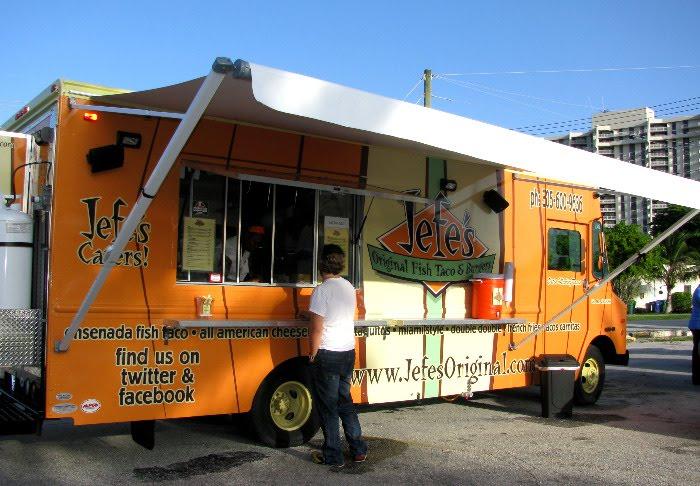 Jefe's Original, Miami – photo by Raquel
Beyond its burgeoning hipster-hood and transcending of its '90s-formed MTV reputation as a beach town for spring breakers into a true international Art City, Miami didn't have to tango with every single foodie trend out there, but the trucks just make sense. Bathed in the gorgeous Floridian sunlight, speckled with green spaces and home to a wide variety of international cultures, there's simply no better place to eat outdoors than in Miami. Too many real restaurants are "No Shoes No Shirt No Service," but ain't nobody in this beach city got time to bother with that. Especially with the cracklin' duck sous vide duck herb sandwich at the Bourdain-approved Dim Ssäm à go-go, the Dr. Pepper braised jerk brisket at the Rolling Stove, and Ensenada-style fish tacos from Jefe's Original Fish Taco & Burgers parked around the parks.
7. The government may shut down periodically, but Washington D.C.'s food trucks keep working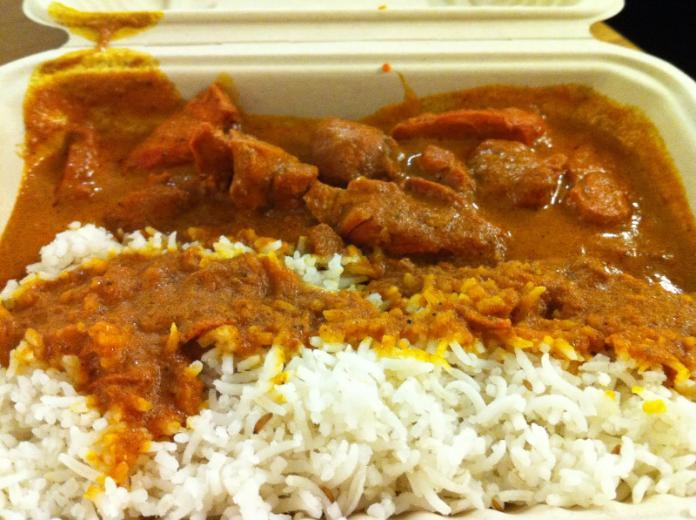 Fojol Bros Of Merlindia, Washington D.C. – photo by DC Truck Review
It's worth betting that if there weren't any food trucks in Capitol Hill, those dudes would never see sunlight. D.C., with all its top-tier gourmet restaurants, dark smoky bars and trendy eateries, is also a prime location for food trucks, simply based on the fact that people in the city work a lot. And so all the president's men need home cooking, it'll be more likely from a place like Basil Thyme, which parks just outside the Capitol, to dig into their made-from-scratch lasagna and pasta. One of the most unique food trucks in the country is care of the Fojol Brothers, a self-described "traveling culinary carnival", with three trucks hawking Indian, Ethiopian and Thai cuisines out of shiny metal caravans. Their employees are decked out in colorful smocks, turbans and mustaches, and the same attention to details is applied to their food packaging, which isn't quite as flashy but uses totally biodegradable eating materials, recycled paper napkins, PET water bottles and cellophane bags made from compostable and biodegradable cellulose. Their food is not to be outdone, either – try their butter chicken or curry, followed by one of their signature Lossipops, inspired by the Mango Lassi.
6. San Francisco brings together hundreds of diverse food trucks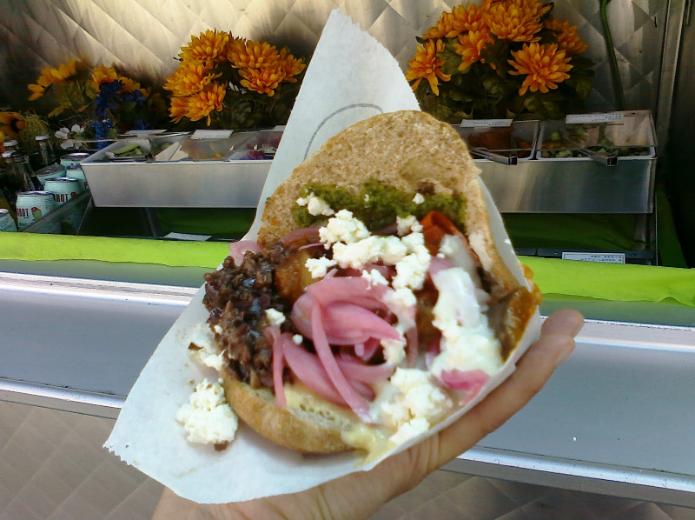 Liba Falafel Truck, San Francisco – photo by chezpei
San Francisco has proven itself in the last few decades as one of the foodie capitals of the country, and there aren't many climates better suited for outdoor grab-and-go gourmet dining. Over 150 food trucks have parked themselves around the city, but they come together for annual food festivals and weekly truck markets. Swing by sometime for lobster clambakes by Sam's Chowdermobile, dress-your-own falafel at Liba Falafel, or free range organically grown rotisserie chicken from the country's first mobile rotisserie truck, Rôli Rôti.
5. New York has so much more to offer than just hot dogs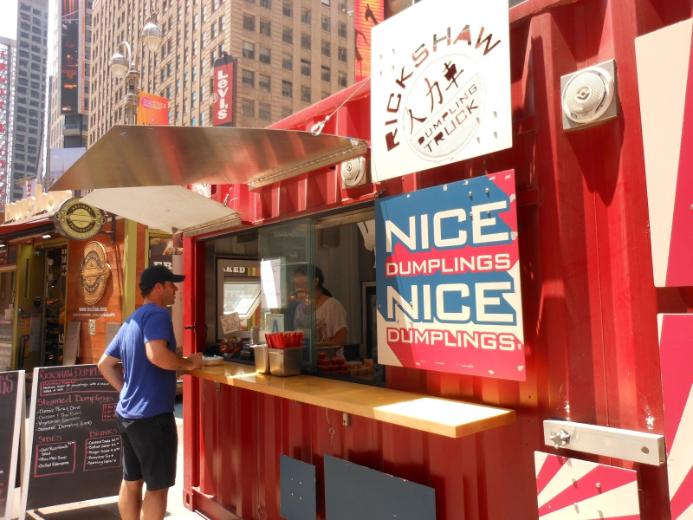 Rickshaw Dumpling Truck, Manhattan – photo by Sherri O
It was first in 1871 that Charles Feltman, a German butcher, opened his Coney Island hot dog stand, the first of its kind in America. Now the Big Apple's trucking out chicken and Thai basil dumplings with a spicy peanut satay dip from Rickshaw Dumplings, vegan and gluten-free fresh fig pancakes with pine nut butter and chamomile blood orange syrup from Cinnamon Snail, and spicy pork and bacon kimchi fried rice bowl from Korilla BBQ. New York started from the bottom and now they here – visitors can see the whole mobile spread at the World Financial Center daily, where a dozen vendors set up shop to serve up some business-crowd eats.
4. St. Louis has a burgeoning food truck scene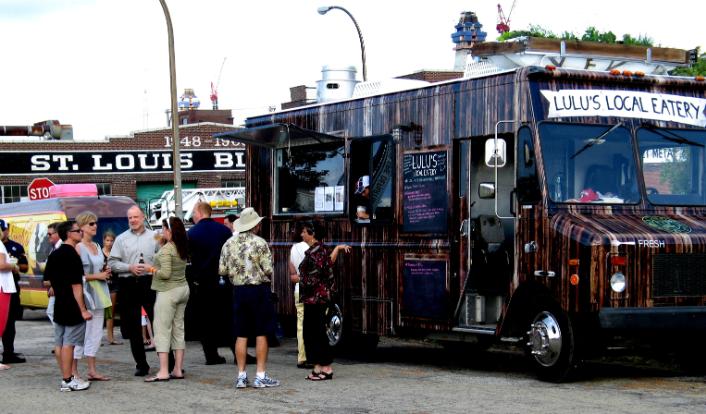 Lulu's Local Eatery, St. Louis – photo by nickidwyer
Anyone looking for down home soul food should not hesitate to consider St. Louis and their eponymous titled ribs. Doyy, of course there's barbecue in Mound City, but there's a ton of other stuff going on in the street scene now that the food trucks have rolled into town. Lulu's Local Eatery serves fresh fast food, with gluten-free Falstaff and burritos, Buddha bowls and black bean burgers made from scratch in 100% biodegradable and compostable packaging. The Guerrilla Street Food, on the other hand, does not shy from meaty delights full of Filipino flavor like Beef Mechado served on a bed of jasmine rice, or Filipino Blue Crab Ceviche. Want some flavorful street meat? Meet these trucks in St. Louis.
3. Food trucks are hip, so, of course, Portland, Oregon, is on this list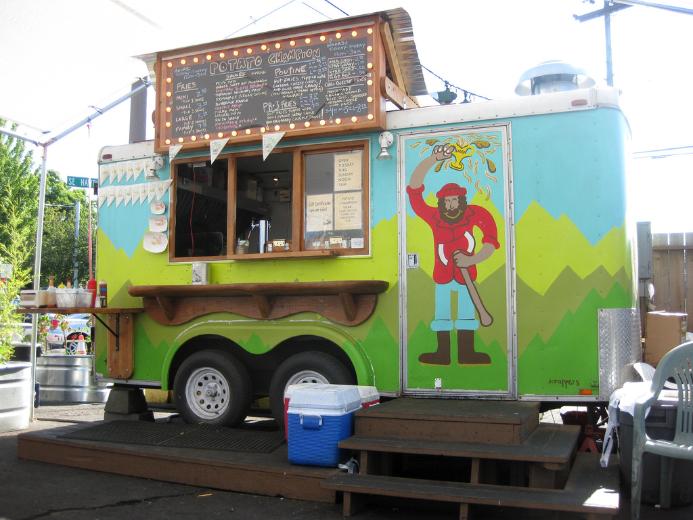 Potato Champion, Portland – photo by jess s
Nobody is surprised that Portland is on this list. If America were a high school cafeteria, than Portland would be the original hipster with the heart of gold whose uniform of plaid shirts, cargo shorts and plastic-rimmed glasses would be borderline intolerable if it weren't for the simple fact that they just look so damn comfortable in it all. They not only embrace their food trends, they dominate them, and make sure every ingredient is from a reliable and sustainable source. They've created "food pods" all over the city; basically like first-world hawker stalls peddling Portland versions of satay poutine with fries cooked in rice-bran oil (Potato Champion), tofu and kimchi fried rice burritos (Koi fusion), a bottle of Irn Bru to wash down a full haggis dinner (The Frying Scotsman) and gluten-free chicken liver Khao Man Gai (Nong's Khao Man Gai).
2. Los Angeles sure knows how to pimp a food truck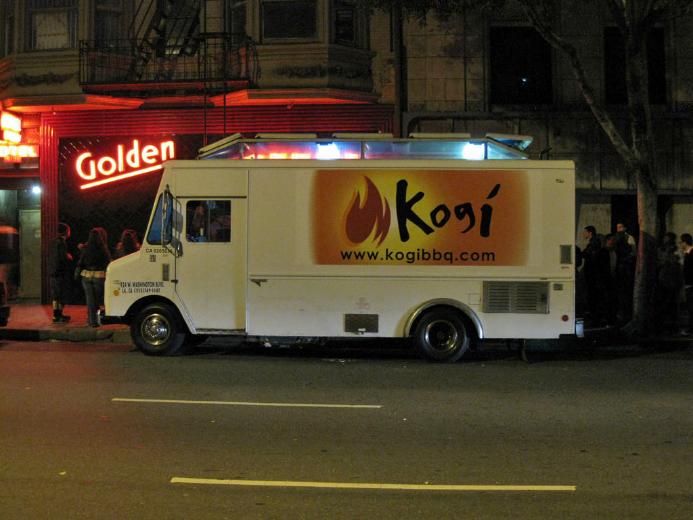 Kogi BBQ, Los Angeles – photo by solefly23
It's true that all food trends in America start in either New York and Los Angeles – N.Y. may have always had mobile hot dog vendors, but L.A. must be given eternal props for pulling a serious Xzibit and turning the noble food cart into the full kitchen-outfitted food truck. This was back in 1974, when the King Taco reigned the street scene. Now, Los Angelenos can get their fill of Korean BBQ tacos from Kogi BBQ, hardcore hair-metal burgers from Grill 'Em All, and New England-style seafood delights from the Lobsta Truck – all al fresco.
See 5 tips, like when to book your ticket, from the Hopper research team that can save travelers hundreds on their flights to Los Angeles.
1. The live music capital of the world, Austin, delivers hardcore food trucks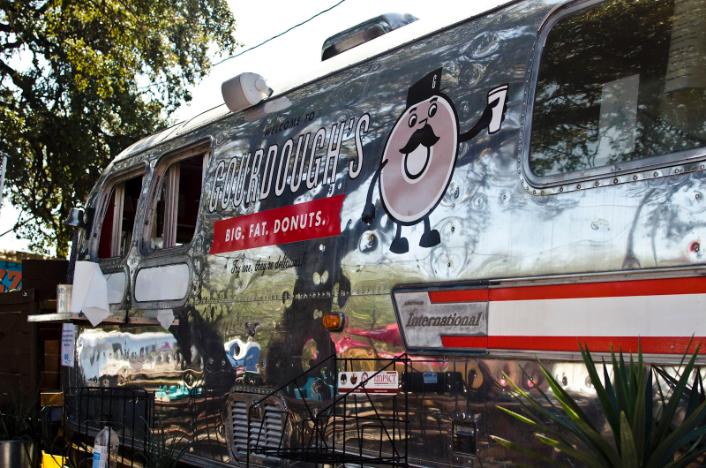 Gourdough's, Austin – photo by Rachel Leah Blumenthal
There's a lot of outdoor opportunities to get in some Mexican and barbecue, but increasingly, down the trendy and colorful South of Congress Avenue (but everybody just calls it SoCo), visitors can line up and grab a bite of everything. This Texan mecca of mobile restaurateurs sets the stage and the spotlight for serious outdoor eating. For a taste of the classic Austin breakfast taco, there's Torchy's Taco; Southern soul food enthusiasts can carbo-load on buttermilk biscuits heaped with gravy plus a ton of cheese and other good stuff at Biscuits & Groovy, and for the sweet tooth in everyone, Gourdough serves the mother of all truck-loaded gourmet donuts out of their vintage Airstream trailer.