Nobody knows exactly what a hipster is, but we can all recognize one. There are characteristics, often visual, though certainly tropes and themes pervasive through the culture. It began as a subculture, just a few bearded dudes in thrift-store flannel who first rocked out to Radiohead and then found out about Grizzly Bear; broke girls in vintage dresses who knew a few things about drinking in dirty rooms. They made art and drank coffee religiously, and formed nonchalant groups at the back of dingy concert venues. They liked early '90s Atari consoles sincerely before everyone else started throwing around the word "ironic" as an interest qualifier. They adopted tight pants and '70s Woody Allen glasses and skinny ties, maybe a waistcoat if it made them look different but definitely Keds or Oxfords or Sperries in the summer. They are all over the world in streets laden with brick buildings splashed with street art, always near a flea market, never far from coffee or tea, in encapsulated neighborhoods easily biked around. Wanna follow the so-called culture vultures? Check out the five biggest hipster traps in the world.
Shoreditch in London is historically hipster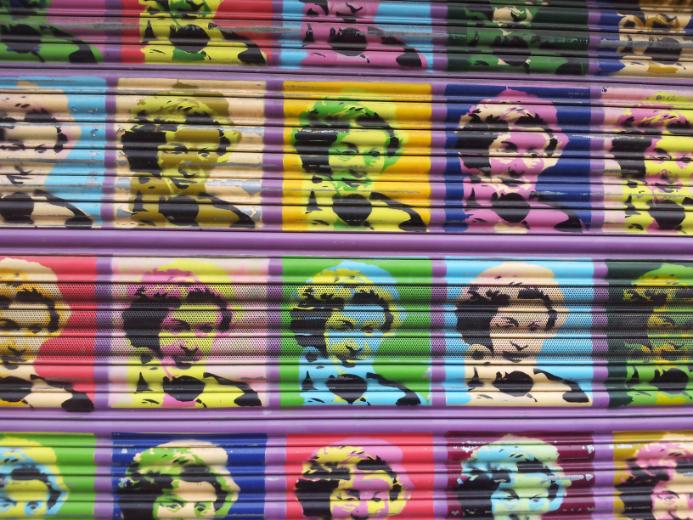 Shoreditch, London – photo by lbcamille
Ubiquitous street art? Check. Boutique vintage shops? Check. Glorified flea market frequented almost exclusively by twentysomethings, thirtysomethings and wealthy fortysomethings who wish they were still thirtysomethings? Check. Adjacent to large ethnic population somewhat romanticized for its cheap and underrated meal offerings? Shoreditch has had an impressive hipster rap sheet before hipster was even, like, "a thing," but it's having its moment now. For a snack break, visitors can saunter their tight denim-bound booties over to any number of the cheap cafes and restaurants on Brick Lane for some Indian sweets or some bagel sandwiches from Beigel Bake.
See 5 tips, like when to book your ticket, from the Hopper research team that can save travelers hundreds on their flights to London.
Ferry over to Amsterdam-Noord to check out the art-filled industrial lots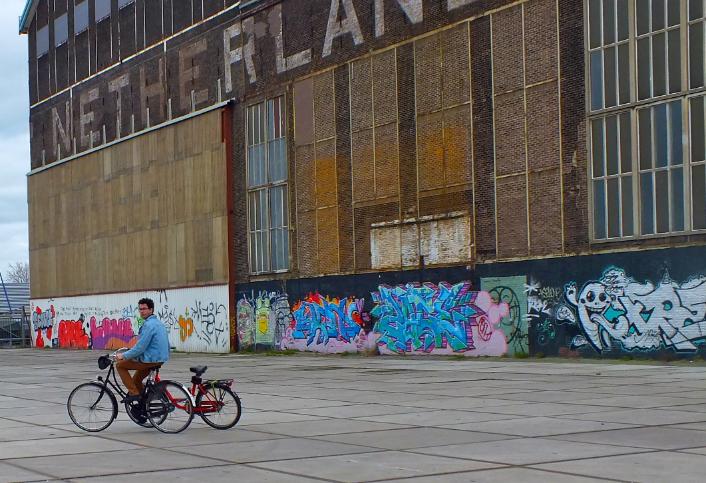 North Amsterdam, Amsterdam – photo by mylifeonmybike
A vibrant blend of old-world industrial and new, Amsterdam-Noord is an autonomous borough with a wharf that up until the 1980s primarily functioned as a shipyard. These days, the area boasts tons of local artistic startups, MTV's European offices and outdoor concerts and EDM parties. Walking (or biking) around the wharf, visitors can drop into public art studios and watch the skaters and crafters in their color-splashed industrial elements. Café Noorderlicht is a cool place to grab a refresher – it's a two-storey greenhouse constructed from recycled materials with a funky found ambiance on a patch of industrial park overlooking the river. Covered with green spaces, repurposed warehouses and unique historic farmhouses, the rest of Amsterdam-Noord is also the home of the self-purported largest flea market in Europe, the Ij-Hallen, housed in a huge warehouse building with rows and rows of vintage clothing, collectible items and antiques.
Arts and vegan comfort food make Fitzroy in Melbourne a suitable home for the hepcats
Sun-splashed Melbourne is probably the hipster capital of Australia and it becomes apparent just walking around fashionable Fitzroy. It's a fantastical land where most people actually know what a Milliner is, where gluten-free options are casually labeled "GF" like a spicy warning, where the street art on boldly painted brick buildings only enhance the blue sky, and Brunswick Street is lined with cafés, venues, and independent boutiques. As is requisite for an area to be deemed truly hipster-worthy, Fitzroy is not without its own huge arts and crafts market. The Rose Street Artists Market specializes in art and design, magnetizing creatives from all over the world to its rows and rows of handmade art, jewellery, photographs, homebaked goods, fashion and accessories.
Spend some time in Williamsburg in Brooklyn before the hipsters can't afford to live there anymore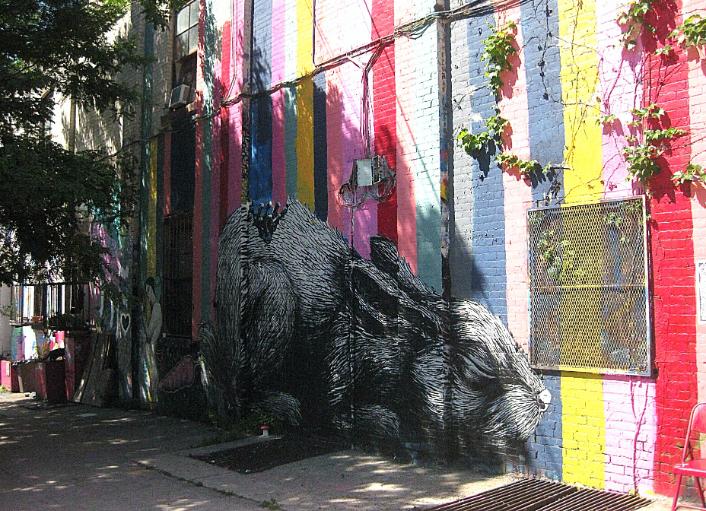 Williamsburg, Williamsburg District – photo by globalmuralogy
Perhaps the most well-known hipster trap in America, Williamsburg has been attracting so many artists over the years that rent is hitting a new ceiling. It is both beautiful and tragic and very, very natural. Cities change and it doesn't mean that Williamsburg is any less fun to walk around: cool industrial buildings and loft spaces splashed with tons of public murals, boutiques, artisanal craft shops and pop-up restaurants, re-appropriated barbecue, and record stores that give out band recommendations as they were speaking directly from the mouth of Apollo.
The Pearl District in Portland is also on this list, of course
I know what you're thinking: isn't all of Portland just one big hipster neighborhood? The bikes, the bookstores, craft beer and local and organic food truck pods, sunny dispositions and cut-off jean shorts, pervasive through the city. However, the nucleus of the hipster city is hands down the Pearl District, sitting on the edge of downtown and home of Powell's Books, by far America's best independent bookstore and largest new and used bookstore in the world. This mecca of book-lust was founded in 1971 and has been feeding into the local literary arts, hosting authors and artists from near and far as well as simply providing color-coded rooms for lit-nerds to explore. After a stop at Powell's, the best way to follow a morning of books is with an afternoon of beer – and the Pearl District happens to also be Portland's Historic Brewing District.