Watching orangutans swing through the trees from a boardwalk in Borneo. Trekking through the thick rainforest of central India's little remaining tiger country. Glimpsing an alternative vision of your place in the cosmos with a shaman in the Ecuadorian Amazon. In the last 30 years, a new form of accommodation has emerged that has made these and other experiences much more accessible – eco-lodges buried deep in the world's densest rainforests. Here, we've gathered together 10 of the best in the world, from Belize to Borneo, all run by people and communities with a deep passion for the wilderness around them.
10. Explore the rainforest from Chaa Creek in Belize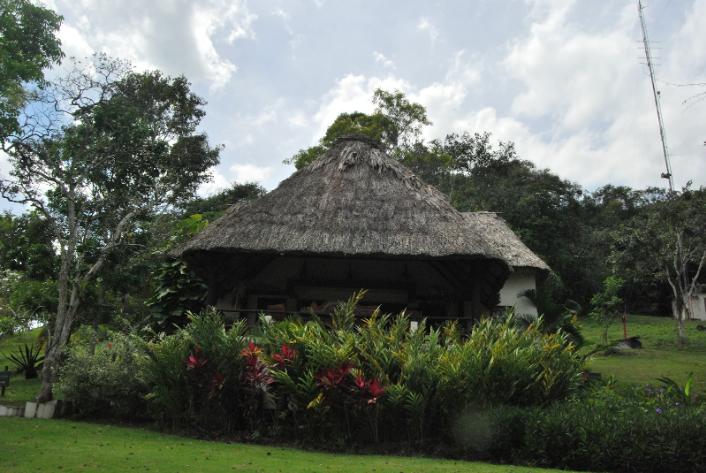 Chaa Creek, Belize – photo by Julie Harris
Set on the banks of the Macal River as it winds its way out of the Maya Mountains and into thick Belizean rainforest, Chaa Creek has been one of Central America's premier jungle lodges since the 1980s. It began life as a chaotic small farm run by two young travelers, who bought the property in the '70s and transported its produce to sell at local markets by dugout canoe. They added a guesthouse in 1981, and since then the site has evolved into a destination suited to both adventure and relaxation, with a butterfly farm, spa, and tours on topics from medicinal plants to Mayan civilization.
9. Stay with an indigenous Amazon community in Sani Lodge, Ecuador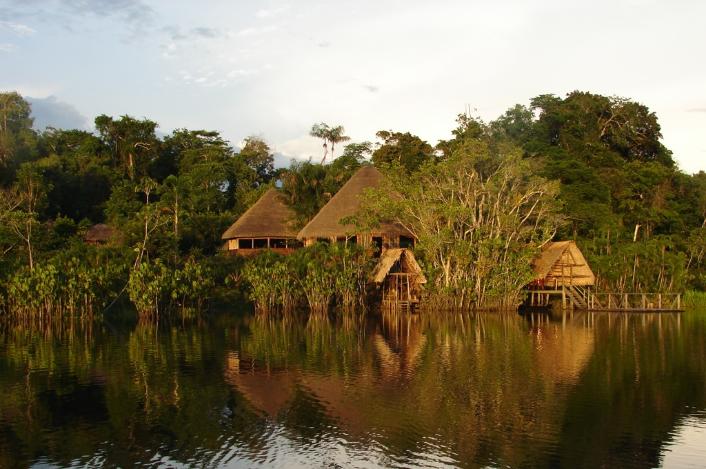 Sani Lodge, Orellana – photo by kutoatravel
Sani Lodge is run by the local kichwa-speaking Sani community, who worked dispersed among other lodges before deciding to come together and operate a project of their own. The resulting space is blissfully tranquil, composed of ten thatched cabanas strung along the edge of lake Challuacocha deep in the Ecuadorean Amazon. Guides from the Sani community, steeped in knowledge of the area's ecosystems and passionate about their conservation, make for an exceptionally rich experience of the rainforest and its many inhabitants.
8. Discover the incredible biodiversity around Chalalán Ecolodge in Bolivia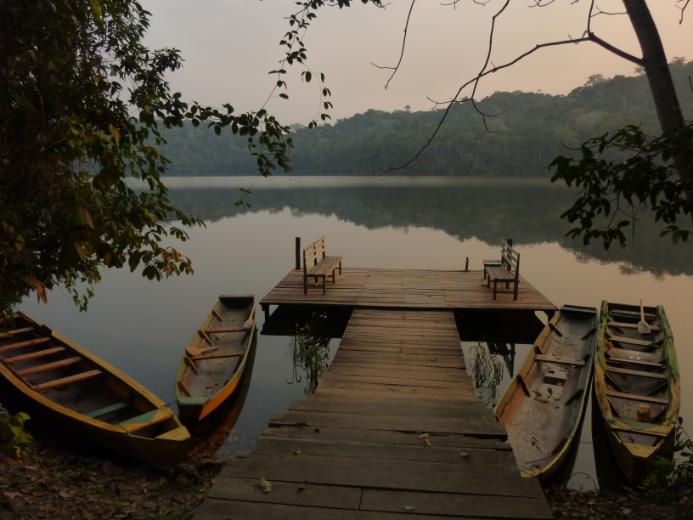 Chalalán Ecolodge, La Paz – photo by Jane Batchelor
Chalalan Lodge is located in the tropical rainforests that fringe the Tuichi River in Bolivia's Madidi National Park, recognised as one of the world's most biodiverse regions. Like Sani, it is a community-initiated and community-run project, operated by the villagers of San Jose de Uchupiamonas. They developed their ideas with the help of Conservation International, and the result has become one of the organisation's flagship projects. Guests experience traditional dinners, dances and music, as well as boat trips on the Tuichi River and canoe trips on the Chalala Lagoon to see the area's phenomenally varied plant and animal life.
7. Enter central India's tiger country at Banjaar Tola Lodge in India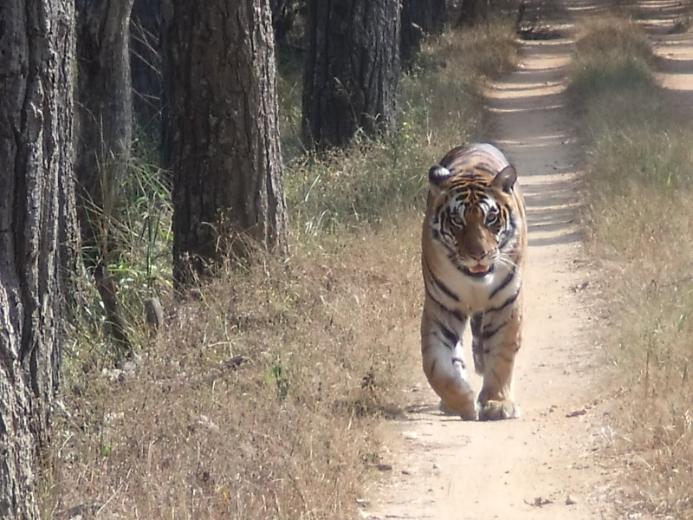 Banjaar Tola Lodge, Madhya Pradesh – photo by Tamsin Allpress
Banjaar Tola is not a lodge but rather two encampments of nine luxurious tents, bolstered with bamboo walls and furnished with pieces crafted by hand from local trees. These twin encampments, each with a tented communal area, overlook the forests and rolling meadows of Kanha National Park in central India. Kanha is the most successful of nine reserves involved in an urgent project to protect India's dwindling tiger population, and by staying in the camp you contribute to the protection of a species which is tightrope-walking on the edge of extinction. As well as tigers, visitors may see langurs, jackals, wild pigs, leopards, hyenas, porcupine and over 200 species of bird.
6. Glimpse the culture of Aboriginal Australia at Daintree Eco Lodge & Spa in Queensland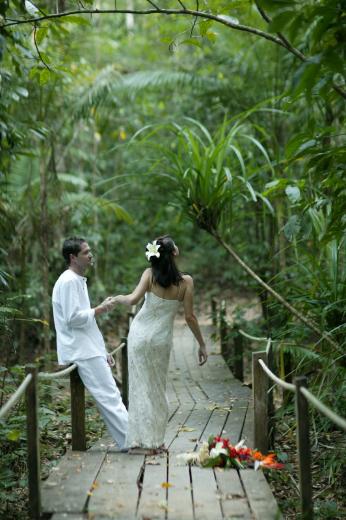 Daintree Eco Lodge & Spa, Queensland – photo by j
The Daintree rainforest in north-eastern Australia was inhabited by the indigenous Kuku Yalanji people for millennia before the arrival of European colonialists. Today, a Kuku community runs the breathtaking Daintree Eco Lodge, 15 beautiful Bayan houses nestled among the trees, ponds and 20-foot ferns of the world's oldest living rainforest. The site has a spa and a restaurant, but the most eye-opening experiences come from the rare opportunity to meet and interact with the local Aboriginal community, who provide insights into their culture through rainforest walks, plant tours, smoking ceremonies and painting workshops using ocher scooped from the area's waterways.
5. Venture out to remote Kapawi Ecolodge & Reserve in Ecuador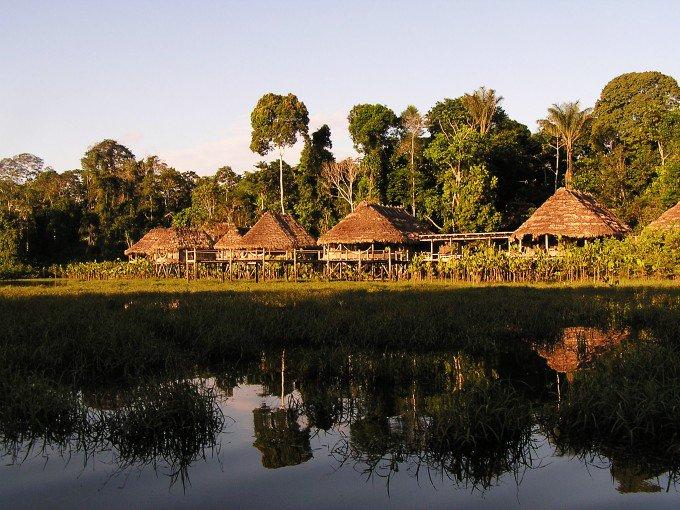 Kapawi Ecolodge & Reserve, Ecuador – photo by iamachuar
Kapawi lodge is hidden in remote Amazon rainforest, on the border between Ecuador and Peru, 10 days walk from the nearest village – so most visitors arrive by a combination of plane and canoe. It's run by the local Achuar community, and insights into their understanding of their place in the environment and cosmos can be glimpsed through discussions with local people and, if you're lucky, shamans. Boat trips down the river are a great way to see the area's wildlife. This is especially the case at night, during a moonlit canoe ride over the glimmering water, when the rainforest's myriad nocturnal species come to life, including caimans, birds and monkeys.
4. Join the professional biologists residing at the Tambopata Research Center in Peru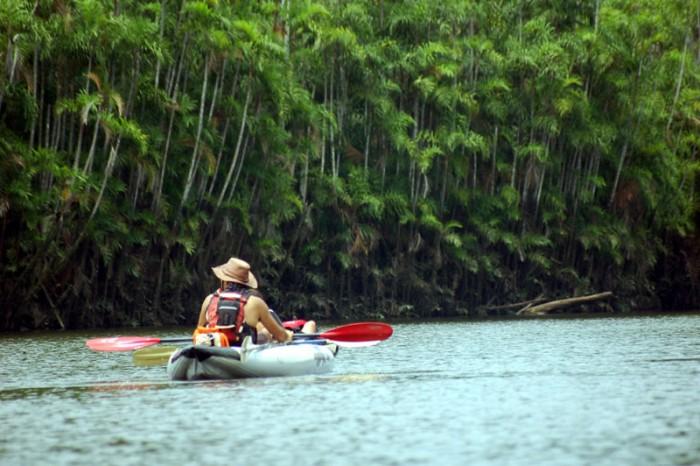 Tambopata Research Center, Madre de Dios – photo by detourdestinations
This operational research center is ideal for travelers with a hardcore interest in the animal and plant life of the Amazon. It is located a long, long way from civilization, in a pristine and densely vegetated section of the rainforest in the Tambopata National Reserve, Peru. The center's comfortable, 18-bedroom lodge hosts both tourists and researchers, and has been the site of much significant macaw conservation research. Visitors will have the chance to talk to experts on macaws and other local species, as well as to see caimans capybaras, tapirs and several varieties of monkey.
Ready to make a move to the Tambopata Jungle Lodge? Use Hopper's flight tools to find tips on how to save big on flights to Peru!
3. Relax in wild luxury at The Lodge at Pico Bonito in Honduras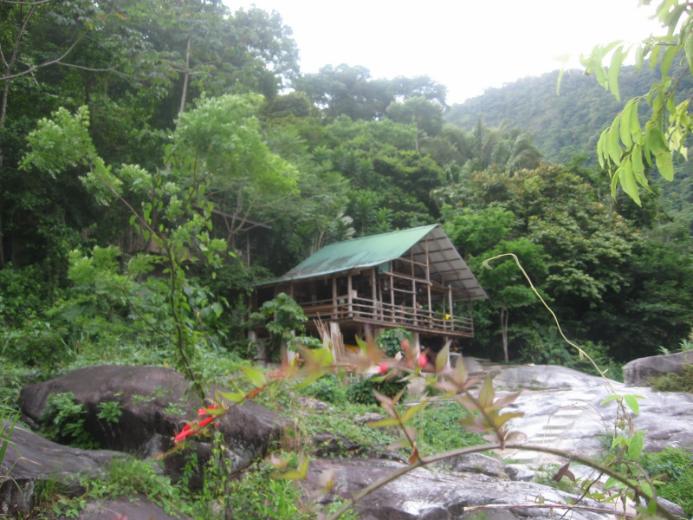 The Lodge at Pico Bonito, Olancho – photo by Hayley
On the edge of the eponymous National Park in Honduras, Pico Bonito is a luxurious eco lodge that combines the seclusion and natural treasures of a wild retreat with the comforts of a boutique hotel. Gorgeously upholstered rooms have ipod docks, wifi and complimentary organic coffee, and guests can relax beside the landscaped pool. Surrounding this outpost of Caribbean comfort are 400 acres of tropical wilderness, threaded through by rivers, waterfalls and miles of hiking trails. There are guides to take visitors out on treks into the rainforest or on white water rafting trips down the river.
2. Experience Borneo's riotous rainforest at Sukau Rainforest Lodge in Malaysia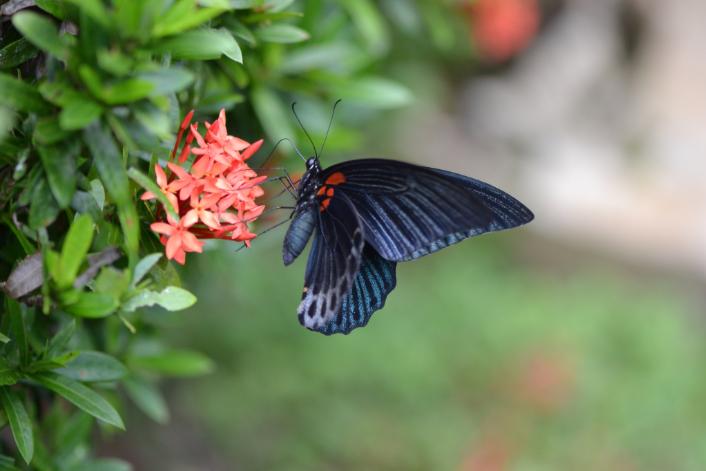 Sukau Rainforest Lodge, Sabah and Kota Kinabalu – photo by alexandgeorge
The Kinabatangan River meanders through the cacophonous rainforests of northeastern Borneo, surrounded by an exceptionally biodiverse wildlife sanctuary, one of the only places in the world inhabited by as many as 10 species of monkey. Among these are four species endemic to Borneo, as well as the largest number of orangutans in Malaysia. Alongside the apes, Asian elephants, Sumatran rhinos, sun bears and leopards roam the region's wildly fertile forests. The Sukau Rainforest Lodge is located at the heart of this riotous natural world, and visitors can take guided walks and boat rides or follow the lodge's 1500-foot boardwalk to see birds and orangutans.
1. Gaze over rock, river and rainforest from Black Rock Lodge in Belize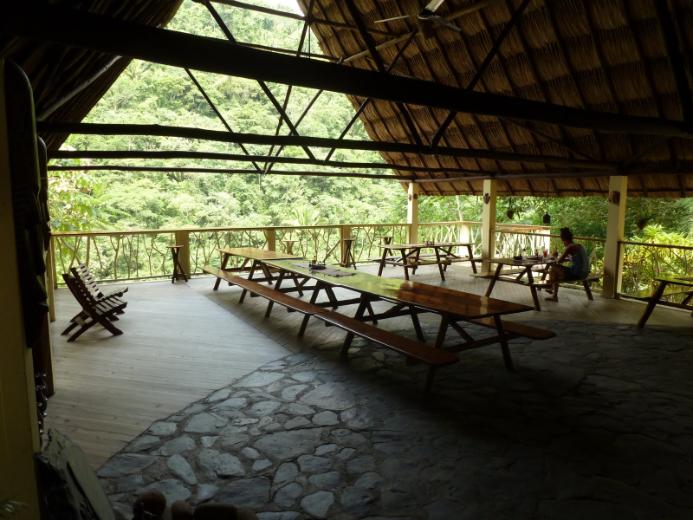 Black Rock Lodge, Belize – photo by Christina Bowmaster
To end this selection of sublime jungle lodges, we return to where we began – the banks of the Macal River as it winds through the foothills of the Maya Mountains in Belize. The Black Rock Lodge hugs a dramatic hillside, steep and green and hanging above the water rushing through Black Rock Canyon. Its 13 cabins all have hammock-slung balconies with stunning views over this stretch of river-cut, forest-covered canyon. The site's 242 acres occupy a superb spot for birders, with over 200 species including all three species of toucan as well as kestrels, hawks and trogons. Other activities range from canoeing to mountain biking to caving.