If you've ever watched birds soaring through the air, twitching and adjusting their tilt and trajectory to fit wind currents invisible to your eye, and wondered how it must feel to navigate the world at that height – well then, you should really get out and do some paragliding. It is as close as a cumbersome human can get to the kind of free-wheeling, open-air experience of flight that those damn birds take for granted, carried high above fields and hillsides by the breezes, gusts, updrafts and channels of the wind.
Paragliding is possible in most parts of the world, and the conditions required to make it happen are not particularly specific, unlike its more technical sibling hang gliding. You can take lessons above the Pacific in Hawaii and so experience the peaceful thrills of solitary soaring, or simply clamber in front of an instructor on a tandem ride above the forests and favelas of Rio de Janeiro. Here, then, are five of the best places in the world in which to paraglide.
Fly from forests to the sandy shore of Rio de Janeiro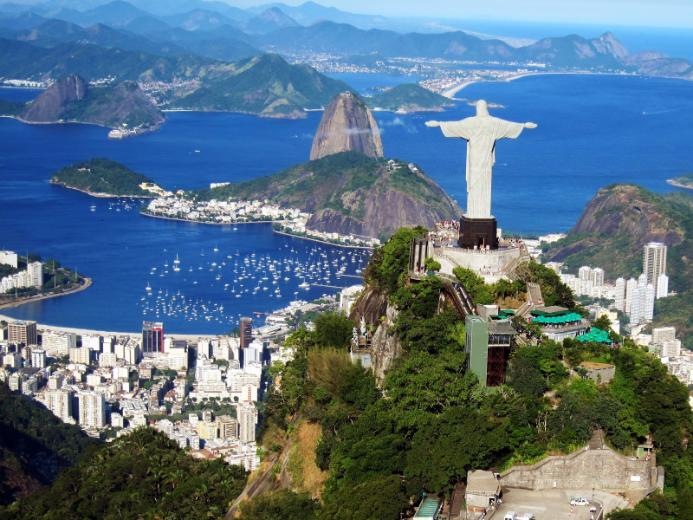 Corcovado, Rio de Janeiro – photo by Desiree Lowe
With its sun-kissed urban beaches and colorful streets enclosed by tree-covered hills, Rio is an ideal city for paragliding. Flights usually begin from the crest of Pedra Bonita, a peak in the heart of the Tijuca rainforest. From this elevated position among the canopy, paragliders swoop above the city, looking down on its unique sights – Pedra da Gavea, the Rocinha favela (among the world's biggest slums), Christ the Redeemer – from a completely different perspective. Eventually, the flight returns to earth on Pepino Beach, where paragliders can enjoy a snack, coconut milk or cocktail from the beachside bars and kiosks. Recommended companies include Rio Xtreme and Rio Adventures.
Swoop past Table Mountain above the sprawl of Cape Town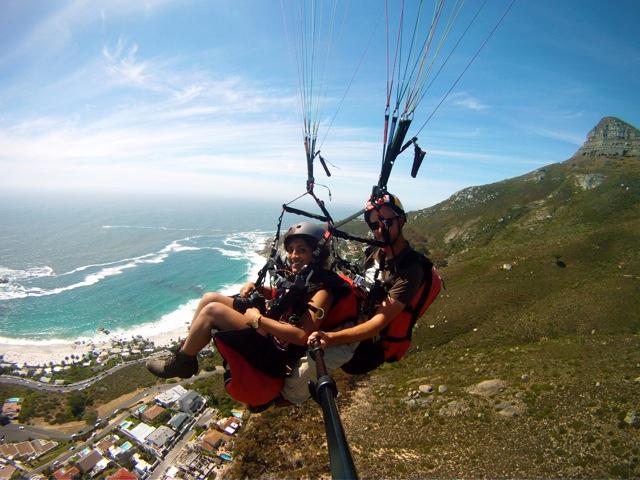 Cape Town Tandem Paragliding, Cape Town – photo by Zarah Burgess
Cape Town's city sprawl lies in the shadow of a series of dramatic mountains, forming a natural amphitheater known as the City Bowl. Although commercial paragliding from the top of Table Mountain is prohibited, its striking neighbors Lion's Head and Signal Hill make sublime alternatives, rearing up alongside their more famous counterpart. Most flights embark from one of these two hills, and take different routes over Cape Town depending on the city's highly variable weather conditions. If you're lucky, you may get to swoop across the heart of Table Mountain National Park, but even if the wind is a-blowing in the wrong direction, you're guaranteed stunning views over the Atlantic Seaboard. Parapax and, despite its name, Icarus Paragliding are both excellent tandem flight operators.
Soar above temples and sunflowers in Kamshet, India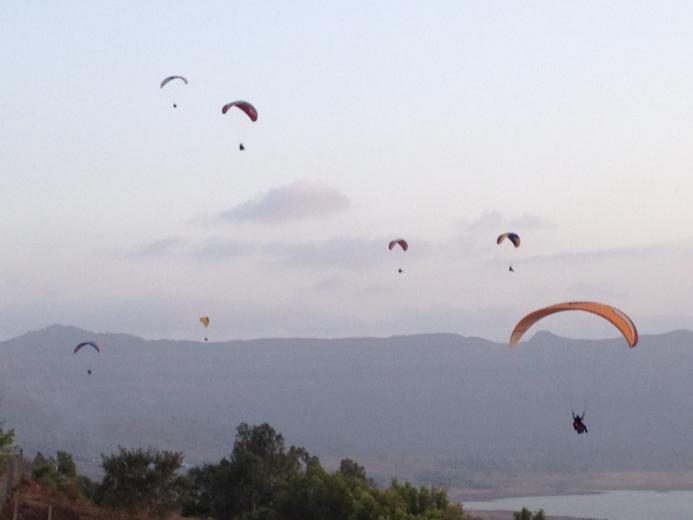 Temple Pilots Paragliding Club, Pune – photo by swaroopch
Kamshet, a small village located in the hills of the Sahyadri range in western India, was once a leisurely stop-off point on the trade route between Konkan and Pune. It's surrounded by an undulating landscape of wooded hills, placid lakes, paddies and sunflower fields, strewn with the remnants of colonial hill stations, medieval forts and ancient Buddhist temples. And these days the village is best known as a Paraglider's Paradise, a site deliberately picked out for its ideal conditions and beautiful landscape, which now hosts world-class paragliding facilities for both beginners and experts. There are plenty of companies operating from the village, of whom Nirvana Adventure Tours and Indus Paragliding come particularly recommended.
Hover above the hills, forests and endless ocean of Hawaii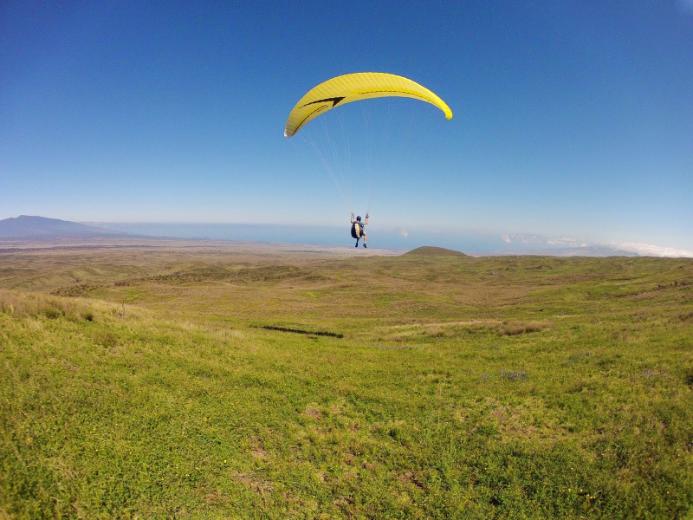 Fly Hawaii Honolulu Paragliding, Mountain View – photo by flyhawaiihonolulu
The lush green plains, tropical forests, craggy cliffs and Pacific horizons of Hawaii make a terrific backdrop for paragliding, and for slightly more challenging forms of the sport in particular. On the eastern edge of Oahu, the Makapuu Cliffs stand around 200 meters above the water and, with strong gusts and updrafts hitting the land after rolling across fathoms of open ocean, experienced fliers can glide above the waves and the rock for hours. But if you're not quite at this level, Hawaii is also a great place to learn to fly solo – schools such as Fly Hawaii have selected open, grassy patches of the Big Island to run extended courses. And if you just want to circle above Hawaii's dramatic topography, then Proflyght Paragliding runs popular tandem flights from the mountains of Maui.
Pace the clouds above Utah's Point of the Mountain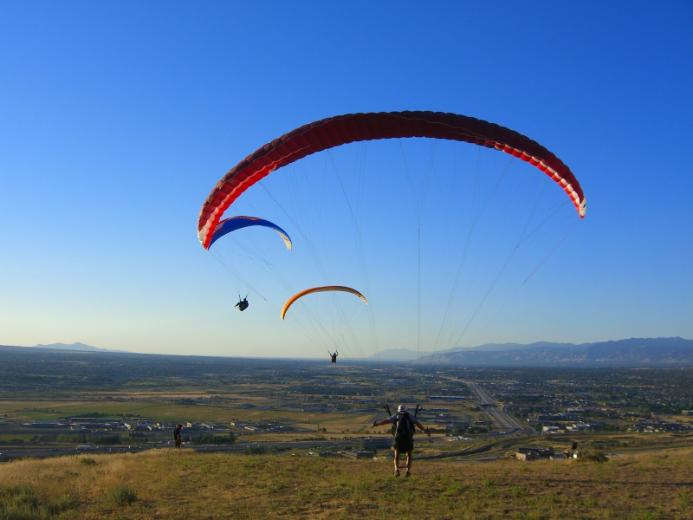 Point of the Mountain, Utah – photo by Kalei Weber
Point of the Mountain, just south of Salt Lake City, is a spot so revered among fliers that they have successfully lobbied the Utah State to make it a special Flight Park Recreation Area. Aside from the stunning mountain scenery, the valley has exceptionally smooth, predictable wind conditions as a result of the shelter provided by the peaks of the surrounding Traverse Range. This makes it a great place to learn to fly, with companies such as Utah Paragliding running morning classes from a 300-foot ridge in the south of the park. Later in the day, as the sun's heat energizes the mountain air, wind conditions become more unpredictable, with big gusts and updrafts offering plenty for experienced fliers to play with.