The New York to Miami route is one of the most traveled in the United States, as there's nothing New Yorkers like more than escaping to the warm beaches and vibrant Latin culture of Miami. But while Miami is a lot of things, cheap is not one of them. Drinks in the glitzy clubs of South Beach run a pretty penny and so do the beachfront hotels. One thing that doesn't have to cost an arm and a leg? The flights. Here are some quick tips on finding cheap flights from New York to Miami that could save travelers up to $362 on a round-trip ticket.
Find cheap tickets between New York and Miami using Hopper's innovative flight feed, which crowdsources fares from millions of airfare searches!
1. The cheapest time to book a flight from New York to Miami is 20 days in advance, saving up to $270
While the sunny beaches in Miami might be beckoning, especially during those cold New York winters, try booking a flight at least 20 days in advance. You can save up to $270, enough to rent a boat for a cruise out to Star Island or to do some deep-sea fishing. Book any closer than 20 days out and expect to pay a hefty premium to the airlines.
2. The cheapest day to fly from New York to Miami is on a Tuesday, saving up to $22
For those traveling for business, departing on a Tuesday is ideal because you can save up to $22 and still get to Miami with plenty of the work week left to tackle. For leisure travelers, Miami's ready to party just about every night of the week, so leaving on a Tuesday could work, too. You can make it in plenty of time for a typical Miami dinner hour...about 10 p.m.
3. The cheapest time to fly from New York to Miami is in January, saving up to $70
Air travel tends to be a lot less busy in January because people need some down time after the holidays. That means you can save up to $70 by traveling to Miami during this month, a perfect time to get away from the New York flurries. January temperatures average in the 70s, exceptionally warmer than New York's average in the 30s.
Check out Hopper's travel section on Miami to find inspiring ideas on how to spend you vacation in Miami!
4. Fly of out LaGuardia for the best deals on flights from New York to Miami
Flying out of LaGuardia guarantees the best deals, with flights up to $132 cheaper than other New York airports such as JFK, EWR and HPN (Westchester). That savings could be better spent on rounds of frozen daiquiris in South Beach. Bottoms up!
5. Consider flying from LGA into Fort Lauderdale (FLL) for an even better deal
If you're staying in northern Miami, flying into Fort Lauderdale might be a better option because flights can be up to $50 cheaper compared to ones flying into Miami. Plus, if you were going to rent a car anyway, it's just a short drive from the Fort Lauderdale airport into Miami.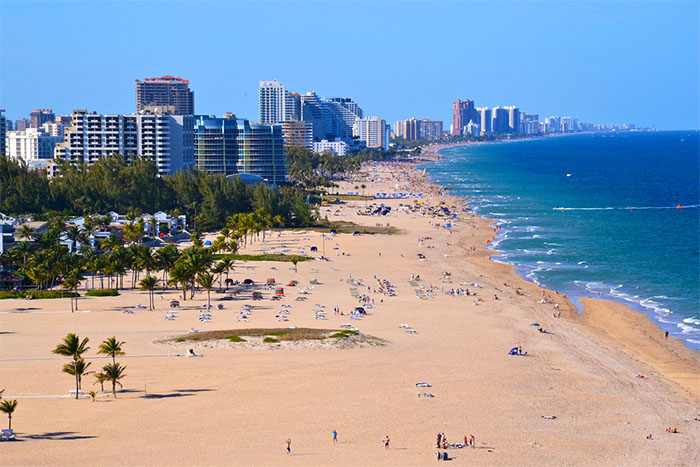 Photo by Daniel Dudek-Corrigan/Flickr.
6. American Airlines has the cheapest direct flights from New York to Miami, but Spirit has the best deals from New York to Fort Lauderdale
Check out American Airlines for some of the lowest fares from LaGuardia to Miami international, averaging about $278, while Spirit tends to offer the lowest fares from LaGuardia to Fort Lauderdale, averaging about $238. The Hopper research team recently found Spirit to be America's best airline for no-frills travelers on a cost/satisfaction basis. Travelers planning on checking bags, however, should keep in mind that Spirit does charge pretty steep fees for "extras." See Hopper's airline fees calculator for more information.
Take a look at non-stop ticket prices between LaGuardia and Miami on American using the Hopper flight feed
7. Frequent fliers on American can use 25,000 miles to book a round-trip ticket
While we did find that American Airlines are running the cheapest connections between New York's LaGuardia Airport and MIA, frequent fliers on the carrier would do well to remember their loyalty program, which could mean paying just taxes and a negligible standalone fee for round-trip flights to Miami this year. Off-peak, economy seats are currently priced at just 25,000 air miles, with one-way tickets going for half of that — one of the cheapest awards on American's entire line-up!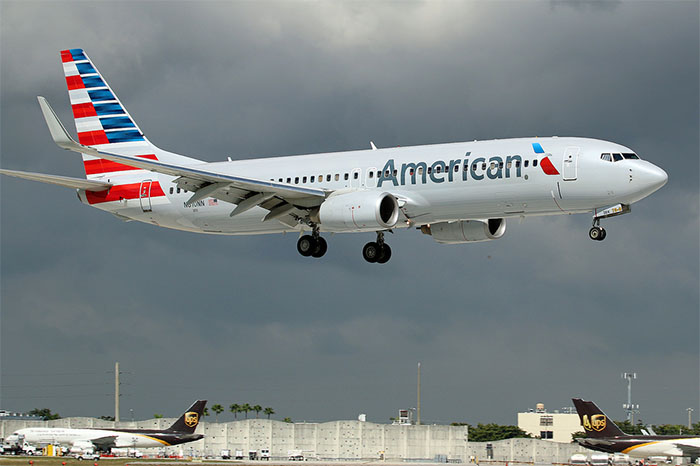 Photo by Vesterholm/Flickr.
8. Check out Hopper's When to Fly and Buy Reports for up-to-date information
If you're unsure about your departure dates and more concerned about saving some dollars for those Havana rums or ice-laden mojitos on arrival, then be sure to make use of Hopper's When To Fly and Buy Reports page. It constantly gathers information from various flight searches made right across the internet, analysing more than 22 million individual pieces of data each month on just this one route from LaGuardia to Miami. This means up-to-date metrics and detailed information on airfares, the best carriers and cheapest departure dates.
Check out Hopper's latest when to fly and buy report for flights from New York's LaGuardia to Miami for the most up-to-date information
We at Hopper know that no passenger wants to be throwing more money into their airfare than they absolutely have to, and that extra charges for things like checked baggage and seat selection can be a real turn off when it comes to booking budget flights. That's why we've put together our Airline Fees Calculator, which offers travelers a detailed breakdown of all the additional charges on the various carriers flying out of New York to Miami this year.
10. Keep in mind that a cheap flight from New York to Miami is about $273 round trip and a good deal on the LGA-FLL route is $226
While some very lucky people have found flights to Miami for as low as $194, a $273 flight is statistically a great deal that travelers should feel pleased about purchasing. The same goes for finding a flight to Fort Lauderdale for $226. Though some travelers have been able to find flights for as low as $199 on the LGA-FLL route.

Distribution of economy round-trip prices quoted for nonstop flights from New York City to Miami. Great deals are the best 10% of prices, good deals are the top 25% of prices, and average deals are the best 50% of prices found in flight searches.
Want to find tips on how to save money on airfare for other destinations? Visit our flight tools page, choose your airport and go!