Swamping the border between the United States and Canada, the Great Lakes comprise the largest bodies of fresh water in the world. Their crystal blue surface, dramatic urban skylines and beautiful natural scenery have made them a popular Midwest vacation destination since the nineteenth century, investing many towns and resorts with a vintage flavor that only adds to their distinctive charm. From the tranquility of lakeside resort villages, to the vibrant city-life of multicultural Chicago, these five destinations offer a diversity of moods and activities to vacationers from the Midwest and beyond.
Learn how to save money on flights using Hopper's when to fly and buy reports, which tells you the best day to buy your tickets
Ramble the beaches and lighthouses of peaceful Door County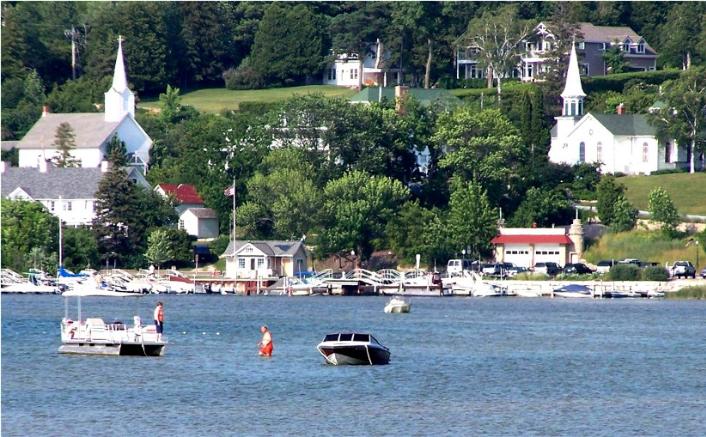 Door County, Wisconsin – photo by Libby Vertz
Door County occupies a peninsula jutting into Lake Michigan, and got its unusual name from the strait separating the peninsula from Washington Island: scattered with shipwrecks, and infamous among Native Americans and early French settlers, it was nicknamed the Porte des Morte Passage by the latter – the doorway to death. Despite this ominous name, it's actually a very peaceful and picturesque area to visit. Quaint villages dot the shoreline and islands, sharing the space with woodland, rocky bluffs, pebble beaches, dunes and rolling farmland. The county's more dangerous side is intimated in its collection of 12 lighthouses, and visitors can taste it by venturing out onto the vast lake on kayaking or fishing trips.
Getting there: The closest airport to Door County is Green Bay, which is about 45 minutes away by car. The airport has a number of connections to Midwestern cities, like Minneapolis and Chicago.
Learn how to save money on flights to Green Bay using Hopper's when to fly and buy reports, which tells you the best day to buy your tickets
Enjoy fairgrounds and fishing in Geneva on the Lake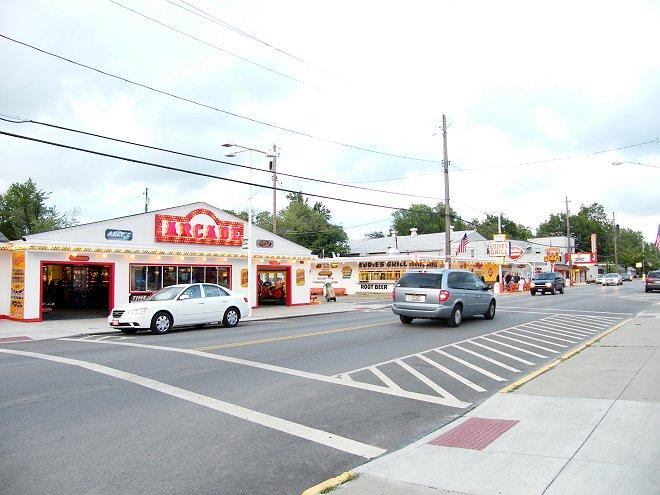 Eddie's Grill, Geneva on the Lake – photo by miatabug
Sitting by the side of Ohio's Lake Erie, the resort town of Geneva on the Lake has drawn summer vacationers since the start of the twentieth century. Its attractions remain similar today: tranquil fishing along the shores of Lake Erie; flashing arcades and theme park rides; crazy golf and fairgrounds; boat trips and water sports, and live music on outdoor stages through the summer months. It's also a top spot on Ohio's happening wine trail as it curls its way around Lake Erie. One particularly characterful winery is the Old Firehouse, which serves wine in plastic cups and has a ferris wheel and dinner theater to entertain the kids.
Getting there: The easiest way for travelers to reach Geneva on the Lake is to fly into Cleveland and then drive to the northeast for one hour. Travelers flying into Cleveland can usually find good deals if they follow a few tips, like booking on the best day and departing on certain days of the week.
Learn how to save money on flights to Cleveland using Hopper's when to fly and buy reports, which tells you the best day to buy your tickets
Relax on picturesque and historic Mackinac Island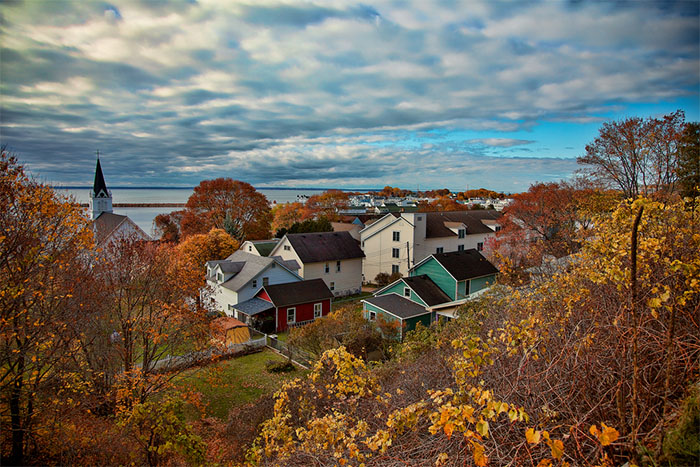 Photo by JoeyBLS Photography/Flickr.
A small island located in the north-west corner of Lake Huron, Mackinac Island is another resort area with a range of attractions: it's a pretty destination for walkers and cyclists, a fascinating one for history buffs, and an irresistible one for those with a strong sweet tooth. Nature lovers can explore the limestone bluffs, lake views and shadowy forests of Mackinac State Park, while visitors interested in history can visit the oldest building in Michigan, Fort Mackinac, with its white stone walls and frequent military re-enactments. But the island's most famous store draws more visitors than its natural beauty and historic interest combined: Joann's Fudge is legendary among connoisseurs of bite-sized candy, selling 29 flavours of fudge along with toffee and peanut brittle.
Getting there: Mackinac Island is about a four-hour drive north of Detroit. But, seeing as cars aren't allowed on the island anyway, travelers can also fly into the Petoskey Airport, which has direct connections to Detroit.
Learn how to save money on flights to Petoskey using Hopper's when to fly and buy reports, which tells you the best day to buy your tickets
Drink down the varied vibes of Chicago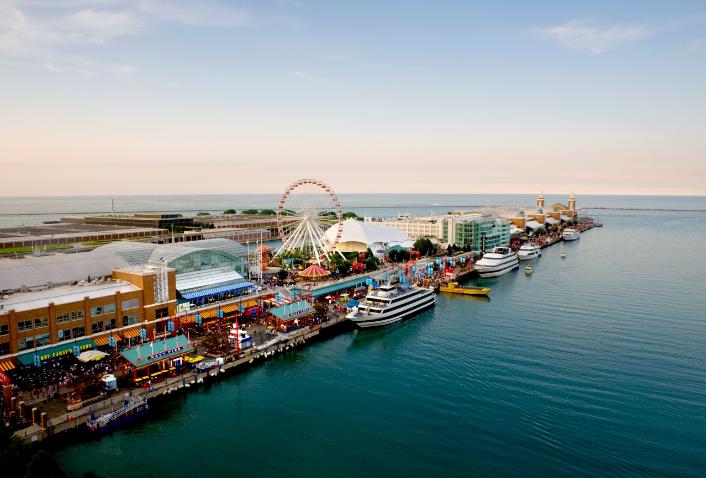 Navy Pier, Chicago – photo by maggiemay512
Chicago is the metropolis of the Midwest, its crowded skyscrapers – among the first in the world – forming a dramatic contrast to the empty horizons stretching away over Lake Michigan. If you want to mix it up after a spell at the quiet, self-contained resorts described above, head to Chicago, and sample its swirling mix of scenes and cultures. There are its immensely popular sports teams, from the Chicago Bulls in basketball to the Cubs and the White Sox in baseball; its distinctive food and drink, most recognized for its famous deep-dish pizza and Chicago hot dog; and its thriving cultural scene in theatre, comedy and music. Jazz and blues have an especially deep-rooted heritage in the town, brought with the Great Migration of African-Americans during the '20s and '30s, responding to the need for labor and the violence and oppression of Jim Crow's South. Add to this heaps of fascinating museums, great restaurants, and a buzzing nightlife, and you've a city that could hold your attention for years.
See 6 tips, like when to book your ticket, from the Hopper research team that can save travelers hundreds on their flights to Chicago.
Check out the diverse attractions of lakeside Cleveland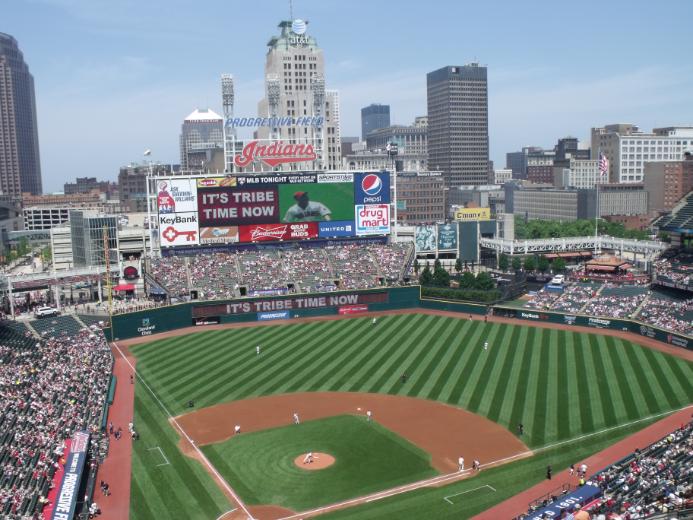 Progressive Field, Cleveland – photo by waldo2010
Cleveland's not known as a top vacation destination, or at least not yet: in fact, it's got a diverse range of attractions alongside a laid-back and tolerant culture that's perfect for a family vacation. As well as boat and fishing trips out onto Lake Erie, visitors can check out the Cleveland Museum of Art, housing over 40,000 works including an unexpected clutch of pieces from the old masters. Just down the road lies Cleveland Botanical Gardens, founded in the 1930s, a colourful oasis in the summer and, with its many greenhouses, a humid retreat from the northern winter during the colder months. And then there's the glorious Rock and Roll Hall of Fame, designed by the same chap who threw together the Louvre. It's a welcoming and comfortable town that has something to capture the imagination of every visitor.
Learn how to save money on flights to Cleveland using Hopper's when to fly and buy reports, which tells you the best day to buy your tickets