The great thing about holiday cheer is that no matter what the season, there's always a seed of it in every girl and boy. This is evidenced by the droves of tourists that make their pilgrimage to Santa Claus, Indiana, all year round. In fact, their single largest attraction isn't even open around Christmas, a summery theme park full of thrilling water slides that brings life to the town every summer when the kids are out of school, proving once and for all that you can, in fact, celebrate Christmas in July and not feel silly about it if where you're celebrating is at Holiday World. Or any other place in Santa Claus, IN, for that matter. Throw a stone and the chances are it'll hit the festively decorated windows of their several year-round Christmas stores. Drop by Santa's Candy Castle and see where the big man hangs out during the off-season while you put in a request for a shiny new toy. Learn about a town that built its good name and much of its economy on Kris Kringle's other title and explore this tiny and cheerful slice of classic Americana.
Located an hour from Evansville and 1.5 from Louisville, Kentucky, Santa Claus is also a popular destination for golfers.
Photo by Atsuki Emma Mori via Flickr.
It's always a jolly holiday at America's first theme park, Holiday World & Splashin' Safari. Always. For one, it's a really fun place filled with roller coasters, family fun rides and water coasters, including Mammoth, the world's longest water coaster, and of course, many families are apt to go during the summer when kids are on vacation. And another, the map is broken up into sections themed on holidays – literally. Kids can wander over to the Halloween area and get some serious chills on the Raven, with its 120-foot tunnel and 85-foot drops. Festive feeling families can hit the 4th of July section and take a swing around the Sparkler.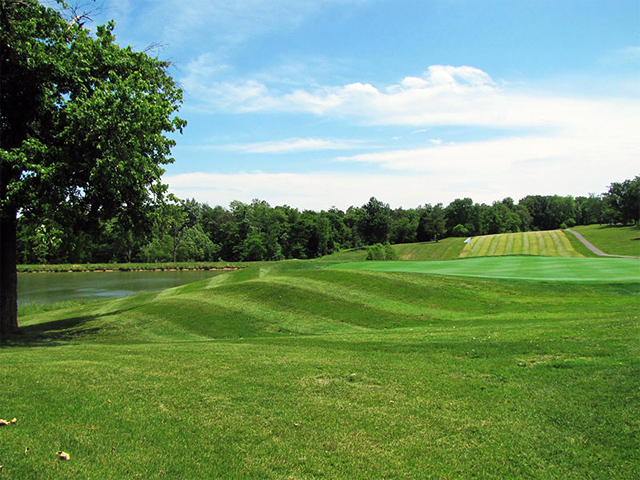 Photo via the Santa Claus official site.
Santa Claus, Indiana – a golfer's dream getaway, who would have thought? Christmas Lake Golf Course not only fits in with the theme going on in the town, but on its own, it stands as one of the top 74 public golf courses in America and is ranked the 7th most challenging in Indiana. With 18 holes sprawling over 7275 yards of fairways, valleys, hills and lakes, players of any skill level are sure to find this course equally challenging and fun.
How did a small town in southwest Indiana become one of the most cheerful places on the planet? Find out at the Santa Claus Museum
Photo by Katherine Miller via Flickr.
Because Santa Claus is the name of both a man and a town, it's easy to think that something like the Santa Claus Museum would focus on one or the either. However, because the town of Santa Claus is so inextricably tied to its namesake, the museum becomes much more interesting: learn about the development of Santa Claus, Indiana, and how many children the town has made happy just by living up to the name of Santa Claus. The museum also serves as official correspondents for the man himself, answering up to 12,000 letters addressed to Santa Claus every year.
Holiday cheer or sugar-and-caffeine buzz? Santa's Candy Castle blurs the line
Photo by spencercounty_visitorsbureau via Flickr.
In the past 80 years, Santa's Candy Castle has distinguished itself as the oldest themed attraction in the nation, drawing millions of visitors from all over the world. The historic building truly is Santa's dream castle, with a green roof and built with bricks the color of gingerbread just one mile away from Holiday World & Splashin' Safari. And inside, shelves lined with sugary confections, toys and gifts for every kind of girl and boy. After signing up on their online portal to the North Pole in their interactive computer lab, kids can make direct e-mail requests to the big guy to tell him what they want for Christmas and get properly assessed on their naughty-or-niceness. Families walk out jagged on chocolate and sugar, positively glowing with holiday cheer – and that's exactly what Santa wants for his Candy Castle.
Check out Santa's Lodge for a place to stay
Photo by spencercounty_visitorsbureau via Flickr.
Santa's Lodge, located minutes from everything else Christmas-themed, has become an important attraction of Santa Claus, Indiana. The lobby is decked with festive antique ornaments, and around the lodge are activities for kids including mini golf, an arcade in Frosty's play area and a pool. St. Nick's Restaurant serves classic American fare in a buffet style for residents and locals, and the hotel offers discount tickets for Holiday World & Splashin' Safari.