Geography and topography so often defines culture. In the case of Oregon, an area ideal for producing hops, where pure, fresh, perfectly balanced water runs clear down from the surrounding peaks, it should be no surprise that the craft brew industry is exploding. Since Oregon legalized home brewing in 1979, citizens of this laid-back coastal state have tested their sea legs kicking up some of this brown malty libation. There are now over 50 breweries in Portland alone.
Folks, welcome to the promised land.
So what do we make of this hoppin' scene? In a place where every facial-haired hipster dreams of someday making craft beer, where everyone and their mom has suggestions on the best brew around, how do we navigate this choppy ocean brimming with beer? Luckily, it simply comes down to boiling down the competition. Read on, thirsty travelers, as these are the top 10 craft breweries in the state of Oregon.
Check out these tips, like when to book your ticket, from the Hopper research team that can save travelers hundreds on their flights to Portland.
The 10 Barrell Brewing is just around the Bend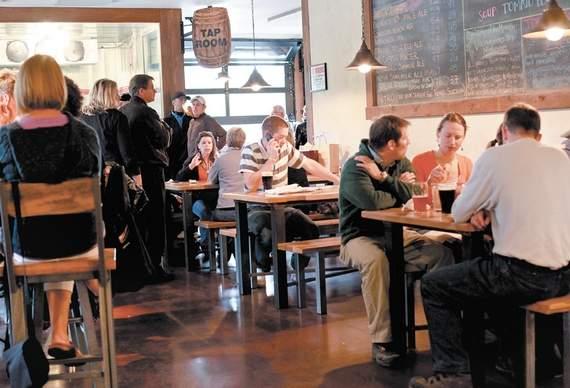 10 Barrell Brewing, Bend – photo by Daniel Herr
Expect a crowd, because in the land of microbreweries, the 10 Barrel Brewing Company is a king. A local favorite and an absolute priority stop on the Bend Ale Trail, 10 Barrel Brewing Company makes some of the best brews in all of Oregon, including their award-winning S1Nist0r Black Ale. Located a scenic mile east of Highway 97, their huge brewery features a broad outdoor patio centered around a fire pit, a menu stocked with unique homemade and handcrafted pizzas and the usual pub fare of burgers (lamb! chuck! veggie! applewood smoked bacon!) and some extra goodies like American wagyu on ciabatta.
Try Portland's BridgePort Brewing Company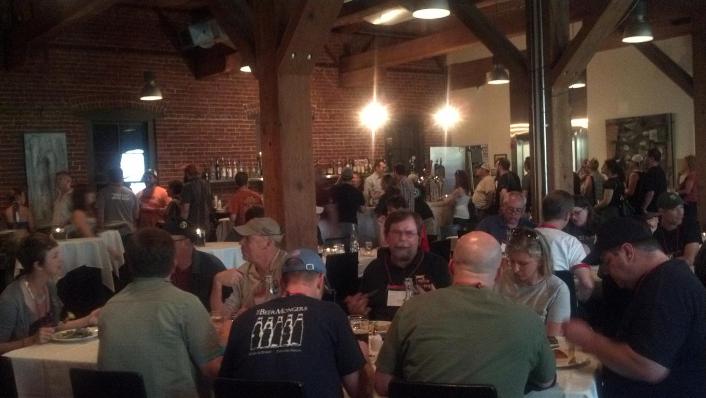 BridgePort Brewing Company, Portland – photo by Alan
BridgePort Brewing Company, Oregon's first craft brewery, has been kicking it with some of the oldest breweries in town since the state legalized home brewing. Together, this generation experimented with barley and hops and created a legacy that continues to inspire a legion of bearded nerds who grew up plagued with the words "lots of potential" on their school report cards. Though the brewery now satisfies a decidedly more upmarket clientele than it once did, their IPA is still some of the best around – it pours a hazy orange color but settles into a nice honey hue, somewhat subtler in hoppy punch but big in flavor. Brewheads who want to get hopped up need only taste the Hop Czar, a triple-hopped Imperial-style IPA that doesn't hold back on on malt. For a taste of legendary craft beer, check out BridgePort – avoid tourists and the family friendly crowd by going at night when people like to get drunk.
Go for the dark stuff at Deschutes Brewery in Bend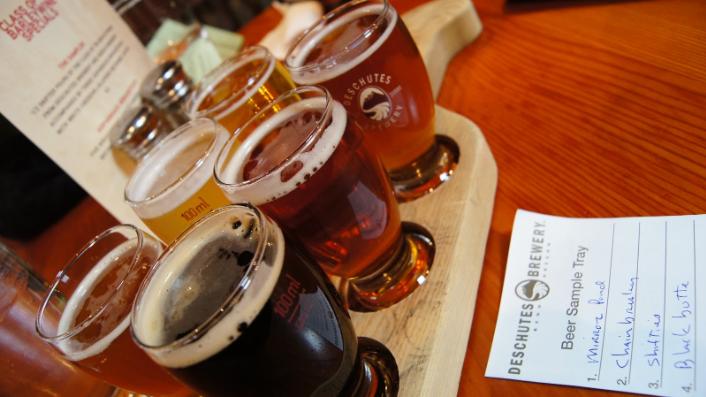 Deschutes Brewery, Bend – photo by Sylvia Avey
Hopheads, assemble! Deschutes Brewery first broke onto the scene in 1988 when their dark-horse debut, the Black Butte Porter left mouths confused and agape, unsure of what to make of this well-hopped brown malt. Well, a full generation of the legally drinking has come and gone, and the Black Porter remains one of their most successful and most popular labels. Continuing on this tradition of shocking taste buds, Deschute specializes on releasing experimental and hop-happy small batch brews – whether your thing is IPA or stout or porter, expect a strong, smooth and well-bodied bottle. Their food also shines in originality – everything is made in-house, even the burgers made from local beef partially raised on feed recycled from their brewery.
See what visitors to the Deschutes Brewery have to say:
Hit Astoria for a Pre-Prohibition experience at the Fort George Brewery & Public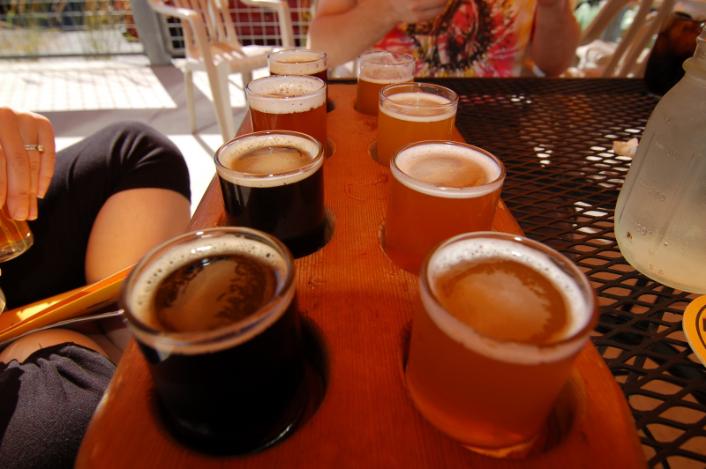 Fort George Brewery & Public, Astoria – photo by Jessyka
By the look of this industrial warehouse tucked into the old fur trading town of Astoria, the Fort George Brewery looks like it's been here forever, and in fact, the building that these brewers call home dates back to 1811. But it was in 2007 that they first set up their first tanks and erected their bar stools. In such short time, they've produced over 40 varieties of beer and gained a loyal following of regulars, visitors and beer buyers in their distribution circuit throughout Oregon, Washington and Idaho. But if you want the real Fort George experience, you go to the source: inside or outside of this big blue warehouse, gleaming with cast iron details and sunlight shining through the huge windows, there's a seat and eight regular draughts along with a long list of seasonals and occasionals waiting for the thirsty traveler. Try the 1811 Pre-Prohibition lager for a semi-sweet malty brew, light on the hop and refreshing on any sunny day.
Full Sail Brewing Company in Hood River, started from the bottom (now they here) / started from the bottom (now the whole team here)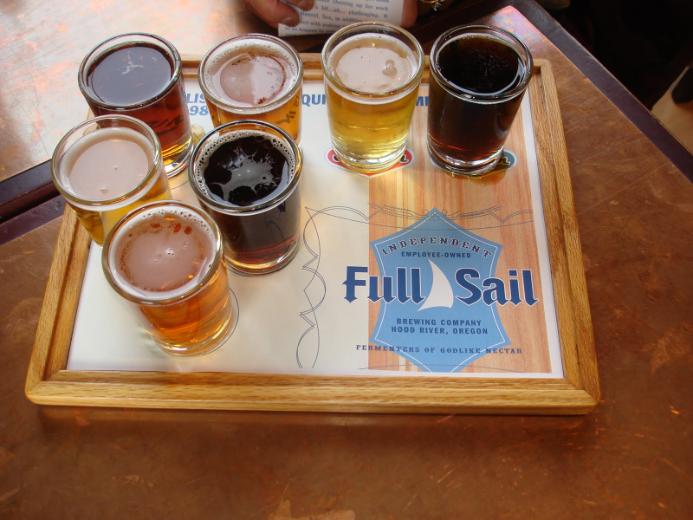 Full Sail Brewing Company, Hood River – photo by barb cabot
Located right on the Hood River (fitting because it's in Hood River), surrounded by the volcano peaks, evergreen forests and clear blue sky, one beer-loving couple turned an old Diamond Fruit cannery into the brewery of their dreams. At the time they won their first award, a gold at the 1989 Great American Beer Festival for their Full Sail Amber, they were still bottling by hand on a wonky little bottling line. Now their water treatment wins awards, and their beer is made as ecologically sound as possible, using spring water from Mount Hood. The whole operation is employee owned and consistently successful at international beer competitions. Stop by their pub to try their northwest inspired, locally sourced dishes which include such items as Salmon fish and chips, smoke house karubi ribs and imperial stout brownie.
Ride your fixie into Hopworks Urban Brewery and BikeBar for a truly Portland experience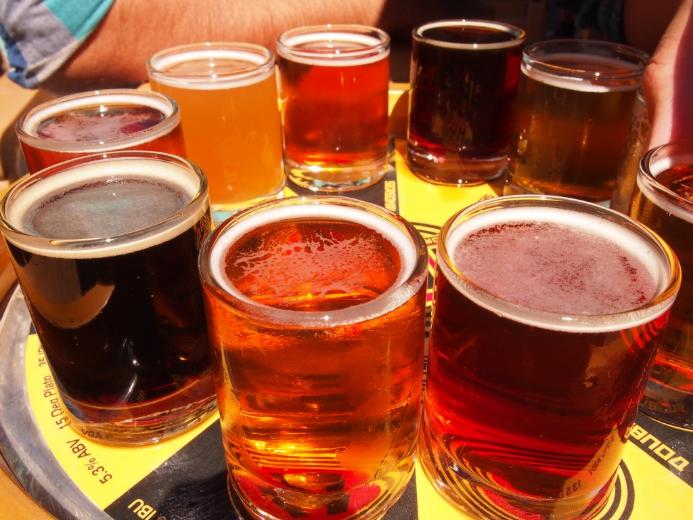 Hopworks Urban Brewery, Portland – photo by Jordan
Portland is where bikes and brews shyly step into a spotlit dance floor where the last melancholic strains of an obscure electropop band untz-untz-untz's in the background. They'll discuss favorite indie records and make out, black plastic-rimmed glasses knocking awkwardly together. And the lovechild of that union is the Hopworks Beer, which operates both an Urban Brewery and a Bikebar. Their buildings are sustainably built, entirely powered on renewable energy and are very family friendly. The beer: organic. Try unique pub plates like the Tofu Po Boy, Tofu Banh Mi, Hopyard Black Bean Burger, Bomber BBQ Bacon Sandwich, all with the option of swapping the bun for a gluten-free alternative. For a truly Portland experience, their BikeBar, located in the ecoFLATS Building just off the North Williams bike-highway features 75 bike parking spaces, bike tools for a quick repair, bike-friendly take-out specials and exercycles that help power the operation.
Ninkasi Brewing Co keeps food truckin' on in their Eugene location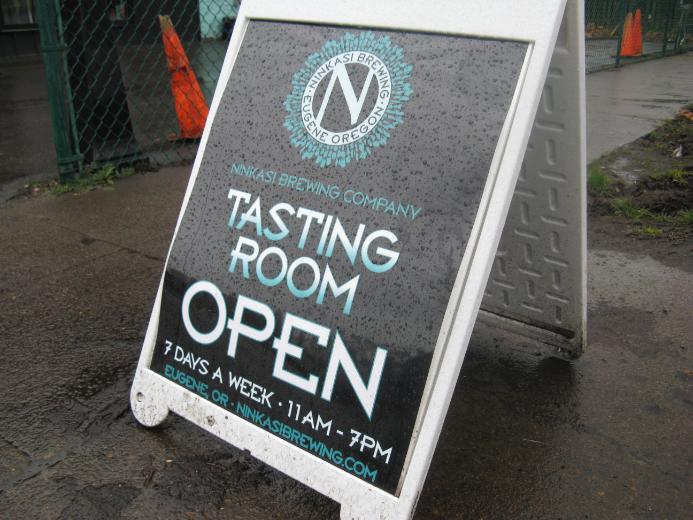 Ninkasi Brewing Co, Eugene – photo by maddiebenfield
The first brew ever produced from Ninkasi Brewing Company at a rented space back in 2006 was the Total Domination IPA and now, after three expansions that saw the brewery secure a 55-barrel brewing system and distributed their brews all over the West Coast, that first label has turned into quite the self-fulfilling prophecy. Loyal to their philosophy of cultivating and feeding back into a healthy community, their current location in Eugene's historic Whiteaker neighbourhood is as sustainable as possible and features a rotating roster of local food trucks to supply the fare in their tasting room. Diners and the beer-curious are encouraged to take a tour through their brewery to check out just what goes into their six year-round bottles and innumerable rotating ones.
Achieve perfect harmony at the Pelican Pub & Brewery in Pacific City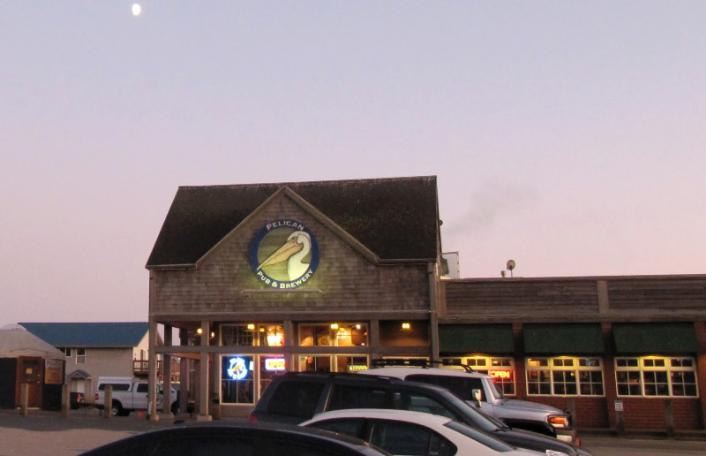 Pelican Pub & Brewery, Pacific City – photo by Teresa Kasner
Sure, you could easily order a bottle (or 30) of their multiple award-winning Kiwanda Cream Ale, and it would be perfectly enjoyable – exceedingly enjoyable, actually, than more than most of this nation's offering of cream ales – but you'd still be missing out. But nothing compares to trying their beers right at the source, in Pacific City, sitting at their old brick building right on the beach casting gorgeous views of the endless ocean. Diners don't just get an unsurpassed beer tasting experience, they also receive a divine pairing suggested by the executive chef. The Pelican Pub understands how to heighten the art of drinking, and that begins with, say, a tower of onion rings made with Doryman's Ale batter paired with a MacPelican's Ale. It leads into a Hazelnut Crusted Rockfish matched with the aforementioned Kiwana Cream Ale. And then the Beer-a-Misu, a specialty dessert made with the Tsunami Stout and perfectly paired with that very beer. It finishes with another look out the window and satisfying flavors languishing on taste buds while enjoying the gentle laps of the tide coming home.
Rogue Ales Public House in Newport: feeding fishermen since 1988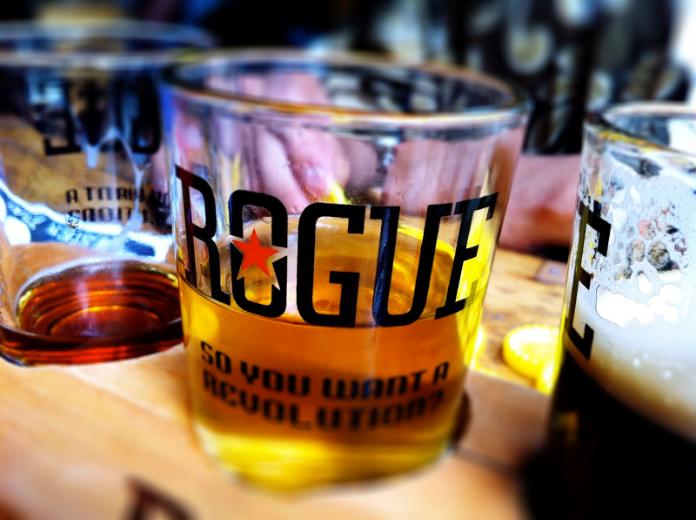 Rogue Ales Public House, Oregon – photo by Matthew Rowley
The Rogue Pub in Newport is a special little gem of a few enterprising beer lovers and a chance encounter with Mohave Niemi, founder of Mo's Clam Chowder, who strongly urged them to move into their bayfront location. With the words "if you're lucky enough not to go broke, feed the fishermen" ringing in their ears, the founders went on to build their unique little brewpub, giving back to the local community and keeping the area fishermen quenched with a wide variety of spectacular ales. Offering four-beer flights for $6.50 and free samples of their award-winning ales upon arrival, Rogue Ales Public House is a Newport favorite. And along with their specialty dishes like kobe beef meatballs and spruce gin oyster shooters, they also still serve classic Mo's clam chowder.
Raise a pint to the originators of Oregon craft brewing, the Widmer Brothers Brewing Company in Portland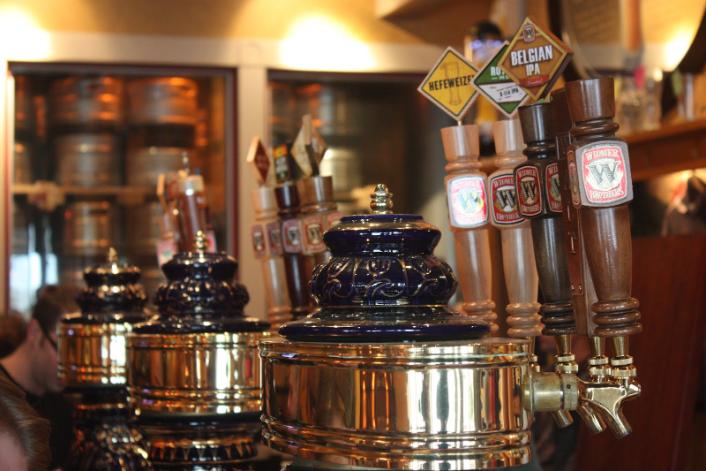 Widmer Brothers Brewing Company, Portland – photo by Brian Yaeger
The Widmer Brothers have gone a long way to please their palates. After the legalization of home brewing, these brothers immediately got on board, turning a simple home-brewing hobby into a full-blown enterprise. They created the first American style Hefeweizen in 1986 (turns out if you leave a normal Weizenbier unfiltered, it becomes cloudy and even more delicious) and were the first U.S. brewery to offer a full four-seasonal lineup. They helped launch the Oregon Brewer's festival in 1988, and very soon became the biggest draught-only brewer in the nation. Then they started bottling the stuff. Now the Oregon Brewer's Festival is the largest outdoor festival of its kind, and their spacious Russell Street location pumps out 220,000 barrels per year. Visitors to the pub will find an extensive lunch and dinner menu and gluten-free goodies, designed to perfectly accompany any of their draughts. So the next time you're in Portland, swing by Russell Street and pay these granddaddies of Oregon craft brew a visit.