If you've been waiting to plan a vacation to Europe, this fall may be the best time to do it! Hopper took a look at some search and price data and found that from most U.S. airports, flying to Europe is now more affordable than it was over the summer ( and more affordable than last year). The average price of a flight to Europe has dropped about 13% compared to summer and overall it's 9.6% cheaper than 2014.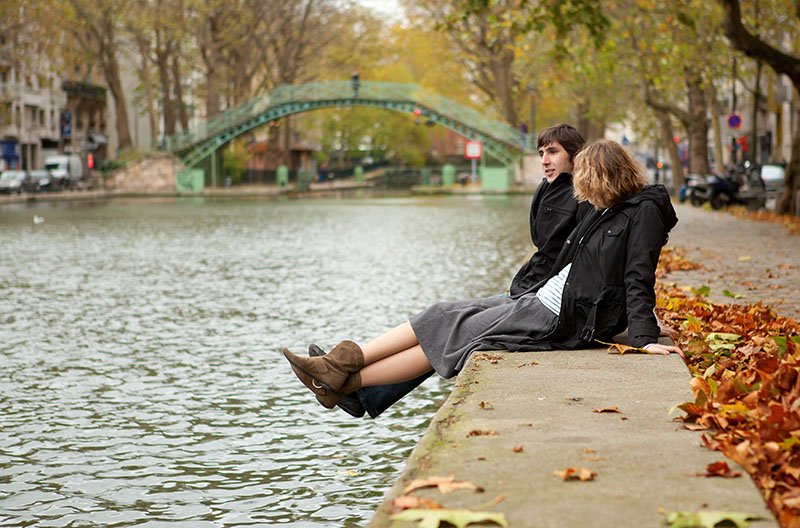 Why is Europe such a good deal right now? First, demand for Europe flights has fallen by about a third. In general, fewer people travel this time of year (school is back in session) and airfares tend to drop. For Europe specifically, demand is down about 30% over summer high season, which is sizable. Secondly, the market entry of low-cost carriers like Norwegian Air Shuttle, WOW Airlines, and XL Airways France has caused U.S.-to-Europe flights prices to slip. WOW Airlines, for instance, continues to offer flights from the East Coast to Europe starting at just $99 each way.
A bonus for travelers aside from cheaper flights: the U.S. dollar continues to hold strong against the euro (about $1 to 0.89 €) as well as other foreign currencies. This means that, once on the ground, accommodations and attractions costs are a much better deal in years past. Hotel options in large European metros that were once out of your price range may be back in play.
Whether the exchange rate continues to stay favorable for Americans is up to larger market forces, but you can expect lower airfare as summer turns to fall and fall to winter. And while winter may be cheaper in the long run, this fall offers far more pleasant weather.
Sound good? Then let's start planning! These are the 15 European airports with the largest price decreases since summer.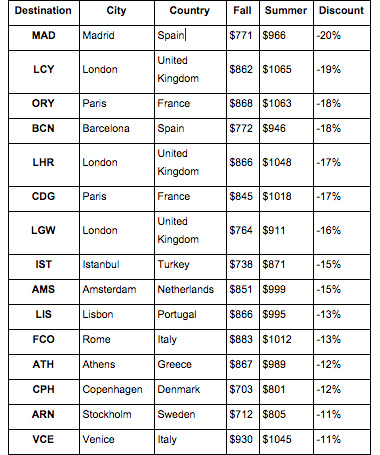 From specific origins, there are event better deals to be found, with flights from Atlanta to Lisbon more than 30% off, Los Angeles to London almost 30% off, Chicago to Istanbul nearly 30% off, New York to Paris 25% off, and Miami to Milan 25% off.Across all U.S. origins, the best current bargains are Spain (both Madrid and Barcelona), London, and Paris, all of which have flights discounted at least 15% from summer high-season prices.
Here are some quick tips if you are in the market for a cheap fall flight to Europe:
Keep an eye out for fare sales
Watch flight prices (something the Hopper app can help you do); don't buy the first flight you see the first time you shop
Check out low-cost airlines like WOW Air and Norwegian Air Shuttle
Look for midweek-to-midweek flights
Take baggage and seat-selection fees into account before snapping up tickets
Any European travel plans?