The faraway Hawaiian Islands, surrounded by endless Pacific Ocean, are not always cheap to reach. Do you know how much it costs, on average, to fly from your state to Hawaii? How about if you're getting a good deal? Hopper found the average cost of flying to Hawaii from each U.S. state as well as the 10 cities that offer the cheapest flights.
It's no surprise that West Coast states offer the cheapest flights to Hawaii, with California, Washington, and Oregon leading the way. In fact, most of the top 10 cities are in California (with two notable exceptions: Bellingham, Washington, and Salt Lake City, Utah. Lucky you!) But even some cities on the East Coast offer decently priced routes to Hawaii, including Boston, New York City, Atlanta, and Charlotte.
Who's flying these routes? Delta, United, Alaska and Hawaiian are the most likely to offer cheap, direct flights. Yes, you can even find a non-stop from New York City to Honolulu with Hawaiian's codeshare with JetBlue! Delta also offers a non-stop option from Atlanta to Honolulu, but at $1,160, it's much more expensive than a flight with a layover (about $718). Check out the cheapest options below!
The Average Cost of Flying to Hawaii from Each State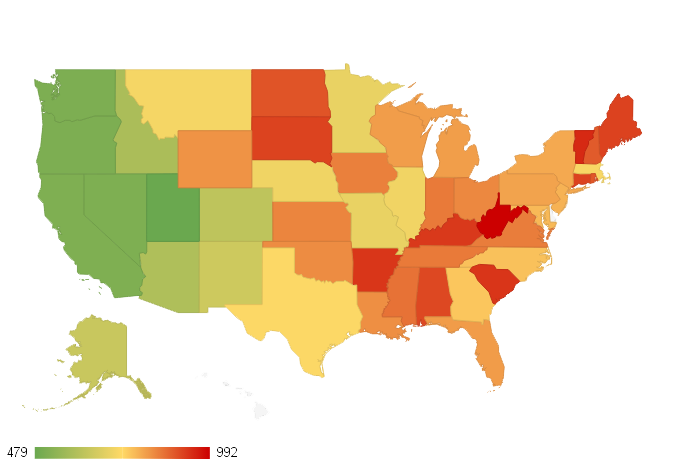 The 10 Cheapest Flights to Hawaii
Not seeing your city on this list? No problem. Whether you live in one of the cheapest departure points or not, the Hopper app can help you find the absolute best flights to Hawaii. Simply download the app and set up a fare watch from your city! We'll keep an eye on that route and automatically notify you when prices are at the lowest point.
Also check out The Cheapest Airports to Fly to in Hawaii and The Cheapest Time to Fly to Hawaii if you're looking to save the most on your Hawaii vacation.